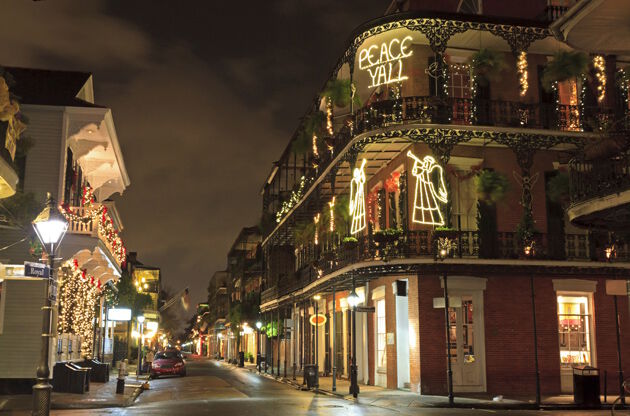 Affectionately called "The Big Easy" (there's no agreement as to why), or the 'Crescent City', because of its location on the Mississippi Delta, New Orleans is a fascinating and cosmopolitan city, rich in its multicultural heritage and unique cultural contributions – a mix of Americans, French, Creoles, Africans, Irish, Germans and Italians.
It was first established by French colonists in 1718 and is still strongly shaped by French culture and language as well as by African and Spanish influences. The world largely associates New Orleans with the birth of jazz, with Cajun cuisine and, more recently, the city has become synonymous with the tragic impact of Hurricane Katrina.
The city is made up of thirteen districts, each with its own character and flavor. You will hear references to "downtown" New Orleans but it is useful to know that, unlike in most cities, the term does not in fact refer to the Central Business District. Instead, it means the neighborhoods down-river from Canal Street – including the French Quarter, Tremé, Faubourg Marigny, Bywater and the 9th Ward.
If you are visiting New Orleans for the first time, you will get a great overview of this incredible city by taking a "hop-on, hop-off" style bus tour – a great way to orient yourself to New Orleans' attractions. There are multiple stops, targeting the most popular sights, to help you plan where you will explore in more detail. With a week-long ticket available at an amazingly low price, this could well be your method of getting around the city during your stay.
Where is New Orleans?
Down In Louisiana, on the mighty Mississippi is where you will find New Orleans. More specifically, it is a major US port on the eastern and western banks of the river, in the southeast of the state. New Orleans is Louisiana's largest city.
Getting to New Orleans
Louis Armstrong New Orleans International Airport is in Jefferson Parish, 11 miles west of New Orleans. The Airport Shuttle service provides transport between the airport and all major destinations in New Orleans.
Getting Around New Orleans
You absolutely have to take one of the red or green streetcars that are so much a feature of the city – think A Streetcar named Desire. For a great view of New Orleans from the water, you'll enjoy the ride on the Canal St Ferry across the Mississippi – and it's free!
Things to Do in New Orleans
The Hurricane Katrina exhibition at the Louisiana State Museum catalogues the destruction, the tragedy and the aftermath of the Atlantic tropical Cyclone, which hit the area in August 2005. It is a great way to begin a visit to New Orleans – to put into context the revitalization and redevelopment the city has undergone in less than a decade.
The French Quarter is a fascinating district - just walk and take in the atmosphere. Don't miss Bourbon St, St Louis Cathedral and Jackson Square. For a taste of local culture, visit the New Orleans Museum of Art or, for something a little different, go to the Old Absinthe House or the New Orleans Pharmacy Museum, with its collection of historical medical implements and old "cures". Fascinating.
Sports fans should not miss seeing the Louisiana Superdome – back to its pre-Katrina glory – and recent host of the Super Bowl.
Walking tours are a good option. It's worth wandering around just to see the architecture but you can choose your interest and pick up a printed guide - for example the 'literary greats' walk – with highlights and places of interest connected with Truman Capote, Tennessee Williams and William Faulkner – all sons of New Orleans – among other well known writers.
When you are ready for a rest, you can catch an impromptu street performance almost any time. You cannot leave New Orleans, though, without attending at least one live jazz performance. It's where the whole thing began, remember. Bourbon Street is probably the most widely known, but there is a lot happening on Frenchmen Street in the Faubourg Marigny.
The famous Mardi Gras parade is in February but there are music and cultural festivals – like the Jazz and Heritage Festival, The New Orleans Tennessee Williams Literary Festival and the new "Running of the Bulls New Orleans" – that are held at various times throughout the year.
Shopping in New Orleans
The shopping experience in New Orleans is unique. For antiques, shop in Royal Street, and the famous Magazine Street, where you'll also find jewelry, clothing, specialty boutiques. Or go there just for the great atmosphere. As for the rest, just explore!
Dining & Nightlife in New Orleans
It is almost impossible to single out individual eateries. The range of cuisines and styles is to be seen to be believed. The best advice is to look, smell and decide. Lovers of New Orleans say that the Café du Monde with special chicory flavoured coffee and their famous beignets, is a 'don't miss'.
Visitors should definitely try traditional spicy Cajun food. There are endless choices. Cochon tends to serve food that is a little more simple; the Cochon Butcher bar and meat warehouse is next door.
Arnaud's Restaurant, in the French quarter, is also highly regarded.
Big Fisherman is a great market in Magazine St, where you can buy your seafood to take home or eat on the spot.
You will probably want to get yourself a Po-Boy ("poor boy') – a submarine-style sandwich, stuffed with salad and shrimp or meats.
After dark, you could try Cure, an up-market cocktail bar, the quirky French 75, or the revolving Carousel bar at Hotel Monteleone. And there are over 70 nightclubs in the French quarter alone. Get the idea?
Excursions and Tours in and Around New Orleans
There's so much to see in New Orleans, you might not be easily tempted to stray much further. Leaving the city, though, you can take tours of the swamplands around New Orleans, for example in the Lafitte area. Be warned; there are alligators.
Natchez is a three-hour drive away. It is the oldest city on the Mississippi and is worth seeing for its legendary sugar and cotton plantations and its magnificent plantation mansions. It has been voted as a top 'weekend away' destination.
Events in New Orleans
Many of the larger hotels cater for business meetings, conferences and corporate functions. There are also several purpose built centers; for example the New Orleans Ernest N. Morial Convention Center. The Louisiana Superdome also offers a unique conference experience.
Travel Tips for New Orleans
Weather: New Orleans has warm and pleasant conditions all year round.
Safety: Revellers beware. On Bourbon Street, in particular, tourists are targets for all sorts of scammers. Ignore their offers to help you earn some easy money. (You won't!)
Do: Eat some blackened catfish.
Do: Try New Orleans fabulous bed and breakfast places; even though there are many accommodation options (over 140 hotels and motels), B&Bs including have more of a local flavour than many hotels.
Don't: Waste your money in the cheap souvenir stores that are everywhere.
Tipping: A standard restaurant tip is 15-20%, depending on the quality of service. For the concierge, tip $5 to $10 – more for special services. You will be expected to tip bellhops, doormen, and parking attendants; street musicians and performers will particular appreciate your contribution. How much? Just use your discretion.