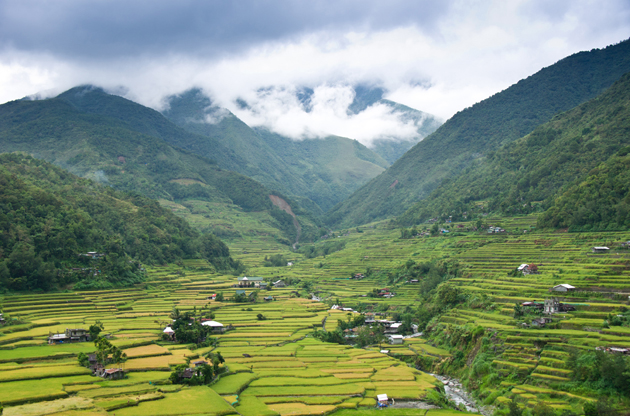 The Philippines is a tropical island country which consists of 7,107 lovely islands—some of which are uninhabited while others boast of fine white sandy beaches and crystal clear blue-green waters and others are only seen during low tide.
The Philippines is ranked as the 73rd biggest country in terms of land mass out of the current 234 countries of the world. However, it is interesting to note that it is labeled as the 12th most populated country in the world and the 7th in Asia with around 98 million people.
The Philippines is considered as a biodiversity hotspot and is included among the ten most biologically mega-diverse countries of the world. The Philippines is home to plenty of endemic species, animals or plants only found in the country and nowhere else in the world.
The Philippines is well-known around the world as a cheap yet beautiful vacation spot. But, unknown to many, the Philippines is the fifth country in the world for having the longest coastline.
People of the Philippines—Filipinos, as they call themselves—are very warm, friendly and hospitable. They try hard to please visitors of their home country and a lot of them know how to speak English.
If you are looking for a relaxing place—coconut trees swaying with the salty seaside breeze; the warm sun shining all the days of the year; warm, calm, and inviting crystal clear emerald green waters; and most of all at a very inexpensive rate—then it's the Philippines that you are looking for.
Where is Philippines?
The Philippines is located in Southeast Asia, bordered by bodies of water. To the South, it is nearest Indonesia, separated by the Celebes Sea. To the West, lies Vietnam separated by the South China Sea. To the North is Taiwan, separated by the Luzon Strait and to the east lies the vast Pacific Ocean that separates the country from Guam, Hawaii and the Americas.
Visa Procedure of Philippines
Philippines Bureau of Immigration provides the detailed information about the country's visa application.
Attractions in Philippines
The Philippines is indubitably a veritable treasure trove of natural sights and wonders. It is also home to a huge array of festivals and fiestas to keep tourists riveted all year round—where people get to experience firsthand pagan and Christian rituals coexisting harmoniously. So, here are some top attractions to check out when in the Philippines.
Beach, Beach And More Beach!
The world-renowned Boracay Beach is a huge crowd drawer all-over the world with its powdery white sand, beach party ambiance and aqua sports activities to keep you occupied even for a week.
The country also has El Nido which boasts of untouched and breathtaking views of limestone karst cliffs, emerald green lagoons plus beautiful and deserted islands.
There are other countless beaches in the Philippines that are off the beaten path, just waiting to be explored by you! And most of all never forget to embark on an island hopping adventure.
Once In a Lifetime Adventures!
Swim or dive with the whale sharks or butandings—as it is locally known—off the island of Cebu. Whale sharks are widely called as 'gentle giants of the sea' for their calm and friendly nature. People all over the world have already come to experience swimming with the big fish, who feeds on krill and tiny shrimps.
Festivals, Rituals and Thanksgiving Brouhaha!
Usually, whenever each Philippine province celebrates a festivity it is always accompanied with street dancing as a form of thanksgiving to the deities and as a good-natured contest between participants. Most of the Philippine festivals are also accompanied with a wide selection of foods, thus it is always a great time to get a glimpse of Filipino hospitality, culture and cuisine. This is just a shortlist of the festivities in the country and where it is located:
Sinulog Festival – Every 3rd Sunday of January – Cebu City
Kadayawan Festival – Every 3rd week of August – Davao City
Higantes Festival – Each November 23 – Angono, Rizal
Bangus Festival – Every 1st week of May – Dagupan City
Filipino Cuisine
The Filipino cuisine is a rich melting pot of cultures from Spanish ancestors, Chinese merchants and neighboring Asian countries. Whenever in the Philippines you need to try their scrumptious and tasty cuisines like: lechon, adobo, barbecue chicken and pork ('inihaw' in the local language), chicken tinola and many others.
As for Filipino deserts, they are fond of deserts made from sticky rice and coconut milk. Admittedly, they are quite yummy, examples of these are: bibingka, biko, cuchinta, sapin sapin, puto, halo-halo and so much more.
The Philippines is also a place that showcases food that is fit for the fear factor edition. For people who are quite adventurous when it comes to their palate, do try 'balot,' which is a boiled duck egg with an 18-day old duckling inside. Best accompanied with salt and vinegar and this is a famous street food and can be bought almost anywhere in the Philippines.
Shopping in Philippines
The Philippines is a shopping mecca of counterfeit goods from luxury brand names like Celine, Louis Vuitton, Gucci, Chloe, Chanel, Prada, Givenchy and so much more. So, if you are a fan of these pieces, then head out to Greenhills in Manila.
The Philippines is also home to a wide array of pearls ranging from the beautiful, expensive and much coveted South Sea Pearls—which of course is way cheaper here than in other countries. If your budget is restricted, you can opt for genuine fresh water pearls.
When in the Philippines, the number one thing to buy are the beautifully hand crafted home goods, made from local and unique materials that adds a touch of the tropics to your home. You can choose from place mats, home decors to big items like sofa sets made from bamboos, drift wood, coconut shells or mother of pearl.
Event Tourism
With every passing year, the number of international congresses, conferences, symposiums, exhibitions, trade shows and fairs that are held in this beautiful country is increasing. As well as being a dreamy place for leisure holiday, Philippines is a top choice for most of the event attendees, as they have the chance of attending their event and enjoying the beautiful beaches and rays of sunshine at the same time.