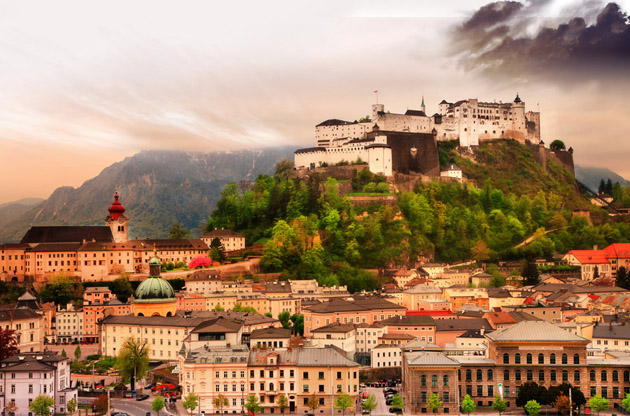 Imagine a country where peace rules. People are living in harmony, breathing the smell of the coffee, green and history. They look anywhere to see the beauty of the nature, traces of history and the magic of art. Relaxing is easy with sitting with a coffee house with friends, talking and drinking the amazing Viennese coffee accompanied by delicious desserts, playing chess, or reading newspapers. This scene is real in Austria.
Austria is Surrounded by Magic
Austria is a land of magic. For the heaven's rehearsal, visit Tyrol and amazed by the hues of green. Walk in the streets of Salzburg and feel the spirit of Mozart's notes. Then discover Vienna, the city of balls and operas with all its dignity it offers.
Heaven is in Town
Encircled with Italy, Germany, Hungary and Switzerland, Austria is located in Central Europe. The country of peace, harmony and nobility, owing to its temperate weather, the country has large fields of green, memorable culture and history.
Life is Joy in Austria
Austrian people use less energy to live a life. They are not in a hurry and they make the most of the life. In this country joy, not the rage dominates the life.
Not football but winter sports are the passion of the people and they have a special interest in skiing. As pets, dogs are indispensable. It is more than common that you see people walking their dogs in the streets.
Things to Do in Austria
Great diversity of activities in each season welcome you. In summer, you can go to one of a lakeside. Biking in scenic routes or playing golf in wide green golf courses are the other options.
For winter, you know what to do. Go skiing or have a great time on a mountain resort.
Since Austria is famous for the organic agriculture, there are also so many "eco-friendly" and gastronomy tours that you can also take.
Visiting picturesque Austrian villages is also another option to feel yourself in heaven. Hallstatt, Tyrol, Vorarlberg and many others just offer you the real paradise in earth.
Shopping in Austria
When you are in there, you had better buy some or all of the following since they are the most famous specialties of Austria.
Mozartkugel Chocolate
Created in 1890 by Paül Fürst, a confectioner from Salzburg, Mozartkugel Chocolate has still the original preserved recipe.
Loden
The Loden is a fabric which is water-resistant and made from sheep's wool. The common colour is green and it is the traditional Austrian clothing.
Coffee
Austrian, especially Viennese coffee is renowned. In western world Viennese coffee houses are among the oldest. Do not forget to taste this world-famous coffee when in Austria.
Swarovski
Luxury's synonym Swarovski's homeland is Austria. So if you have the chance, it is our advice that you should not leave the country without a Swarovski product.
Wine
Homemade wines are also popular and worth trying.
Tax Free Shopping in Austria
You can refund the value-added tax included in the price if you are not a resident in the EU. Minimum purchase limit is 75.01€. You can have detailed information about tax-free from Global Blue's website.
Events in Austria
Being a home country for Vienna, the city that was ranked number 1 city according to ICCA, Austria is a popular host country for many kinds of events from large scale conferences to fairs and tradeshows.
With its temperate climate and stable economy, Austria provides the perfect environment for international meetings. Education level in Austria is high and most of the Austrians can speak English which helps event tourists a lot. Congresses and symposiums in Austria become very popular thanks to its central location and developed transportation system.
Austrian Cuisine
Austrian cuisine can be regarded as associated with Vienna's (Wien in German) but there are many regional variations. Influences of Italy, Germany and Hungary cuisine can be seen in Austrian cuisine.
In breakfast, Austrians generally have bread rolls with jam, cheese or cold meat together with tea, juice or of course coffee.
Mostly, Austrians prefer beef, chicken and pork as meat. However in Austria cuisine there are many options for vegetarians. Probably the most famous dish is Wiener Schnitzel and generally it is made of veal.
Above all, Austria is a heaven for dessert lovers. Austrian pastries and sweets are really famous accompanied by great Austrian coffee.
Mobile Phones and Internet Access in Austria
Using your mobile phone in Austria can cost too much money due to roaming. So you may want to use your mobile phone only in Wi-Fi zones or buy a call and data package from your GSM operator before your arrival. Another option is that you can buy an international cell phone with a pre-paid SIM card. However it will be useless if you are in Austria for a short time.
Visa Requirements for Austria
If you are a resident of one of the members of Schengen, you are exempt from visa and travel freely in Schengen countries, including Austria.
The residents of the other countries need to apply Schengen Visa (Visa C) to enter to and stay in Austria up to 90 days. It is wise to check if Austria requires visa from your country before your arrival.