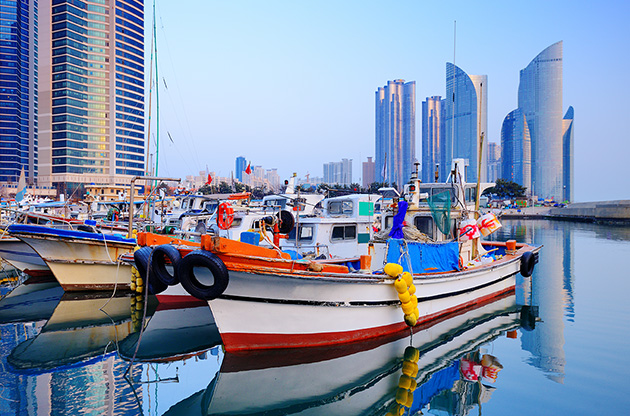 The best example of solidarity and improvement, the technology giant, and the land of the most warm-blooded people ever, South Korea keeps standing strong and deserving all the praise.
Home to almost 50 million people in 9 different regions, South Korea is among the top travel destinations both for holidays and event trips. The capital, Seoul is regarded as one of the most fascinating cities in the world. However, other big cities such as Busan and Incheon are also popular.
Having spent most of its time under the Chinese influence, the marks of the Chinese can be seen clearly on South Korean culture. On the other hand, the country has been quite good at keeping its unique identity to itself. The variety in religious practices of the inhabitants, baseball's being the most popular sports in the country and the hangul script as well as the Korean cuisine are only some of the features that separates South Korea from its other Asian neighbors.
Kim Dae-jung, ex-president of the South Korea, who is Nobel Peace Prize winner is not the only successful South Korean the world knows. The country has also got many talented directors, actors and sports people such as Kim Ki Duk, Daniel Dae Kim and Hines Ward. And of course, let's not skip without mentioning the instant star of the country, PSY, who made everyone try the Gangnam Style at least one time!
Despite being considered as a regular Asian country, South Korea has got a lot more to amaze the visitors with its characteristic style. A trip to this country always bears the joy of discovery and the excitement of opening the door of a distant but a sincere land.
Where is South Korea
Neighbored by Japan, China and North Korea, South Korea is on the southern of the Korean Peninsula.
Visa procedure of South Korea
South Korea welcomes the visitors with an option of visa-on arrival. Ministry of Foreign Affairs of Republic of Korea gives detailed information about the procedure.
Mobile Phone & Internet
KT, SK Telecom and LG Telecom are the top three service providers in the country. All of these three offer prepaid contracts for relatively good prices. In addition, most of the airports in South Korea has stores that rent mobile phones.
Remember, you will probably use the fastest internet connection while you are in South Korea.
Shopping in South Korea
South Korea is not a cheap country to shop but it has got so much to offer that you cannot keep yourself from doing. One thing you should remember before setting out to shop: most of the ATMs in South Korea do not accept foreign cards. Make sure you have enough cash or a second source of money.
What are you going to buy from South Korea? Well, I can hear you saying Ginseng! Yes, you will come across to numerous products that are made of Ginseng. In addition, traditional items such as blue jade celadons, paper kites and ceramics are abundant all across the country. A wide variety of electronics devices are among South Koreas generous shopping offers.
Attractions in South Korea
As South Korea gains more and more importance in the world's tourism scene, the number of the attractions in the country is getting bigger too. Other than the parks, sights to see and museums to explore, South Korea is filled with fabulous past time activities.
If you will spend most of your time in a big city in South Korea, then make sure you try the Korean way of karaoke which is called noraebang. You are in the homeland of the famous taekwondo, so you can also give a try to learn the basics of this martial art.
Boreyeong is a city famous for hosting mud festivals, Jeju-do and Jirisan are the best places for biking and trekking as they have got the beautiful scenery. Kangwon-do is the best province to ski in the winter months. In addition, South Korea is also notable for the amusement parks it has.
South Korean Cuisine
As told before, cuisine of South Korea has some sharp distinctions from the regular Asian cuisine. This is mostly because the spices are accompanied almost always by garlic and the different cooking styles. Besides, unlike the wooden chopsticks, you will see the steel, or even silver chopsticks in the restaurants.
Let's clear one doubt from your mind; yes, dog meat is consumed in South Korea. There are disputes regarding the regulations however it is still a fact. No worries though; it is not that easy to come across a dog soup at a random place. You have to search for the restaurant serving dishes made of dog meat as they are not so many.
Here is my personal top 5 of the Korean dishes but remember, there are a lot more than these to try.
Japchae-Fried Noodles
Kimchi-A cabbage dish, fermented.
Ttoekboki-A sort of rice cake, a famous street food.
Bulgogi-meat slices marinated with soy sauce, fruits and onion.
Doenjang jjigae- doenjang, tofu and mushroom collaboration at its best.
Event Tourism in South Korea
South Korea is an important country not only because of the regular tourism offerings it has, but also because of being a top choice for international meetings. Conferences, congresses, symposiums, tradeshows, fairs and exhibitions that take place throughout the year in South Korea, attract a large number of event attendees. The capital Seoul stands as the main center for these large scale events in addition to a bunch of other cities.