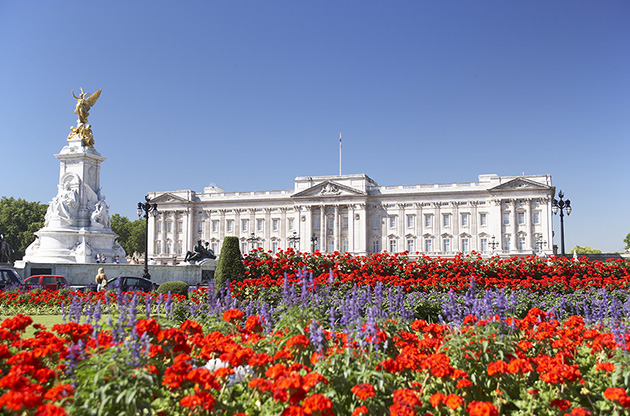 United Kingdom (or Britain) is where all the times unite. You do not need to wait for the time machine to be invented or you do not need to sleep to have a dream about. Dreams are real; history is alive in United Kingdom.
England: The Muse of the Great Minds
She closed her book, blew out the candle and snuggled in her bed when the candle was still smoking.
When she opened her eyes, she was walking under the shadows of a huge castle of England, of Scotland maybe, with a long dress. The hemline was a bit muddy since the weather was rainy. She heard the swords clanging and saw the British knights battling.
She shut her ears to this quarrel and started running. She leaned on a sarsen stone when she got out of the breath in Stonehenge.
Shakespeare was holding a quill pen leaning on a tree in Bancroft Gardens, in England probably writing one of his plays. She passed him by and kept moving to see the Buckingham Palace in London and the queen in her balcony and saw the changing of the guards.
The British sun had started to set when she came near the River Thames in London and she was fascinated by the view of Tower Bridge. The notes of the Beatles' songs were on her ears and the laughter of the people in the English pubs.
The crowd coming from Shakespeare's Globe started to disperse. Some of them took the black cabs, some other got on the red buses. She also got on a red bus that will take her deeper into her dream.
Can one think that all these great minds like Shakespeare, Virginia Woolf, Charles Dickens or the most talented musicians like Eric Clapton and David Bowie and the bands like Pink Floyd, Queen and The Beatles are from Britain for no reason? The gloomy weather, historical wealth and the noble atmosphere of Britain or United Kingdom may probably be the source of their inspiration.
Scotland: Highlands of Paradise
Being the country where legendary William Wallace sacrificed himself for, Scotland makes you travel in time. You may fly from Middle Ages in the northern part to the 18th century in Edinburgh and then to 19th century in Glasgow, both of which are the pride and joy of Scotland.
Get the chance to sip the world famous drink whiskey, listen to bagpipes, watch rugby matches and get lost in the limitless green lands and gloomy castles of Scotland. Looking for company? A Scottish man with a Kilt will guide you.
Wales: An Artistic Country
The country of Prince Charles and Lady Diana, Wales, the country of perfect nature, music and dance will make you feel the life deep in your cells. Combining its culture and history to the daily life in harmony, Wales is a strong candidate to be your new obsession.
Where is Britain (or United Kingdom)
Surrounded by the Atlantic Ocean, North Sea, English Channel and Irish Sea, United Kingdom (or Britain) is a great island that is located on the northwest of Europe.
Attractions in United Kingdom (or Britain)
England
Stonehenge
Located near Salisbury, England, Stonehenge still remains as a mystery of ancient times. We advise you the get the chance to discover this great mystery.
Stratford upon Avon
Known as the birthplace of William Shakespeare, Stratford upon Avon is the place where you can inhale the pure England with its special architecture and historical fabric.
City of Bath
Housing a historical Roman bath naming after, City of Bath is a world heritage city of England. It is worth extending your trip to see this hidden paradise. One more to mention, Madonna, Elton John, Sting and Johnny Depp are the householders in this city.
Scotland
Stirling
Being the first capital city of Britain, Stirling is also known for the places where William Wallace was betrayed in the war. If you are into Middle Ages, Stirling will charm you to the bones with its magnificent castles and vast green lands. Golf is another thing that Stirling is associated with.
Loch Lomond
Loch Lomond is home to over 60 islands and has its own ecosystem. It is known for being the largest fresh water source in Britain.
Wales
Pembrokeshire
Being home to the amazing castles, dreamy beaches and beautiful nature, Pembrokeshire of Wales will satisfy your eyes.
Castles of Britain
If you like to revive your childhood dreams, castles in United Kingdom (in Britain) are still there, alive. Feeling yourself like you have been time travelled, or like you are in a tale is possible with visiting the castles of England, Scotland and Wales. The top ten castles in Britain are:
Windsor Castle (England)
Balmoral Castle (Scotland)
Warwick Castle (England)
Caernarfon Castle (Wales)
Inveraray Castle (Scotland)
Bodiam Castle (England)
Powis Castle and Garden (Wales)
Edinburgh Castle (Scotland)
Caerphilly Castle (Wales)
St Michel's Mount (England)
Universities in England
Located in the city of Oxford, Oxford University dates back to 1096. Although Oxford University does not run tours, all the buildings are open to the visitors. Visiting the oldest university in the world would be inspiring.
The second oldest university, Cambridge is also open to the visits with its nine museums and collections. Most of the colleges are also open to the visitors but only at certain times. You may have more detailed information about the visiting times on the official website for Cambridge.
Shopping in Britain
The things below will remind you the best moments you had in Britain.
Football jerseys
Tea and tea accessories
Bath products (soap is especially popular in England)
Scottish men's skirts (Kilt)
Clothing from famous fashion brands (Topshop, Marks & Spencer, Burberry, Mulberry are only some of the popular trendsetters)
Scottich Whiskey
Bagpipes os Scotland
Cadbury Chocolate
British Cuisine
English Cuisine
Famous English breakfast consists of fried tomatoes, mushrooms, eggs, sausages, baked beans and toasts with jam and butter. Vegetables, especially potatoes can also be found in this meal.
As fast food, fish and chips is also remarkable in English cuisine while fudge and pastry products like scones are indispensable.
Afternoon tea is a "sweet" tradition and people generally prefer buttered pastry products accompanied by tea with milk.
Scottish Cuisine
In Scotland soups are diverse and cock a leekie is the most famous one. Aberdeen Angus is a world-renowned dish and you should give it a try. Haggis is another food that Scotland boasts, which is made of lamb.
Welsh Cuisine
Made by using lamb or leek, Cawl is the traditional dish in the Welsh Cuisine. Cockle and Laverbread are also among the Eelsh dishes that you should give them a try.
Visa for UK (Britain)
Although UK is a member of European Union, Schengen Visa is not valid in England. To find out if England requires visa from your country, you can simply click on the UK Border Agency's website.
Events in UK (Britain)
Thanks to its remarkable countries and the cities, UK's (or Britain's) part in the event tourism pie is big. Being region of history, culture and tradition, UK provides a perfect setting for creative and innovative meetings.
In England, Scotland, Wales or Northern Ireland, there are numerous high class hotels, castles and venues that can host large scale events. Conferences and congresses in UK, just like the fairs, exhibitions, tradeshows or symposiums gain worldwide reputation each year and add much up to the participants and the sectors.