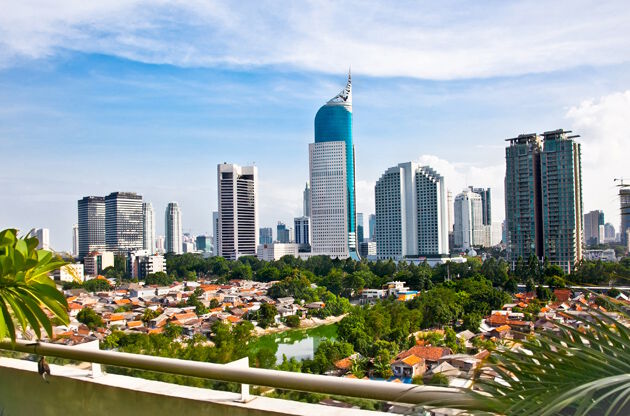 When some people think about Indonesia, they think of a mysterious place that lies on the other side of the globe. They might be surprised to find out that, with 238 million people, Indonesia is the fourth most populous country in the world. It is an island archipelago that consists of more than 17,000 islands located in Southeast Asia. Indonesia's capital, Jakarta, formerly known as Batavia, is found on one of the largest islands, Java.
With its strategic location, it comes as no surprise that Indonesia has been a significant area of maritime trade for at least 14 centuries, with China and India being its major trading partners. Trading ships bring goods and money but they also carry with them ideas about culture, politics and religion. Over the years the traders brought with them new ideas from Hindu, Buddhist and, later on, Muslim and Christian cultures.. These diverse influences still remain and make Indonesia what it is today: an interesting blend of different cultures, religions, cuisine and traditions.
It has not always been easy to hold all of these diverse cultures together, and Indonesia has seen some difficult periods during its long history. After the waves of cultures swept across the area, Europeans colonized many of the islands, most notably the Dutch. Indonesia eventually gained its independence after World War II.
Today Indonesia has the strongest economy in Southeast Asia and is an important destination for business travellers. Indonesia is a member of the G-20 and some believe that it will be among the top ten major economic players in the world within the next ten years. It has many natural resources, is an important exporter, and it eagerly welcomes foreign investors.
Where is Indonesia?
Indonesia stretches from Sumatra, a large island on the west side of the Malaysian peninsular, to West Papua in the east; and from Timor in the south to Kalimantan on the island of Borneo in the north. The many islands of Indonesia are found on both sides of the equator. Borneo, the third largest island in the world, is shared by Indonesia, Malaysia and Brunei. Indonesia also shares land borders with Papua New Guinea and East Timor; and it shares maritime borders with Australia, Malaysia, Palau, the Philippines, and Singapore.
Visa Procedure of Indonesia
You can find all the information about the visa procedure of Indonesia on Indonesia's Ministry of Foreign Affairs' related page .
Attractions in Indonesia
With so many islands spread over such a large area, it's no wonder that there are tons of things for visitors to see and do in Indonesia. Jakarta, the capital located on the island of Java, is home to the Presidential Palace as well as other historical sights and many interesting museums. A good place to see colonial architecture is at Fatahillah Square in Old Batavia, the Dutch quarter.
The island of Java is also famous for its many volcanoes (over 100) and its spectacular scenery. In addition to its many national parks, like Mount Bromo and its National Park, many tourists head east from Jakarta to visit Borobudur and Prambanan, both near the city of Yogyakarta. Both the 9th century Borobudur, which contains the single largest Buddhist structure in the world, and Prambanan, an impressive collection of 10th century Hindu temples, have been designated as World Heritage Sites by UNESCO.
Further east, and a quick hop across the Bali Strait, lies one of the most popular tourist destinations in the world: Bali. Here visitors will marvel at the terraced rice fields, the volcanoes, the lakes, the mountains, and the clean sandy beaches. Some activities include surfing, swimming, and hiking up to the top of the volcanoes. Many tourists are fascinated by the unique animist/Hindu culture that pervades all aspects of life.
Shopping in Indonesia
There are many shopping opportunities in Indonesia. Batik is a favourite souvenir for many visitors. This traditional dyed fabric is found in places like Yogyakarta and Surakarta on Java, as well as many places on Bali. There are many kinds of markets in Indonesia: art markets, bird markets, fish markets, food markets, and handicraft markets, In addition to Indonesia's famous batik, other products include brass, gold and silver work, jewellery, organic soaps, porcelain and pottery, and wood carving.
Indonesian Cuisine
As with sightseeing and shopping, the variety of food and restaurants is astounding. Javanese food is characterised by its simple seasonings and its flavourings of chilies, peanuts and sugar. Nasi goreng is fried rice and is a simple meal that can be found just about anywhere in Indonesia.
Because it is predominantly a Muslim country, many dishes are halal. But if a visitor is hungry for pork, Bali is famous for its "babi guling" which is roast pig. Western islands, close to Malaysia, tend to serve spicy dishes. Islands to the east, especially Papua, eat typical Melanesian dishes of taro and sago.
Travel Tips for Indonesia
Negotiating is how things are done in Indonesia, and this usually begins at the airport. It is wise to have some idea of the cost of transportation from the airport to your hotel before arriving. Taxi drivers will try to get as much money as they can, especially when they recognize a first time traveller.
There are many hawkers and beggars around tourist destinations: this can become overwhelming, so it's best to say nothing, smile, and move on. As in most crowded places, it's always wise to keep an eye on your personal belongings.
Event Tourism in Indonesia
Indonesia welcomes a large number of visitors every year and the number of the people who visit the country in order to attend an international meeting cannot be underestimated. As Indonesia is a powerful name in event tourism, every year the country becomes the hub for large scale conngresses, conferences, symposiums, seminars, trade shows and fairs. The natural diversity and the rich history that surrounds the country turns the country into a dream place for the event attendee.