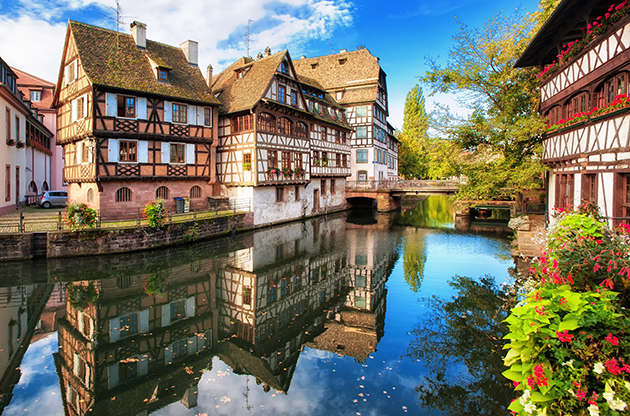 Close your eyes and imagine you are lying in a vineyard when the sun is dazzling. You are enjoying fresh butter spreading on a slice of baguette; or picking grapes from vine to accompany to the delicious cheese and magical wine.
Another scene. You are in a square. You see Gothic architecture whenever you look, chic people are walking in picturesque streets and sitting at cozy cafés. You breathe the smell of nice fresh croissants when feeling art and history under your skin.
Open your eyes. You are in France.
The world's most visited country by nearly 79.5 million (more than its population) tourist each year, France is now awaits you to feel its legendary spirit.
Having a renowned cuisine, spectacular Mediterranean villages, wide variety of landscapes and a deep culture and history, France is one of a kind.
Discover the French Riviera with 10 million others a year. Taste the most delicious wine in the world accompanied by more than 600 kinds of cheese. Witness the thrilling height of Mont Blanc which is the highest point of Western Europe of 4810 meters. Get inspired by the best pieces of Gothic architecture that was born in France.
Get ready for calm life in France. French people live in a certain manner. They are kind and they generally do not to behave randomly. They try to live in order; however they know very well how to enjoy the life.
Where is France
Located and being the largest country in Western Europe, France has a coast on the Mediterranean Sea on the south and on Atlantic Ocean on the west. Among the borders of France, there are Spain, Italy and Germany.
Things to Do In France
If you are in France for summer, there are many options that you can pick. You should not miss French Riviera, St Tropez, Nice or Cannes especially in the season.
Tour De France is being held every summer since 1903 and it is one of the most important sports events in the world.
Mont Blanc is renowned for being the highest of Alps and in European Union. If you are in this city in winter, for unforgettable skiing experiences, Mont Blanc is the place.
Eiffel Tower, not only Paris' but also France's symbol is a must-see landmark. Visited by 7 million tourists a year, Eiffel Tower is one of the most famous tourist attractions in the world.
Shopping in France
France can be regarded as a synonym of shopping. Bringing an empty luggage with you is a nice idea since you will be buying many things from each shop.
Here are the top three shopping options that we advise:
Le Bon Marché
France's oldest department store, built in 1852 by Gustave Eiffel, offers you a great diversity for shopping. You should visit Le Bon Marché not only for shopping but also as a famous landmark in Paris.
Cours Saleya Markets
Serves not only as a flower market but also as a really famous touristic bazaar and restaurants. You should definitely pay a visit if you are in Nice.
Colette
If you are interested in unusual items, gadgets, limited edition products and books, Colette will be your favorite store in Paris.
Apart from the "you-should-visit" shopping places, there are some "you-should-buy" products before your departure which are:
Wine
Cheese
Macaron
Cosmetics (especially perfumes)
Salted butter
French Cuisine
French Cuisine is probably the most renowned cuisine in the world. There is an amazing diversity from south and north of the country. Butter and olive oil are the kings of this cuisine and have the amazing taste.
Among the most famous members of French Cuisine are cassoulet, quiche, crépe, croissants and baguette.
The last but not the least, do not leave this fascinating country without tasting the magical wines and from the huge diversity of cheese.
Olive Oil and Butter
Olive oil and butter are the kings of the French cuisine since French people prefer them both alone in breakfasts and as an ingredient in most recipes. Especially salted butter and extra virgin oil are really popular in France and you will have the chance of tasting the best olive oil and butter in this country.
Champagne
Contrary to common belief, Champagne is the name of the sparkling wine made of the grapes grown in Champagne in French. Now being in the homeland of Champagne, it is time to taste the real Champagne; do not confine yourself to any kind of sparkling wine.
Wine
The first country coming to your mind when you hear the name of wine is France without any hesitations. Being the homeland of many famous grape kinds like Sauvignon Blanc, Chardonnay, Pinot Noir and Cabarnet Sauvignon, France is the largest wine producer in the world.
Facts about France
The life expectancy in is the highest in Europe.
England's official language was France between 1066 and XV century
Two new cookbooks are published each day in France.
In France, snails, horsemeat and frog's legs are eaten.
If you want to take pictures of police officers, it is against the law.
Calculator, photos and movies, parachute and balloon are the invention of French.
Visa Requirement for France
France is a member of Schengen countries. So if you are a resident of one of these countries you can travel freely. However you need to check if itrequires visa from you country if you are not a resident from one of these countries. You can have detailed information about visa requirements on the official website of French Ministry of Foreign Affairs.
Events in France
France is one of a kind in the world in terms of the cuisine, history and the beautiful landscapes. With its world-renowned hotels, venues with modern facilities and 657 Michelin guide restaurants, It is the perfect place international meetings without hesitations.
Its central location in Europe adds up to France's preferability for the international large scale events like conferences, congresses, symposiums, fairs and exhibitions.
Each year, millions of people come to this country from all over the world both as lecturers and participants for these leading events.