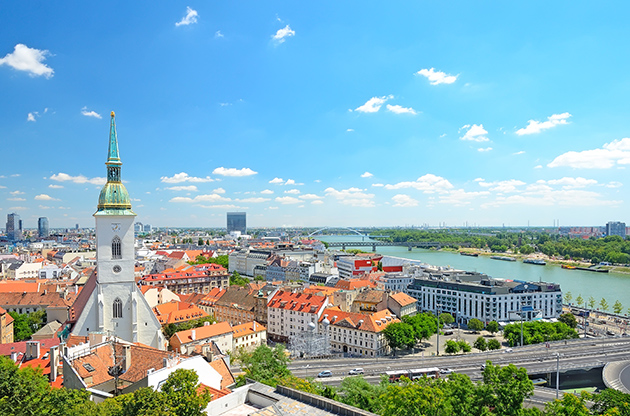 One can never know from where the greatest of journeys would come from. However, if it is Slovakia where one heads to, then she can make sure she is going to have a great time with full of discoveries and will end up with a bag of wonderful moments.
Slovakia is a country located in central Europe. It is not often that it finds herself a place among the blog posts named, "Top 10 countries in the world for your summer vacation" or "7 European countries you must visit before you die." However this definitely don't take anything from its charm; on the contrary it adds a bit more mystery and turns Slovakia into a destination which is full of surprises.
The landlocked country is neighbored by Austria, Czech Republic, Ukraine, Hungary and Poland. Slovakia is a member of European Union and albeit the official language of the country is Slovak, Ukrainian and Hungarian is also recognized and spoken by a vast majority.
The capital city of Slovakia is Bratislava and it is the heart of business and culture in the country. Banská Bystrica, Banská Štiavnica, Prešov and Trnava are the other towns and cities that are popular in the country, all of which have some very characteristic features that one cannot help falling in love with.
The country has got a temperate climate; it is sunny and warm in springs and summers and winters are shaped by constant rain and snow in the upper parts of the country. The mountains, while giving a picturesque look to the land, is also home to one of a kind nature.
Slovakia is a country filled with customs and traditions all of which have been well preserved up until today and shaped by the different political situations that took place throughout time as well with the geographical location of the country. Your trip to this beautiful land will be quite a discovery for you. The more you get to know Slovakia, the more it will fascinate you and will make you want to come back.
Where is Slovakia?
Bordered by 5 European countries; Poland, Hungary, Ukraine, Czech Republic and Austria, Slovakia is a landlocked country located in Central Europe.
Visa Procedure of Slovakia
Slovakia is a member of European Union so the visitors must obtain a Schengen Visa if their passport nationalities requires them so. The official website of Ministry of Foreign and European Affairs of The Slovak Republic gives detailed information about the visa procedure, which countries are required to apply for one and how to apply.
Attractions in Slovakia
Slovakia boasts a rich history and there are still a lot to be seen from old times in the country. If you are into historical sights and buildings, you'll be more than happy in your journey in the country. Visiting chateaux and castles are the primary attraction in the country and they are also a way of going back in time.
If you are a sports lover, you should know you are going to one of the countries where hiking in a unique nature is possible. The mountains surrounding the country have very special hiking routes and it is also common among the locals to hike while enjoying the atmosphere. You can also visit national parks and recreational areas where the spring time is totally different than what you know of.
The capital Bratislava, as aforementioned, is the cultural hub of the country. There are plenty of museums and historical buildings to see, avenues to understand and embrace the unique Slovak aura. The city also has got a large number of nice neighborhoods to be visited when there. Shopping and dining can also be considered as an attraction in big cities because even these sort of small things have got characteristic features that are both pleasant and surprising.
Slovak Cuisine
Slovak cuisine has been shaped by the times when it was not really easy to find a rich variety of ingredients as well with the influence of the neighboring countries. When the geographical conditions of the land is also taken into consideration, the limited number of things used while creating the Slovak dishes become clearer to understand. However this is also the reason for appreciation; the limited amount of ingredients didn't turn Slovak cuisine into a just regular one; actually this helped it to be distinctive.
The cuisine is based on three kinds of meat; with pork being on the lead, beef and poultry is consumed largely in the dishes that constitute Slovak dishes. In addition to these, milk, wheat and dairy products as well with potatoes can be listed as the main ingredients used.
Halušky, Bryndzové pirohy and Kapustnica are the main dishes you have to try when in Slovakia. These three are the most famous across the country and in the world and will give you an idea of the Slovak cuisine in general. Buchty and Ryzový nákyp are the two desserts that are popular.
Shopping in Slovakia
The currency used in Slovakia is Euro. In big cities such as Bratislava, you can easily change your home land currency into Euro however if you are traveling to a smaller part of the country, make sure you have done the currency exchange thing in advance to your arrival.
In big cities of Slovakia, you can shop just as you do in the city you live. There are streets filled with shops and stores and you can find shopping malls, from where you can buy anything you need. However, the traditional shopping experience can also be found in Slovakia; especially in smaller regions, shopping will be a different experience for you.
The most common souvenirs from Slovakia include items made of textile and ceramics. Handmade items are also popular and these show the best examples of Slovak craftsmanship.
Event Tourism in Slovakia
The place Slovakia holds in world's event tourism have been rising for a long time. The venues equipped with the latest technology to host large scale congresses, conferences, fairs and trade shows as well with recently built hotels that can meet the necessities of any type of event traveler contribute to this rise. In addition, when the country's central location is also taken into consideration, it is possible to say that Slovakia will host even more number of important events in the very near future.