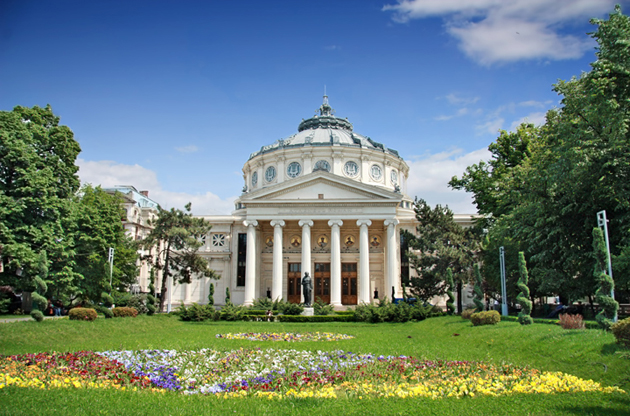 Romania is a land of a thousand personalities but the one that flashes into the minds of people the world over when Romania is mentioned is the one and only Dracula of Bram Stoker fame. To this day hundreds of thousands of tourist flock to the magical province of Transylvania to visit the birthplace of the character.
It isn't surprising that the legend of vampires hidden in the cradle of Transylvanian mountains lives and breathes today. With its medieval cities and castles, haunting forests and dark, looming mountains this eastern Romanian province fits the bill perfectly. Transylvania is one of eight provinces in the country, if you head to the east the scenery changes dramatically and so do the stories.
Picture beautiful people on beautiful beaches, swimming and soaking in the sun and you have the province of Dobrogea which sits on the Black Sea Coast. This province is also home to great Greek and Roman ruins which speak to Romania's complex history and the deep influences the neighboring countries have on culture and life in the country today.
In romania, head to the southwest and see deep German influences in architecture and cuisine, head southeast and traces of the Ottoman Empire will whisper in the unlikeliest of places. The capital of this thoroughly fascinating country and where all these styles and influences come together is Bucharest in the southeastern province of Muntenia.
This country is doing better than some of its neighbors in terms of infrastructure development but public transportation can still be a bit of a hit or a miss. The Romanians have found their own way around this problem, the country is a hitchhiker's delight. A rental car is great idea if you plan to stay in Romania for any length of time and it gives you a chance to freely go discovering.
People are amazingly warm and hospitable, especially in rural areas and will more than welcome you to sit down at the table for a little special Romanian nosh. More on the delicious cuisine a little later.
Where is Romania?
Romania is a member of the European Union and located in Central Europe and shares its borders with five countries: Hungary, Serbia, Ukraine, Moldova and Bulgaria.
Visa Procedure of Romania
Romania's Ministry of Foreign Affairs gives the detailed information about the country's visa procedure.
Attractions in Romania
Romania has some very distinct regions which means there are many things to do depending on your travel schedule. For skiing head to the resorts in gorgeous Valea Prahovei, sunbathe in the Romanian Riviera city of Neptun, photograph Saxon villages in Transylvania. Head to the Danube Delta for a unique naturescape.
To truly vacation like royalty head to Sinaia, which is located in the Carpathian Mountains and is a top holiday resort destination. Peles Castle was built by Romanian King Charles the I, after which numerous other residences belonging to upper class Romanian society began to pop up. Now, casinos, beautiful hotels and fine restaurants are part of the whole romance of the area.
For a concentration of museums, art galleries, gorgeous old buildings, palaces and historic squares, Bucharest is your best option.
Shopping in Romania
To truly appreciate the traditional shopping experience in Romania you must go to the weekly held country fairs. Depending on the city that you are in, you can purchase animals, hand-knitted clothing, fruits and vegetables, prepared foods, artwork and so much more. Besides the shopping it is just a fantastic colorful experience and really gives a taste of the Romania of days gone by.
Additionally, getting to know Romanian artisans and purchasing local crafts that are created by them is a great way to help the community and truly have a piece of original work to take home. The country still has traditional glass blowers that can create pieces to your liking and carving and hand-knitted items are also beautifully created in one-of-a kind originals.
Romanian Cuisine
Romania's location in Central Europe is played out in Romanian cuisine, which is eclectic and delicious. Dishes inspired from Greece, Turkey, Bulgaria and Russia all create a brilliant array of flavors and dishes.
Some delicious dishes include Sarmale, which is cabbage stuffed with pork and sauerkraut and tomatoes; Mititei are mini lamb and veal sausages without the casing. Ciorba de burta is a traditional tripe soup. Polenta is served with most meals and is often seen as a bread alternative.
The Salata Boeuf does translate into beef salad, however a meat is not necessarily included in the dish. Often times the salad is composed of potatoes, carrots, pickles and mayonnaise. Zacusca is a vegetable spread made by grilling peppers and eggplants and then boiling them in a tomato sauce for hours. It is usually eaten with bread and finds a home on the breakfast, lunch and dinner table.
For dessert, crepes are huge and often filled with delicious sweet creams and fruit for a great way to end a meal or are also served as a delicious tea time accompaniment.
Travel Tips for Romania
Crime is low in Romania and people are very friendly, there is some petty crime like pick-pocketing. Just use your common sense and you should safely be able to go anywhere in the country.
Be aware that buses and other public transportation is infrequent and plan ahead to avoid being stranded in a small town (although many residents would be happy to rent out a room in their home for you to stay in).
Bear sightings are not uncommon in towns located near mountains as the animals come down to forage for food. Be aware.
Event Tourism in Romania
Meeting and events are generally held in Bucharest which has the greatest number of facilities including hotels and conference centers to accommodate large groups. The city provides the perfect backdrop for large gatherings such as international congresses, conferences, symposiums, faris, trade shows and the accommodations are some of the best you will find in the region. Its central location between east and west has made it a popular choice for many international companies and organizations.