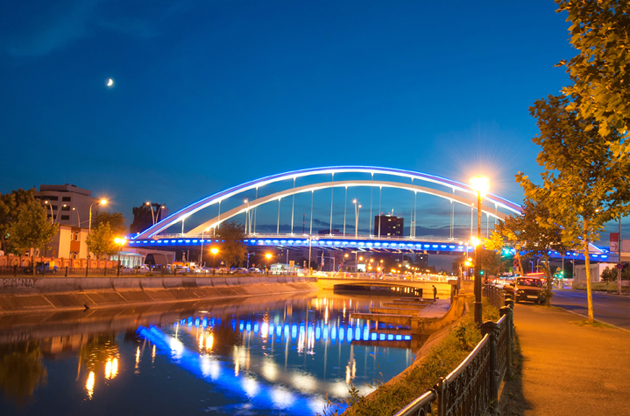 Bucharest is a pretty little city dripping in layers of cultural complexity bound by fascinating history and sweet wicked charm. Its exquisite architecture and reputation of decadence is clear as the buildings in the city don't whisper these facts but yell them out loud.
The Arch of Triumph stands in the center of the city strong and stoic and from the air a little like a piece of lego plunked in the middle of a traffic roundabout. The side streets are gorgeous to walk through, and in fact a walk is too simple. The streets of Bucharest require a promenade through while nodding in appreciation and approval of the full trees that line the streets.
One of the oldest streets in the city was built in 1692, the Calea Victoriei is where you will find the famed Revolution Square where the world watched in awe just a little over two decades ago as the Romanian people changed the course of history. The stunning National History Museum and the Military Club can also be found on what has come to be known the most fashionable street in the city.
Bucharest residents enjoy four seasons so naturally the summers are hot and can hit the high 30s while cold temperatures prevail in the winter months, often falling far below 0. Four seasons also means fantastic promenades through the parks and streets when the leaves of the trees turn a rustic home fire orange.
Where is Bucharest?
Bucharest is located in the southeast of Romania in the province of Muntenia.
How to get to Bucharest?
Henri Coanda International Airport caters to both domestic and international trips and is just 20 minutes north of downtown Bucharest. Shuttle transfer services can get you from the airport to downtown. An express bus is also available from the international departures terminal and has a number of stops along the way to downtown. A train service is also available but you will need to take a transfer from the airport to the train station, which is just outside the airport grounds and the train trip into downtown will take more than an hour. Taxis are available in front of the airport terminal.
How to get around in Bucharest?
Bucharest has an extensive public transportation network that includes subway, bus, tram and trolley. You can purchase single trips or passes for the day, week or month.
Attractions in Bucharest
There are so many things to see and do that you could easily spend a week in downtown Bucharest without seeing it all. The following are some of the big must sees and after that be sure to do a little exploring of the side street gems.
Sightseeing & Museums in Bucharest
Cotroceni Palace and Museum
This historical building was built in the late 17th century. Parts of it were torn down and later rebuilt, but a portion of the original palace has been opened up as a museum. Much of the design has been maintained ensuring that a visit is much like time travel to old Bucharest.
The National Art Museum
Founded in 1948 and located in the former Royal Palace, the National Art Museum hosts more than 100,000 pieces of European and Romanian art dating from the 16th to 20th centuries.
Botanical Garden
For a little break from the city escape to the Botanical Garden, which has over 5,000 types of plants from both Romania and around the world. If you haven't had your full museum fix, the gardens are also the site of the Botanical Garden Museum.
Shopping in Bucharest
The city boasts many designer labels however a visit to Bucharest should include a visit to the markets where the works of local artisans are on display. Handiwork includes detailed embroidery work on leather, cotton and wool. Pottery pieces and woodcarvings are also carefully hand produced.
The Piata Obor and Piata 1 Mai are two large and popular outdoor markets where you can also find items like fruits and vegetables and fresh cheese and eggs. Piata Amzei is located in the centre of downtown and also has small stores that carry medicinal plants. Romanian crafts are also sold at the Museum of the Romanian Peasant.
However if you are looking for a traditional shopping center, there are plenty dotted throughout Bucharest and all provide the conveniences of Western malls.
Dining & Nightlife in Bucharest
One of the truly fantastic things about dining in Bucharest beyond its food of course is that many restaurants are housed in beautiful old buildings with amazing decor, making breakfast, lunch or dinner an experience in itself.
Dining choices are delicious and plenty from traditional Romanian fare like cabbage rolls stuffed with delicious bites of veal and fragrant vegetables to tripe soup and polenta dripping in bacon and sour cream. The city offers numerous international choices from contemporary steakhouse to Italian fine dining and Asian fusion. Romanians are big consumers of meat but Bucharest is a cosmopolitan city receiving visitors from around the world so restaurants will try and help you find something great on or off the menu.
After a day of sightseeing or meetings in Bucharest, you may just want to unwind with a craft beer or glass of wine, or maybe you need a little music and conversation, either way head to the Lipscani area, which has great bars, pubs and disco clubs.
Excursions in Bucharest
For a coles notes version of historic excursions hop on one of the sightseeing tour buses to get a rundown of the historical buildings and the neighborhoods they are located in. This is quite helpful in planning out your walking itinerary.
If you have a chance to take one day trip outside of the city, Sinaia is a great choice. The town is where royalty vacationed and why Peles Castle was built there. The beautiful and haunting Sinaia Monastery is also located there. Sinaia is 80 miles north of Bucharest and can be reached by bus, train or car.
A trip to Bran Castle (otherwise known as Dracula castle) followed by a jaunt to a medieval town is also another great option for a day trip. Bran is 84 miles north of Bucharest and the town of Brasov is another 12 miles north of that. You can make the trip by car, train or bus.
Event Tourism in Bucharest
Bucharest has played host to numerous international congresses, conferences, symposiums, fairs, trade shows and exhibitions thanks to its convenient location between the east and the west. High end hotels and top conference facilities as well as world class dining options are available against the beautiful backdrop of a city of the ages.