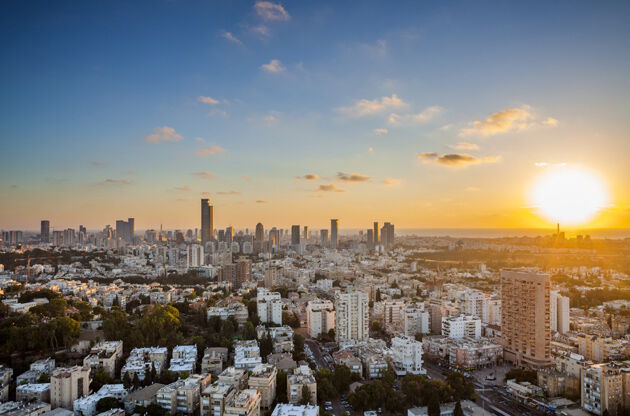 Israel – the Holy Land, has intrigued and inspired kings and common men alike and has attracted visitors to this region since time immemorial. With a dazzling tapestry of history, Israel is the land where prophets lived and preached and where the Crusaders fought their holy battles. Judaism, Islam and Christianity all have ties to this ancient land and because of this fascinating history which is a rich amalgamation of religion, sanctity, culture, myths and legends people are attracted to Israel's shores.
But Israel is not only about history. While the timelessness of the place will mesmerise you and take you back in time, the modern and vibrant Israel will also enchant you and warm your heart. On a given day you can visit Jerusalem and catch a fascinating glimpse of the Biblical past and then at sundown enjoy the attractions of the modern city of Tel Aviv with its numerous restaurants and some fantastic theatres.
Tel Aviv also has some fantastic beaches for a lazy beach holiday. And if action calls then there is rappelling in the Negev Desert, skiing at Mt. Masada and diving and surfing at Eilat. Then there are numerous hiking trails like the Israel National Trail that will take you across this fascinating country. But please be cautioned that this is a long trail of over a month in duration. There are also shorter trails relating to history and religion like the Jerusalem Trail and the Jesus Trail which are equally fascinating and informative too.
With so much to see and do, one visit to Israel is never enough and this country will exert her magnetic pull over you, compelling you to visit her over and over again.
Where is Israel?
Israel, which is officially known as the State of Israel is a country in Asia Minor, on the shores of the Mediterranean Sea. Lebanon, Syria, Palestine and Jordan are her neighbours in the Middle East.
Visa Procedure of Israel
Prior to making travel arrangements to visit Israel, it is suggested that you know about the visa requirements from the Israel Ministry of Foreign Affairs as the visa rules are pretty stringent and also there is a Visa Waiver Program for some countries.
How to get to Israel?
When travelling to Israel by air, your port of entry would be the Ben-Gurion International Airport which is near Tel Aviv and is about 40kms away from Jerusalem. Almost all European and American carriers are serviced by this airport. Please be aware that the security at both the points of entry and exit from Israel are very strict and rigorous.
At passport control you may be subject to additional questioning by the passport control officers and while departing there will be a thorough search of your baggage both by machines and by hand, including an interview about your stay in Israel.
Once you have cleared the passport control it is very easy to reach your destination from the airport by trains, buses, or even shared taxis. The bus services are fast and efficient and recommended means of travel, but the services remain closed from Friday sundown to Saturday sundown.
Things to do in Israel
When in Israel you must visit Jerusalem and savour its diverse ethnicity and culture all set in timeless history. Each pavement stone and every nook and cranny of the Old City of Jerusalem with its four Quarters – the Armenian, the Christian, the Jewish and the Muslim, all resonate with history. You will marvel at the stark beauty of the Temple Mount, the Western Wall, the Mount of Olives, the Dome of Rock, and be awestruck by the serenity of the many famous churches like the Church of All Nations, Church of the Holy Sepulchre, and the Church of Maria Magdalene.
As you travel around Jerusalem taking in all the historical sites, it will be easy for you to be transported to the days when Jerusalem was a royal city and the cause of many holy battles.
Western part of Jerusalem is considered modern but this part too has significant historical monuments like the Yad Vashem Holocaust memorial museum, Mt. Zion, and the birth place of John the Baptist.
Tel Aviv with its historical Bauhaus architecture and modern lifestyle, Safed, Jaffa and the Old City of Acre with their historical significance should all be a part of your itinerary when you are travelling to Israel. Then there are the glorious beaches at Eilat, desert adventure at the Negev, skiing at Golan and over 200 museums in Israel to keep your days jam-packed with activities galore.
Shopping in Israel
Israel is a shopper's paradise where you can choose to shop in an open bazaar, a shuk or in a mall. The Caramel Market in Tel Aviv and the Machane Yehuda in Jerusalem are very popular with tourists, and these are traditional open markets. Apart from trinkets of religious significance, Israeli wine, handicraft items made of wood, straw and sea shells, blown glass items and even diamonds are popular buys in this country.
Popular souvenirs to take back home with you range from religious items for sale in tiny shops in the Old City to designer-ware bought at the trendy boutiques in Tel Aviv to Armenian pottery purchased from the rows and rows of pottery stores located near the Jaffa Gate.
When in Jerusalem, you can buy a variety of religious items including religious jewelry ranging from the Jerusalem cross and the hamsa symbol to beautifully carved rosaries. You can also buy a variety of religious books, including Torahs, devotional pictures, and of course, chalices, to take back home.
When visiting Jerusalem, don't forget to buy Armenian pottery to take back home. The area near the Jaffa gate, home to the Armenian community, abounds in stores that sell beautiful hand-painted Armenian pottery in vibrant colors and with a variety of patterns.
Israeli Cuisine
When in Israel, don't forget to try its amazing Middle Eastern cuisine. The simple but exceedingly mouth-watering lunch comprising of schnitzel with a wide variety of side salads like hummus, tahini, etc., typically served with rice or mashed potatoes, and vegetables is bound to make you go for second-helpings.
If you are on the move and feel the need for a quick snack, don't forget to stop by a roadside vendor selling falafel (deep fried chickpea balls) or shwarma (delicious slices of grilled meat) stuffed in pita bread. Then there is sabih (a pita bread sandwich stuffed with fried eggplant, boiled egg and tahini) and shnitzel (chicken cutlets) that can serve as excellent snacks.
If your sweet tooth feels a bit neglected after a delicious meal of falafei or shwarma, try Malawach—a popular pastry that comes with a variety of toppings
Travel to Gaza Strip should be made with extreme caution if at all, because of the associated risks.
When visiting holy sites, it is important to respect the local culture and be appropriately dressed.
Event Tourism in Israel
With its growing number of good quality hotels and venues that are very well equipped to hold international congresses, conferences, symposiums, fairs and trade shows, Israel has been getting a lot more attention by the event tourism pioneers recently. The land itself keeps standing as a mystery for travelers and that eventually turns Israel into an important spot to visit with the aim of attending a business trip.