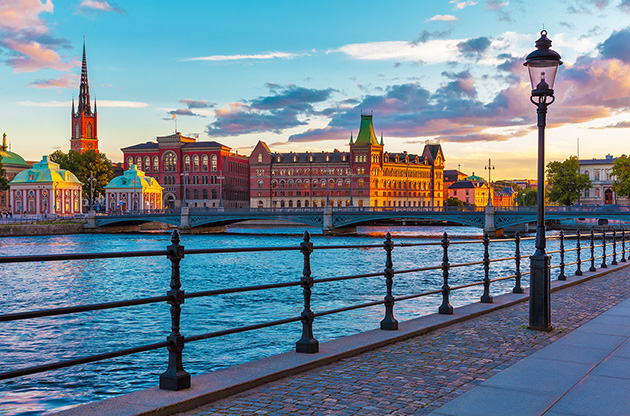 The unofficial beauty capital of Scandinavia, Sweden keeps dominating the top rows of the lists of most livable countries and there are reasons for that. One of the most improved countries in terms of not only economy and culture but also value given to the human life, Sweden offers a fantastic and unforgettable journey to the ones who make it there.
Sweden is a dream-like country, in which 9 and a half million people live the best possible way of our time, located in the heart of a giant forest. It always has got something to warm your heart despite the famous Scandinavian cold outside. When the charm of the big cities such as Stockholm, Gothenburg, Lund and Malmö is added to the sincerity of the countryside towns, Sweden makes the best setting for a modern day fairy tale.
Among all of the Scandinavian countries, Sweden is regarded as the one that was able to preserve its cultural roots at best. The great warriors, Vikings were the ones who contributed to epics but Sweden's not participating in any wars since 1814 is the thing that made Sweden one of the most democratic and peaceful countries of all times.
Despite being located in Europe, Sweden has a style that has nothing to do with the rest of the continent. You will feel the tranquil characteristics and serenity of the Swedish, who are known to be the most beautiful in the world. Besides, with such a scarce population, it wouldn't be possible for every country to be homelands for this many people who had a deep impact on the world. (Thank you ABBA, August Strindberg and Alfred Nobel!)
Sweden of course will welcome you with a lot of options of things to do, places to see, dishes to taste however all of these will be the side pluses to the actual feeling of the country. Because that is going to be the thing that will stuck in your heart and make you jumping on a plane to go back whenever possible.
Where is Sweden?
Sweden is located on Northern Europe, neighboring the countries Norway and Finland.
Visa Procedure of Sweden
You can find all the information concerning visa procedure of Sweden on Sweden's Migrationsverket .
Swedish Cuisine
Although cuisine of Sweden may seem to be lacking varieties at first, when you discover the regional differences, you end up with not being sure what to order at a restaurant.
The Swedish dishes usually based on meat products, pork and lamb mostly. However the consumption of sea food in Sweden cannot be underestimated as well. The dishes are usually light and not so much spiced. And all of the meals are finished with a dessert and a cup of coffee.
Bread, cheese and butter are also important in Swedish cuisine. Especially crisp bread, called knäckebröd, is a good option of quick snacks when dressed with toppings.
One thing you should know about Sweden: Fika! Swedish people love this coffee break accompanied by a piece of pastry. It may be a social occasion; people meet up 'to fika' or an everyday habit such as fikaing after dinner.
You can read about the Swedish dishes and desserts I ate the most in my year in Sweden to have an idea while you are reading the menus at restaurants.
Kötbullar: You have been reading this section to see the name 'Swedish meatballs', right? Well here it is. It is delicious and served with lingberry jam and mashed potatoes.
Korv Stroganoff: You can actually eat sausage in a variety of ways in Sweden however this one is the closest to a dish.
Smörgåstårta: This is probably the most Swedish thing you can ever taste: It is a giant, multi-layered sandwich served on a big plate, and it is delicious when filled with shrimp.
Kanelbulle: Swedish cinnamon rolls. The best friend of coffee in Sweden.
Semla: the most famous Swedish desert, Semla, is a wheat bun filled with vanilla cream
Shopping in Sweden
Sweden is expensive. Maybe not as expensive as Denmark but still, it is not that likely you will ever come across anything which is actually cheaper than it is in your home country.
However, still, it may be hard to hold yourself on shopping while you are wandering in the streets of the homeland of H&M and IKEA. These two are the brands you can find literally anywhere in the country. And Swedish people love them.
The clothes brands such as Acne and Cheap Monday represent the recent understanding of Swedish fashion at its best. Department store chain Åhléns will cover anything you need. Designtorget in Sweden is another chain store that sells everyday items, designed by Swedish designers.
Don't forget to buy at least one of the miniature Dala Horse, which is the unofficial symbol of the country. Besides, Swedish glass industry keeps on producing the best examples of glass goods. It may be a bit hard to take some back home but still, looking will not hurt.
Attractions in Sweden
That may be right to describe Sweden as a country that is built on a forest. Because of this, almost anything you do will have something to do with nature.
Fishing, hunting, canoeing, kayaking and hunting are the sports that are the most popular sports in Sweden. This is why you will come across a lot of places where you can try these out. In addition, if your trip falls in summer, then you will have the chance to enjoy the beautiful lakes.
Big cities such as, the cultural hub, the capital Stockholm and the west coast beauty Gothenburg has got a lot of museums and palaces. In addition, as these two are the most popular tourist destinations within the country, a lot of festivals, concerts and gourmet tours are organized in these rapidly.
Event Tourism in Sweden
One of the most beautiful countries in Europe, Sweden definitely deserves the praise for being a center for the most important congresses, conferences, symposiums, tradeshows, exhibitions and fairs that take place throughout the year. The capital Stockholm welcomes a large number of attendees every year. The other major towns such as Gothenburg and Malmö also plays an important role in the praise of Sweden. The venues and centers in the country, the organizations that work really hard to maximize the satisfaction of the event attendee turns Sweden into a pioneer in event tourism, too.