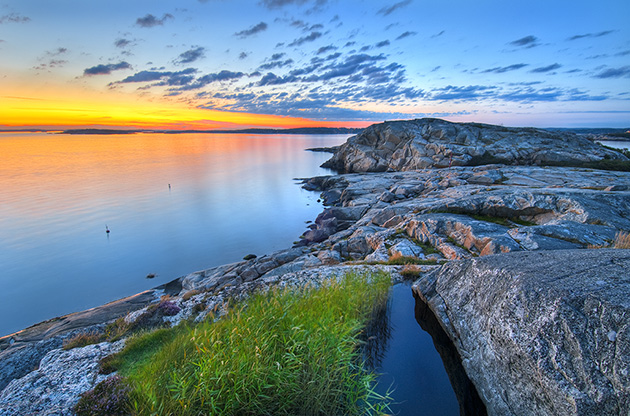 The people who claim that Scandinavian cities have got something special that cannot be seen but only felt which separate them from the other cities in rest of Europe. However when it comes to Gothenburg, that special thing gets even more clear and you find yourself asking, 'Is this really Sweden?' Because unlike the country's anticipated cold climate and the known Scandinavian stereotypes, Gothenburg welcomes you like a friend that you have been longing for so long.
With a population of almost 530.000, the city is the second largest one in Sweden. As it is home to the top 2 universities in the country, being University of Gothenburg and Chalmers Institute of Technology, the student population is one major element that changes the aura of the city and it adds something more live and colorful to the city's profile.
Gothenburg also known as the event city of the whole country. In addition to the large scale conferences, congresses, symposiums, exhibitions, fairs and trade shows that take place throughout the year in the city, annual events that attract thousands of foreign visitors such as Way Out West and Gothia Cup are also contribute to this perception. The city is also the birthplace of the famous Volvo cars.
Regarded as being much more tourist friendly than the capital Stockholm, Gothenburg succeeds in creating a heaven for the visitors by giving them countless options on attractions, shopping, sightseeing and excursions. With sticking strong to its Scandinavian root but having a more European aura at the same time, this city deserves all the praises it gets when it is called the apple of Sweden's eye.
Where is Gothenburg?
Gothenburg is located on the west coast of Sweden.
How to get to Gothenburg?
Landvetter Airport is Gothenburg's international airport and is located on 9.3 km northwest of the city center. The airport gives a bunch of options on travelling to/from the airport .
Gothenburg City Airport is the one that hosts most of the low cost airlines. It is closer to the city center and the options of reaching the center from there are also listed.
How to get around in Gothenburg?
Gothenburg has got a highly efficient local transportation system, consisting of buses, trams and trains. That's recommended to buy a Västtrafik card, which you can refill anytime you need.
Attractions in Gothenburg
Gothenburg is filled with attractions that will make it really hard to choose from. Museums that are hard to beat in content, places of interest that still carries the marks of time, high quality restaurants that serve the best examples of both Swedish and world cuisines and excellent shopping areas are waiting to be discovered by you, this time.
Sightseeing & Museums in Gothenburg
You should start your sightseeing with stopping by the Crown House first. Gothenburg Cathedral and Oscar Fredrik Church are the other two buildings that are worth seeing. If you would like to see the natural beauty of the city, then Slottsskogen and Botaniska Trädgården must be included in your list. Skansen Kronan and Fish Market are among the popular places to check out in the city.
Or you can simply enjoy a walk on the harbor. If the weather lets you, this walking can turn into one of the most picturesque walks of your life.
The museum lovers are lucky in Gothenburg as they have a lot of options to choose from. Gothenburg Art Museum, Gothenburg City Museum, Museum of World Culture, Gothenburg Natural History Museum and Aeroseum might be interesting to spend some time at. And for anyone interested, Gothenburg has also got a Volvo Museum.
Shopping in Gothenburg
Shopping's heart beat at Nordstan in Gothenburg. You can find a lot of items ranging from handmade Swedish souvenirs to take home with you to Swedish designer clothes. However other than this, it is possible to say that most of Gothenburg's shopping is centered in malls, or let's say, smaller shopping centers.
Arkaden is the one usually visited by the fashionistas as the places has got a large number of boutiques. NK is the one you should head to if you are after a bit more luxurious shopping. There you can find the brands' such as the Burberry, D&G and Dior, stores.
If you are a music enthusiast and collecting vinyl or CD then you should check out Bengans, the biggest music store in the city.
Dining & Nightlife in Gothenburg
If you want to enjoy a nice dinner after a long business day in Gothenburg, you can go to Linnégatan as it is the place in the city which has the most number of restaurants. You can find any sort of restaurant for your appetite, serving whether Scandinavian or world cuisine. In addition, don't forget you are one of the most vegetarian friendly country in the world. Almost all of the restaurants have got more than 1 vegetarian dish on their menu.
The same area is the home to Gothenburg's nightlife scene, as well with Avenyn. Stylish pubs and cafes, bars that are open till the early morning guarantee the best way to shake the stress away of the day. As Sweden is a country where pre-party is common due to the high prices on alcohol, you may consider having a couple of drinks before you head to the night clubs.
Excursions in Gothenburg
Gothenburg is visited by a large number of Swedish and Norwegian people because it has got the beautiful Liseberg, the biggest theme park in Sweden. Even if you are not a fan of those, make sure you checkout the place if your trip falls on Christmas time, as Liseberg turns into a place that could serve as a setting to a fairy tale.
If you are visiting the city during the spring and summer time, you can visit the Southern Archipelago or try canoeing in Lake Delsjön. Seeing a play in Göteborg Opera House is a once in a life time experience and cannot be missed if there's a chance.
Event Tourism in Gothenburg
Gothenburg hosts a large number of international fairs and trade shows, as well with academic congresses and conferences. The hotels that meet the needs of the attendees beyond their expectations and venues which are equipped with the latest technology to hold such large scale events contribute to Gothenburg's increasing ranking among Europe's best event cities.