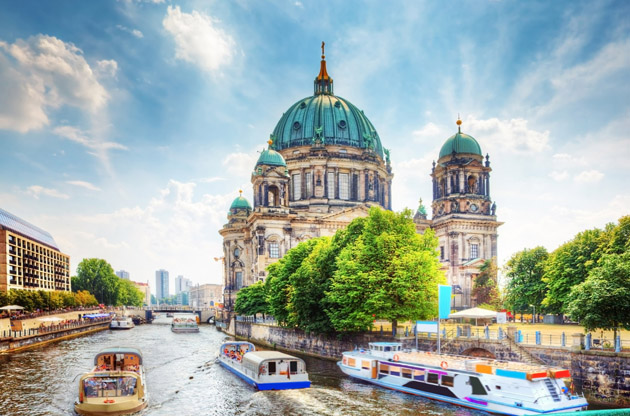 With all the footprints in the world history scene and the culture it has been able to keep almost at a unique level, Germany has always been one of the most influential countries of all times. With a population of 80.5 million now, the country is a founding member of the European Union.
The beautiful land is one the greatest examples of an improved country, not only in Europe but also all around the world. With Berlin being the capital, other major cities such as Munich, Cologne and Hamburg have got an exceptional way to mix the contemporary with history. It is possible to live as the millennium requires and feed the soul by the historical treasure in Germany.
Germany is a leading country when it comes to the contributions to science, philosophy, art and culture; Einstein, Schopenhauer, Kant, Hegel, Beethoven, Mozart, Brahms, Goethe, Thomas Mann, Hermann Hesse are only a few of the names that come to mind at first.
There are also brands that show the German way of quality such as BMW and Mercedes. When it comes to food sector, the country is also assertive. With a huge selection of desserts and beers (a country with a beer festival we are talking about here!) Germany is the leader of the market in Europe.
Germany's history includes facts rather than legends. With the marks that remind those, scattered everywhere in the country, Germany is a unique travel destination to discover this predominant and one of a kind culture.
Where is Germany?
Germany is located on Central Europe, neighboring 9 different countries.
Visa Procedure of Germany
Germany is a member of the Schengen Agreement. Detailed information concerning visa procedure and process is given on Germany's Federal Foreign Office's page.
Attractions in Germany
The urban cities in Germany, such as Berlin, Hamburg and Munich welcome the tourists with famous landmarks and give a pretty accurate first impression of the country. However, if you are looking for more than historical places to see in your travel, exquisite restaurants to try German cuisine and malls to shop, here are some suggestions.
If you have a couple of days to get away from the center, don't miss the chance to take a walk in the Black Forest and inhale the fresh smell of the pines in Germany. Baden-Baden offers a great spa experience to relax. Baden Wine Route is surely one of the best place in Germany to cycle and discover the mystique beauty of the land.
Romantic Road and Main River, with their picturesque beauties, make the visitors forget how the time passes. Rhine Valley may also be one of your travel destinations if you can't get enough of the uniqueness of the German nature.
Visiting the breweries that are more than hundreds years old and finding your favorite among the dozens of types of beer is another attraction in Germany. In addition strolling around the amazing vine yards and wineries on the Wine Route would turn out to be a memory that you'd want to take back home with you.
Shopping in Germany
From local souvenir shops to modern malls, Germany has got a lot numerous options on shopping. Most of the cities have got flea markets in which you can find true German goods and antiques. In addition, special bazaars for food and vegetable are also widely available.
Germany is famous with its handmade Cuckoo Clocks, also known as Jagdstück. Definitely you'll be able to find that'll not hurt your budget. Don't forget that you are in chocolate planet. Maybe not as famous as the Swiss one, however German chocolate, as it offers a great variety of choice, is a must to buy and try.
German Cuisine
Despite the recent effect of Italian and French cuisine, German cuisine has still got some strong roots that the locals never give up on.
Bread constitutes a big part of the German cuisine. There are more than 600 types of bread all around Germany, the most famous of which are Roggenmischbrot and Kürbiskernbrot.
Beer is another major element of the German cuisine. All the regions have their special beer and in most of the regions the number to try may be a lot more than you can.
The Currywurst, in other words sausage with curry, is a famous snack in all Germany. Although Döner Kebab Turkish, it is really famous and very well cooked in Germany, too.
There are many dishes that reflect the German way of cooking extremely well. Rinderroulade, which is a beef and bacon dish with cucumber, is known to be unique to Germany. There are also some local dishes such as Pfälzer Saumagen and Labskaus that can be only found in the regions they are specific to.
Dessert is another area of specialty in Germany. Tarts and cakes are usually made from fresh fruits. Schwarzwälder Kirschtorte, a torte made with cherries is a must to try. Pfannkuchen is the German crepe, a bit thicker than the French one. Obstkaltschale is a pudding that can be found all around Germany.
Event Tourism in Germany
Germany is one of the countries in Europe that hosts the most number of international events such as fairs, tradeshows, conferences, congresses and symposiums. As being the hub for science and technology, the care and competence Germany shows on organizing these large scale events is hard to beat. Millions of event tourists enjoy being a part of the event in relation with their field and get the chance to learn more about Germany, a country that has been the cradle of history.