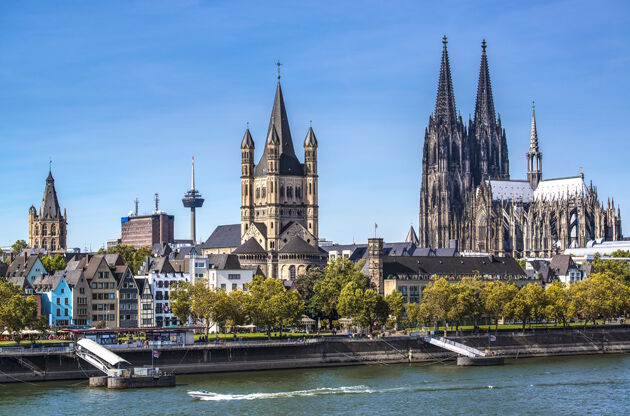 Cologne is one of the most loved cities in all of Germany and has been attracting tourists from around the world for decades. Cologne is now firmly established as the cool media hub of Germany and is popular with young backpackers right through to older couples who wish to experience the excitement of Germany's fourth largest city.
Although the city has huge amounts of contemporary appeal with impressive galleries and contemporary museums, it is impossible to ignore Cologne's far reaching history when you visit. Cologne dates right back to the 1st century when it was a Roman City. Since that time, it has been taken over by the Franks, and finally of course, landing in possession of the Germans.
Ideally located on the River Rhine, Cologne is picturesque, exciting, and an important centre for German business and politics. During the Second World War, much of the city was destroyed, and since then it has been rebuilt to become the influential and powerful European city that it is today.
Although Cologne is a thoroughly modern and liberal European city, the people of Cologne have managed to hold on to many of their long lasting traditions. If you visit towards the end of February or beginning of March, you are sure to find yourself in the midst of Karneval celebrations which have a history dating back to Pagan times but now have stronger connections with the Catholic faith.
With this intriguing mix of allegiance to old traditions alongside progressive modernity, Cologne is certainly one of the most fascinating cities in all of Europe. And beyond its incredible history and culture, the people are also some of the friendliest you will meet in Germany.
Where is Cologne?
Cologne is situated on the River Rhine in the district of North Rhine-Westphalia. The city is ideally located in close proximity to both the Netherlands and Belgium, making it an important site for European trade.
Getting to Cologne
For people visiting Cologne by air, there is a choice of three airports. Cologne Bonn Airport is the closest, followed by Dusseldorf Airport, and then Frankfurt Rhein Main International Airport. While Cologne Bonn Airport is on the doorstep of the city, Frankfurt's airport is still only one hour away –and each of the airports accommodates both domestic and international arrivals and departures.
If you are travelling from within Europe, you may want to consider arriving by train. There are two major stations in Cologne (Köln Hauptbahnhof and Köln-Deutz) that connect Amsterdam, Brussels, Paris, and Frankfurt Airport. Of course, you also have the potential to drive into Cologne, and the city is very well connected by motorways. Major roads leading into the city include the A1, A4, A3, A57, and A555.
Once you are in Cologne, the comprehensive subway and tram network will be able to transport you to wherever you wish to be in the city.
Things to Do in Cologne
There is no shortage of ways to occupy yourself when you find yourself in this great city. From historic buildings through to contemporary galleries, there is something to suit absolutely everybody regardless of their age or their interests.
Undoubtedly the most famous landmark in the city is Cologne Cathedral, a stunning Roman Catholic Church that dates back to 1248. Cologne Cathedral is not only famous by local standards as it is the most visited landmark in all of Germany. With over 100 galleries in the city, Cologne is also a fantastic city for art lovers. If you love visiting galleries, be sure to visit the Wallraf-Richartz Museum, which houses artworks from the 13th to the 19th century from artists such as Renoir, Monet, and Cezanne.
Shopping in Cologne
Cologne is nothing short of a shopper's paradise. Whether you want to find a one of a kind vintage piece of jewellery, or you are looking for some high end furniture, you will be able to find it in Cologne.
The Galeria Kaufhof is an absolute must visit as it is one of the largest and most celebrated department stores in all of Germany. The store was opened in 1891, and now more than 35,000 people each day pass through the shop doors to buy some of the most exclusive products in all of Germany. For something a little more off the beaten track, visitors should head to Entlvart, the city's premier vintage clothing store that attracts fashion bloggers and fashionistas from all over Europe.
Dining and Nightlife in Cologne
There are thousands of different dining opportunities in Cologne that can be explored, from hole in the wall eateries serving up classic local fare, through to exquisite, fine dining restaurants.
A trip to Cologne would not be complete without visiting a local brewery that serves up both local beer and food. There are many such breweries dotted around the city, but the most famous is Lommerzheim, a pub that is virtually always full thanks to the enormous pork chops and huge pitchers of beer that are served here. For something a little more upscale, you may wish to book a table at HASE, a restaurant that serves up European food in a stunning setting.
After dinner, you may want to try out one of the city's many cocktail bars such as ONA MOR, a sophisticated establishment that offers both premium cocktails and service.
Excursions and Tours
One of the best ways to get a real feel for this city is to be expertly guided on a tour or excursion. Thankfully, there are many to choose from in Cologne. One of the most popular tours on offer from the Cologne Tourist Board is a Brewhouse walk through the old town, during which you get to learn the history of the local breweries while trying the beer from Cologne known as Kolsch.
With its ideal positioning on the River Rhine, Cologne is also an ideal city for a boat tour. Why not take a load off and enjoy the spectacular views of the city as you relax on the deck of a boat with a drink in your hand?
Event Tourism in Cologne
Cologne is home to many trade shows, fairs, exhibitions, conferences, congresses and symposiums that attract a business crowd throughout the year. In April each year, one of the largest art fairs in Germany takes place in Cologne, attracting an art crowd from right around the world. And there are numerous other fairs such as the World Trade Fair for Used Technology, the International Trade Fair for Traditional Handicraft, and the Gastro Trend and Trade Show to be explored.