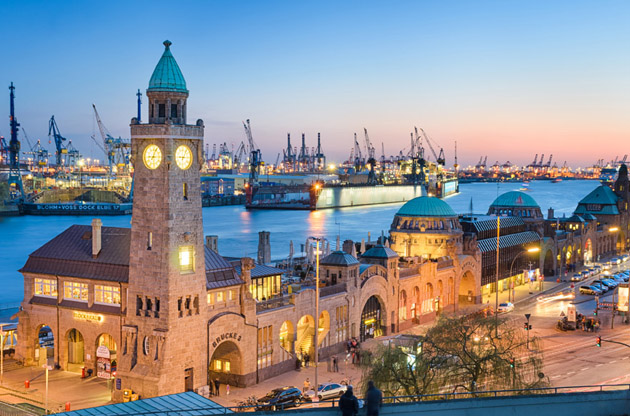 Another city whose charm can compete with the capital of the country it is located in… The one and only Hamburg raises the bar of 'being European' to another level with everything it has. Always pushing the tops in the list of most livable cities ever, now Hamburg is waiting you to discover its beauty on your own.
Also known as 'The Venice of the North' thanks to the canals and waterways it has, the population of Hamburg is approximately 2 million. We can say this 2 million is deeply multicultural for 2 main reasons. Firstly, the city has gone under the power of different civilizations because of its geopolitical location. Secondly, it is always a top choice for people who consider moving to another country.
No matter who you talk to about Hamburg or how many different travel guides you read, you will come across only one single thing that you may not like and that is the weather. In addition to the strong winters, the weather can change abruptly during the day. You may find yourself looking for a dry place although you saw the sun glimpsing at you only seconds ago.
Hamburg is one of the cities in Germany in which the standard of living is the highest. In addition, it is also possible to say it is among the most intellectual ones since majority of the press foundations in Germany are founded there. It is also the city in which the legendary Beatles gave their first concert.
With the scenic look that surrounds all city but changes characteristics in every corner you visit, your Hamburg trip will show you a different side of Germany. A side that will make you feel really glad that you had the chance to visit this amazing harbor city and you will have a hard time to get under the influence of.
Where is Hamburg?
Hamburg is on Northern Germany, on Elbe River.
How to get to Hamburg?
Located 8.5 km out of the city center, Hamburg Airport provides various ways of getting to the city center or to the airport from there.
Hamburg-Lübeck Airport is used by the low cost airlines flying from nearby countries and is located 54km east of Hamburg.
How to get around in Hamburg?
As expected from such a developed city, Hamburg has got a neat and well-planned public transportation system. Most of your excursions can be done via U-Bahn or S-Bahn. A guide, map and schedule are provided on HVV .
Attractions in Hamburg
Hamburg is regarded as one of the most beautiful cities not only in Germany but also in Europe because of many reasons. Hamburg's offering a big city life filled with deep historical and cultural treasures, traditional and modern restaurants, spectacular shopping options and a unique landscape are only some of those.
Museums & Sightseeing in Hamburg
The museums in Hamburg are varied in content but all of them guarantee satisfaction according to the field of interest.
Here are the top 5 museums in the city.
Museum für Kunst und Gewerbe
Kunsthalle
Deichtorhallen
International Maritime Museum
Museum für Völkerkunde
Hamburg Museum
The areas Sankt Pauli, Mönckebergstraße, HafenCity and the places around the harbor, St. Nikolai and the city hall have got most of sights to see in the city.
Miniatur Wunderland, Heide Park, Kunsthalle Hamburg, St. Michael's Church, The Hamburg Dungeon and Alster Lake are among the major points of interest in Hamburg.
Shopping in Hamburg
Mönckebergstraße, which is located in the heart of the city is the center of shopping in the city. Don't forget to check Spitalerstraße if you want to see nice boutiques and stores. Schanzenviertel is the area that is famous with stores selling only designer's clothes.
Hamburg has a really good second hand, vintage clothing scene. There are special malls for these (Kleidermarkt) and even if you are not a fan of the concept, you may find yourself buying a couple of items there.
Rathausmarkt for souvenirs, Neuer Wall and Jungfernstieg for luxury brands can be visited in the city.
Dining & Nightlife in Hamburg
You will come across plenty of good restaurants, especially serving international cuisine in the center of the city. Besides, Hamburg has got a lot of restaurants that have the Michelin star.
If you want to experience more authentic food, then you can head to Ottesen. There are bunch of places where you can taste the classic German dishes. Grosse Elbstrasse is a good option if you like sea food. The restaurants there are also the favorites of the locals in Hamburg.
I am sure you have already heard about famous Reeperbahn Street. It is regarded as the 'Red Light District' of Hamburg. In addition, The Beatles started their international career with a concert there. You will come across countless of bars and clubs, suitable for all types of interest. If you want to visit another district, St Pauli is a good option. It is definitely brighter in the night when compared to the day.
Excursions in Hamburg
While you in Hamburg, make sure you listen to a classical music concert in Laeiszhalle as it is will really change what you know of a concert hall should be like. Theatre and operas are also in demand in the city and a lot of travelers feel lucky if they can find tickets.
If your trip is going to be in times they are organized, you will see a lot of street parties, fairs (hamburger fair is one of them) and parades. These show the real traditional side of the city and make it possible for the travelers to experience it too.
If you would like to make a side trip from Hamburg, Lübeck, Celle, and Goslar are waiting for you with their picturesque beauty. If you haven't visited yet, the capital Berlin is only 90 minutes from Hamburg by train.
Event Tourism in Hamburg
Hamburg hosts a great number of international congresses, fairs, exhibitions, seminars, conferences and tradeshows every year. Not only the quality of the venues and centers contribute to the raising success of the city in event tourism, but also the beauty of the city and exclusive hotels do the same as well.