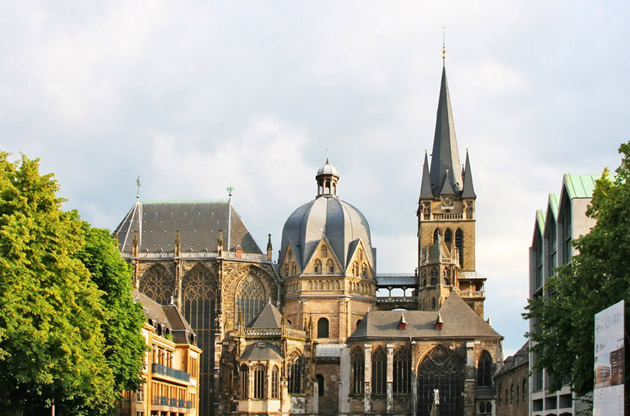 Aachen is a small German city, one with many facets. Reveling in the spirits and the values of Europe since the 8th century, this city is now a true miniature of Europe that truly lives and breathes the European culture from the olden times to its best. A truly serene and relaxed atmosphere is what makes this city even more charming, despite the fact that it is home to more than 45,000 university students from all over the world.
The city of Aachen is popularly known in history as the capital of Charlemagne's Frankish empire. In the 8th century, Charlemagne set his empire here and was known to be enchanted by the natural hot springs and healing spas that this city has to offer. Today, the city is known as the host for the awarding ceremony of Charlemagne Prize for Services to European Unity, a ceremony that is being held in the town hall of the city since 1950.
This modern-day university town of Aachen is well-known today not just because of its university, but also because it is home to one of the oldest cathedrals in Germany and In Europe; Aachen Cathedral. This amazing structure is truly a masterpiece of European architecture, and is one of the most visited tourist attractions in the city. Other than that, the city also offers several other tourist attractions that take influence from the Baroque, Renaissance, Byzantine and Roman architectural styles.
Aachen is one of those German cities that make for a perfect tourist destination for all those who want to relax and enjoy a leisurely pace of life. If you are interested in the roots of European history, this completely European town is an ideal holiday destination for you. Whether you spend a day or a week here, Aachen is a city that would enchant you with its natural charm. So, make sure you pay a visit to this city of cathedrals when you visit Germany.
Where is Aachen
Aachen is located in the extreme western part of Germany in the region of Nordrhein-Westfalen (North Rhine-Westphalia). The city lies in the junction between three countries, joining the German border with Belgium and Netherlands
How to Get to Aachen
You can get to Aachen through airplane or trains, depending on where you are arriving from. Trains leading to Aachen are available from France and Belgium that connect the city to Brussels, Liege and Paris. Locally, you can find trains to the city leaving from Liege, Cologne, Frankfurt and other cities in Germany, often connecting up to Brussels. From Netherlands, bus routes are also available to the city.
The Maastricht-Aachen Airport is the air route that leads to the city. Located a short distance away from the city center of Netherlands, this airport is connected to only a limited number of budget international flights. From the airport, you need to take the shuttle in order to reach the Aachen bus stop. If you are looking for larger airports in the vicinity, your best choices are Dusseldorf and Cologne-Bonn.
Things to Do In Aachen
While you are in Aachen, history and culture should remain the focus of your trip. All the major tourist attractions in the city are the most architectural structures that remind you of the good old medieval times. Let's take a look at some of the best tourist attractions in the city.
Aachen Cathedral (Dom)
It is the first cathedral that was built in northern Europe by Charlemagne, and was used for the coronation ceremony of the German Kings for a long time afterwards. The cathedral was built in the time of the emperor but modifications and extensions to it have been made throughout the medieval times. The cathedral is also declared as the UNESCO world heritage site.
Carolus Thermen Bad Aachen
Since natural spa baths are a specialty of this city, this place is well worth a visit.
Treasury on Aachen Cathedral
The place holds a collection of valuable items from the treasure coves of the cathedral, including some gold-carved statuettes that are extremely impressive.
The Lindt Chocolate Factory Shop
It is another stop you need to make, especially if you have a taste for Lindt chocolate. This shop is located real close to the factory and all the items are sold at 30% less prices.
The Rathaus Aachen (City Hall)
A perfect historic site that needs your time and attention. The place is very good for history enthusiasts since both audio and video presentations are available in the city hall, providing information about the history of this town during World War II.
Other noticeable places in the city that are well worth a visit include Couven Museum, a small specialty museum, Theater Aachen, a perfect place to view some neoclassical drama, The Christmas Market, Ludwig Forum, Three Country Border, Tovoli, Suermondt Ludwig Museum, Internationales Zeitungsmuseum, Eurogress Aachen and Freibad Hangeweiher.
Shopping in Aachen
You cannot visit this historic city and come back without buying any souvenirs. Shopping is an important part of any fun trip, especially to a city like Aachen that has an amazing marketplace. One of the first shops that you should visit is Pfeifen Schneidewind, where you can find an assortment of tobacco and cigar brands, and other gift items. Pontstraße and Funtomas are two other perfect shops where you can find gifts, books and a lot of other things you can buy as souvenirs.
Dining and Nightlife in Aachen
If you like fine dining, there are several amazing restaurants in the city worth visiting, where you can get to taste some of the most scrumptious meals. The first place to visit is St, Benedikt, a cozy, historically-set restaurant that is known to serve the best food and wine in town. For a taste of Asian cuisines, Dschingis Chan is the place to visit.
If you are looking for a completely formal dining environment, La Becasse is the perfect French restaurant for you. For typically German cuisines, the two best places to visit are Nobis and Gut Schlottfeld. Apart from these, the city is filled with several other restaurants, cafes and bistros, all of which serve delicious local and international meals.
Excursions and Tours in Aachen
Guided tours are again something that you shouldn't miss in Aachen since they can make travelling around the historic places so much more fun. You can join a tour to the old town, the town hall or other tours to the historic building so that you can learn as much as you can about them from the local guides. The Three Country and Eifel region bus tours are also a popular attraction you can look forward to in this city.
Events in Aachen
Boasting being a university city with a historical background, Aachen remains as an ideal hub for international business events like conferences, congresses, tradeshows, fairs, exhibitions and symposiums. Having a wide range of conference and congress facilities and spaces for all kinds, Aachen hosts many reputable sector leading events during the year.