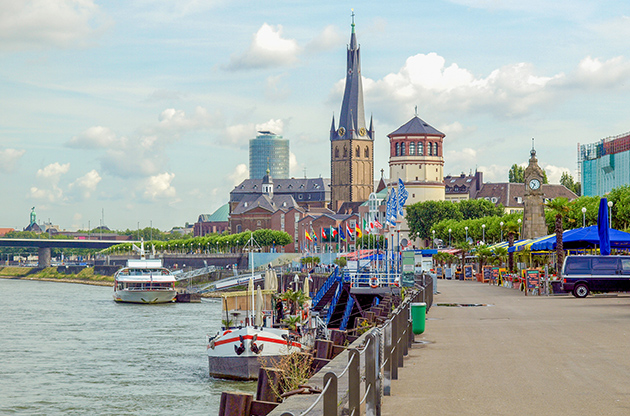 If you are heading to Duesseldorf to attend an event, get ready to discover this one of a kind city. People tend to think it is just a regular German city that hasn't got so much to offer but this is by far one of the biggest misconceptions ever. Duesseldorf is one of the most charming cities in Germany and also the hub for fashion in the country. In other words, you are on your way to what Milano is to Italy, but for Germany.
Duesseldorf is a city that is located along the Rhine River and gets its unique look and touch of nature from the river. Usually referred as the "Catwalk of Germany", the city hold approximately 600.000 of population. It is also one of the economic centers of the country and the capital of North Rhine-Westphalia.
The weather in Duesseldorf shows expected features; it is usually dry and cold during winter but a smooth spring follows those dark days where it leaves its place to a bright sun during the summer months. The average temperature for spring and summer is around 23 degrees, whereas it is around 5 degrees for the winter.
Duesseldorf is known to be one of the cities that boosts a shiny nightlife. Actually, it is visited by German people from the nearby towns during weekend just because of this reason. The events and festivals that take place in the city during the year also contributes to Duesseldorf's worldwide fame as an easy going and great city.
No matter what your purpose of travel is and no matter what kind of free time activities you anticipate, Duesseldorf is going to please you with the endless options it will provide you on leisure, shopping, dining and more. All you have to make sure is to have some free time to indulge yourself with the unique atmosphere of the city.
Where is Duesseldorf
Duesseldorf in located in North Rhine-Westphalia state of Germany and it is the capital. The city is located on the Rhine River, on the west of Germany.
How to get to Duesseldorf
The main airport in Duesseldorf is Düsseldorf International Airport and it is the third largest one in Germany, after the ones in Frankfurt and Munich Airport. It is located 7 km west from the city center of Duesseldorf and 15 km from the Central Train Station of the city. You can take the train from the airport to reach the city center, it takes approximately 12 minutes. You can also take a cab from the airport which will cost you around 20 euros. More detailed information about how to get to city center from Duesseldorf International Airport can be found on the official website.
Another airport that is widely used to reach Duesseldorf is Köln Bonn Airport.
How to get around in Duesseldorf
Duesseldorf too, has got a very efficient public transportation system as would be expected from any city in Germany. The local operator is Rheinbahn. Stadtbahn and Straßenbahn are the two most preferred means of local transportation in the city as these two cover most parts and regions of Duesseldorf. The official website of the Rheinbahn gives not only detailed information about the schedules and fares but also opportunity to purchase online ticket in advance to your trip.
Attractions in Duesseldorf
No matter if you are a history lover, museum enthusiast or shopaholic. Duesseldorf offers a bunch of attraction options to choose from. You can get to know the city better by tracing the marks of history or visiting museums, fill your luggage with good quality items or souvenirs that reflect the soul of Duesseldorf, dine in good quality restaurants or visit nearby cities as a part of your excursion. Duesseldorf can definitely be called an "all inclusive" city.
Sightseeing and Museums in Duesseldorf
You sightseeing in Duesseldorf must begin from the Old Town. It is the most famous part of the city, not only visited by the tourists but also by the locals most of the time and this gives you the chance to observe the daily life of Duesseldorf there. Despite the massive destruction during the World War II, the historical part of the town has been re-constructed according to the actual architecture and this enables Old Town to keep its old look, even if not the actual buildings. Burgplatz should also be included in your must see list. St. Lambertus Basilika, Neander-church, City Monument and Rhine Tower are the other major places of interest in Duesseldorf.
If you would like to visit museums during your time in Duesseldorf, you once again are to choose from a bunch of. Hetjens Museum, Theatermuseum, Stadtmuseum and Schifffahrtmuseum Düsseldor are the famous ones in the city that are definitely worth a visit.
Shopping in Duesseldorf
Duesseldorf is one of the cities in Europe that boosts a large number of shopping areas and options. You can shop from the elegant and bohemian boutiques or you can visit some of the best malls of Germany in the city.
If you would like to spend a couple of hours and buy some souveniers for your beloved ones, you should head to Königsallee, which is called Kö by the locals. You are going to be welcomed by a large number of shops there and you can buy some local crafts as well as designer clothes or handmade items to take home with you.
If you are after to find out the stylish side of the city and check out what the recent fashion heads, then the district of Duesseldorf you should check out is Flingern. Somehow the stores there may remind you of the ones in Berlin.
Düsseldorf's cartwheeler is the cymbol of the city. You are going to come across a lot of items that has this on. Bringing one back home with you may be a good idea. In addition, the local liquor Killepitsch, Löwensenf (mustard), or a couple of bottles of Altbier would make some really nice souvenirs from Duesseldorf.
Dining and Nightlife in Duesseldorf
If you are after a couple of beers or drinks in Duesseldorf, you don't have to search for a perfect place with a life time effort. The Old Town, called Altstad by the locals, is also reffered as the "longest bar" in the world since it is home to more than 300 bars. Don't forget to try the Altbier since it is what the city is famous for.
If you want to check out some clubs or places you can listen to some good music to accompany your drink, the areas Medienhafen, Pempelfort and Unterbilk is known to be the home for a large number of recently opened places.
Duesseldorf is also home to the third largest Japanese community in Europe, and this means you can have one of the most delicious Japanese food when you are there. In addition, there are many places that serve traditional German cuisine as well as other famous cuisines from different parts of the world.
Excursions in Duesseldorf
Common excursions in Duesseldorf includes one-day or weekend trips to some other popular cities in Europe such as Amserdam, Paris and Brussels. However, there are also other German cities nearby you can visit to get to know more about the German culture; Bonn, Königswinter, Cologne and Ruhr are among the famous get away destinations in the city.
A boat tour on Rhine River is also among the popular attractions in the city. This a great way to learn more about Duesseldorf (if you choose to join a tour with a guide) and relax since it also serves as a way to enjoy the nature surrounding the city.
Benrath Palace and Park is another destination that is visited mostly by the visitors of Duesseldorf. This 18th century garden palace is a nice place to spend a day off.
Travel Tips for Duesseldorf
It is known that Duesseldorf and the neighbor Cologne don't necessarily like each other because of the continuing rivalry between the two cities about many things, especially beer. When In Duesseldorf, that may be good not to compare something with another one made in Cologne.
Event Tourism in Duesseldorf
Duesseldorf is not called "the catwalk of Germany" for no reason. Igedo, one of the world leading fashion event organizers is based in Duesseldorf and every year the city is visited by business travelers that come Duesseldorf to attend a fashion related event. In addition, the world famous Boot Messe is another event that attracts a large number of attendees from all over to world to Duesseldorf. Not only these two, a large number of other conferences, congresses, fairs and trade shows are also held in Duesseldorf throughout the year. All these increase the fame of the city on the world's event tourism scene.