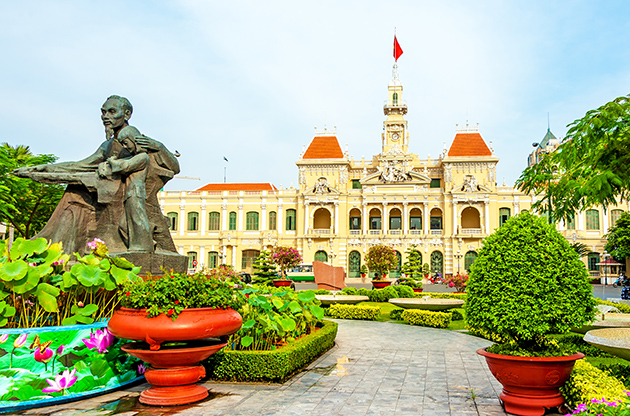 After making it through one of the bloodiest wars in world's history and being one of the countries that have suffered the most from the colonization period, Vietnam now is one of the most exotic countries with its history and culture. Every year Vietnam welcomes an approximate number of 3 million visitors and this number keeps increasing as the people become more and more attracted to this country where everything is so unique and charming.
Vietnam, located on Southeast Asia, is the easternmost country on Indochina Peninsula. Home to almost 90,5 million people, Vietnam is among the world's most densely populated countries. The official language of the country is Vietnamese and when the other elements of the culture that constitutes the Vietnamese way of living come together, the country becomes one of the most astonishing destinations that have truly a unique aura.
Vietnam has got four regions and even though these differ from each other in terms of a couple of aspects, the interconnectedness and the shared customs and traditions are what make Vietnam this exquisite.
The capital city of Vietnam, Hanoi, holds the 6,5 million of the total population and is one of the most visited cities in the country. However, the rising star of the country is Ho Chi Minh City, formerly named as Saigon, by being home to the 7.5 million Vietnamese and a cultural and economic hub of whole Vietnam.
Getting to know a different culture and experiencing a new way of living is taken for granted while in Vietnam. The food, the culture, the city life and the exotic trips to the surrounding islands are only some of the new and breathtaking things you are going to encounter when you are in this magnificent city. No matter for what purpose you travel to Vietnam, make sure you to be ready to make a change on your favorite countries list; because Vietnam will definitely have a place on the top of that.
Where is Vietnam?
Vietnam is a country on Southeast Asia. The southernmost point on Indochina Peninsula belongs to Vietnam.
Visa Procedure of Vietnam
Vietnam welcomes the visitors from all over the world. The visa procedure of the country may differ from one to another: you may get an on-arrival visa or you may have to check with the Vietnamese Embassy in your country before you travel. The Ministry of Foreign Affairs of Vietnam and the Vietnam Consular Services provide you the needed information about these.
Vietnamese Cuisine
As a country that has been quite successful at keeping its cultural values, traditions and customs, Vietnam has got a quite distinctive cuisine as well. Referred as the world's healthiest cuisine, Vietnamese cuisine's most praised feature is the minimal usage of oil. In addition to that, the use of ingredients which have very sharp tastes also adds up to the characteristics of the Vietnamese dishes.
It is common for the Vietnamese dishes to have or cooked with fish sauce, shrimp paste or soy sauce. Lime, basil, lemongrass, ginger and mint also play a major role in the making of the Vietnamese dishes. Because of the geographical location of the land, all the dishes are cooked with the freshest of ingredients and this also is another thing that make the Vietnamese cuisine this delicious and exquisite.
When in Vietnam, there are a large number of dishes and drinks you should give a try. These all will serve as an introduction to the Vietnamese cuisine. Soup is an important element in Vietnamese cuisine and you can choose one of these in order to get an insight about how different soups are in Vietnam when compared to the other parts of the world:
Bun rieu-Soup with shrimp and crab paste, accompanied by herbs
Mi bo vien- Egg & noodle soup
Bun bo Hue-spicy beef noodle soup
Banh canh- Pork, crab and chicken soup, accompanied by herbs
A large number of different rice dishes are also very popular in Vietnamese cuisine:
Com hen-Rice with clam
Bo luc lac- Rice with cucumber, tomatoes, pepper, onion and soy sauce
Xoi-Rice with coconut milk
Other than these, here are some of the most famous dishes in Vietnamese Cuisine:
Gi cun -Spring Rolls
Ca Kho To-Caramelized Fish in Clay Pot
Goi-Vietnamese Salads
Rau muong -Water Spinach
Che-Vietnamese Puddings
Shopping in Vietnam
Probably the advantages of shopping in Vietnam has been told you long before you get on the plane. That's true, especially in terms of the variety of items you can buy in Vietnam and the low prices when compared to the countries in other parts of the world. However, there are a couple of things you should consider before starting your shopping in Vietnam:
The Currency
You'll notice the prices are shown in US Dollars mostly in Vietnam, however the national and valid currency of the country is Dong. The reason why prices are shown in US Dollars has got something to do with the unstable economy. Make sure you change your currency on arrival not only because Dong is hard to find in other countries but also it is hard to exchange money in Vietnam.
One other thing you should be careful about is the money you give while buying something or giving money. The Dong bills look pretty much alike and it is quite possible to hand a 1000 bill Dong instead of 100.
Bargaining
As tourism becomes more and popular, so does overpricing. Bargaining in Vietnam is a very common thing to do, so don't hesitate to ask for a lower price when you make your mind up to purchase something.
Tipping
Tipping is not expected in Vietnam.
If you are after a traditional shopping experience in Vietnam, you can spare some space for the bamboo and silk products, handmade crafts and packed herbs and spices which can only be found in Vietnam.
It is common for Vietnamese cities to have large bazaars where you can find almost anything you may need. These places are also great if you want to bring home some really nice souvenirs.
Attractions in Vietnam
Vietnam as a country can be considered as one of the lands where one can enjoy a large variety of attractions. The big cities such as Hanoi and Ho Chi Minh City are the cultural hubs of the country and also the cities where most of the important happenings are centered in. However, even in these two cities, it is possible to experience and observe a very characteristic Vietnamese way of living.
Common attractions other than discovering these two cities in Vietnam include:
Ha Long Bay
Imperial Citadel of Thang Long
Hoi An Ancient Town
Complex of Hue Monuments
Phong Nha-Ke Bang National Park
The Sand Dunes of Mui Ne
It is also common for visitors who have an extra week to spend to visit Cambodia, Laos and Thailand.
Event Tourism in Vietnam
Vietnam has been chosen for some of the world's most well-known conferences and congresses in the recent years. In addition to these international events, the country has been hosting some major fairs and tradeshows every year. The increasing number of high quality hotels and venues are turning Vietnam into a great country for these kind of large scale events.