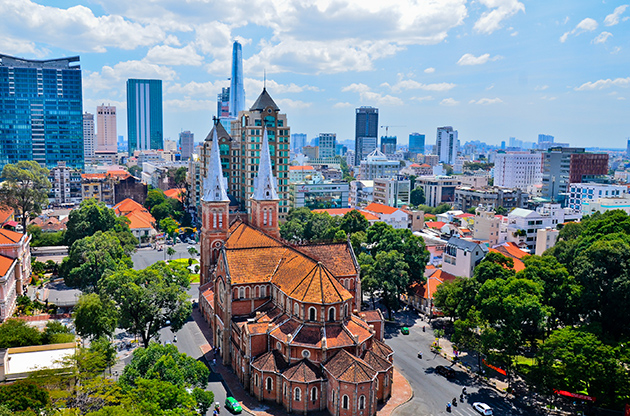 Charming, vibrant and definitely nothing like you have ever seen before; the biggest city in Vietnam, Ho Chi Minh City is going to fascinate you with its unique atmosphere and the best form of blended cultures. No matter what your purpose of travel is to Ho Chi Minh City, the city is going to find a way to crawl into your heart and to stay there forever.
Despite the general misconception, Ho Chi Minh City is not the capital of Vietnam however it used to be once, and the city's being the hub for culture and economy is a remedy from those times. Today the estimated population of the city is around 8 million and the estimated population of the city is going to be around 14 million by 2025. You are going to visit one of the most densely populated cities in the world and this alone adds some spice to your Ho Chi Minh City experience.
Ho Chi Minh City was used to be called Saigan back in times however, today that name refers the most central part of the city. Still, you can hear the locals referring the city as Saigan, don't be confused. It is possible to come across the American-Chinese influence even today in the streets of Ho Chi Minh City because of the boundary pushing architecture of the city which has been preserved very well. In addition, the customs and the gastronomical features of Ho Chi Minh City are another part of the whole experience where you will witness the blended features that belong to different nations.
Ho Chi Minh City is going to give you a chance not only to track the marks of the history but also an opportunity to feel the touch of the modern times. There are bunch of old pagodas for example, whose roads are leading to sky scrapers which were built more recently.
In general, this city is going to change the beauty norms that you are familiar with. With every step you take in the city, you are going to be amazed by how unique it is and how wondrous getting to know a new culture can be. Your time in Ho Chi Minh City will never be enough and you will probably be looking for reasons to come back even before you go back home.
Where is Ho Chi Minh City
Ho Chi Minh City is located on the southeastern part of Vietnam, covering a big part of the Ti?n Giang Province and Long An Province of Vietnam.
How to Get to Ho Chi Minh City
Tan Son Nhat Airport, located 6 km north of the Ho Chi Minh City's center, is the largest airport in Vietnam. The airport has got two terminals and hosts both international and national flights.
There are a couple of ways to get to city center from the airport. The first one is the bus which is the cheapest way however they run until 6 P.M. Some cab drivers may tell you the buses don't run anymore but remember this is just a scam as they are willing to convince you to choose cabs over buses. The buses can be found on the right side of the main exit of the airport.
You can hire a cab to get to city center as well. However you have to know where to hire one. You are going to see a main taxi queue on the left when you leave the building. The green Mai Linh taxis are recommended the most but never negotiate the price in advance; have the price calculator on as it will definitely cost cheaper. Mai Linh Taxi Company has got a counter right after the customs, you can arrange one there, too. Vinasun Taxi Company is also another trusted one.
Tips for renting a cab from Tan Son Nhat Airport
Don't negotiate the price. Having the taxi meter opened is usually the cheapest and the safest way to rent a cab.
Have some smaller bills with you when you are riding since some drivers don't accept bigger ones or refuse to give your change even if they do.
Don't ask for hotel recommendations to the drivers.
Don't be fooled by the people who offer taxi coupons. They usually tell it costs less however it doesn't.
How to get around in Ho Chi Minh City
Ho Chi Minh City is a destination where you are going to make the most out of on foot or on bike. Every corner in every part of the city leads to something that is worth seeing and discovering. There is no tram or subway as a part of the public transport, since the majority of the locals prefer motorcycles which end up to create a very distinguished, picturesque look in the streets of Ho Chi Minh City.
Renting a bike or a motorbike is always possible in the city however the traffic will probably a lot more different than what you know and it may take a while to get used to eat. However in downtown, the taxi fares a relatively cheap when compared to the other cities in the world and they serve as the most efficient way of transportation within the city limits.
Attractions in Ho Chi Minh City
Ho Chi Minh City is filled with a lot of attractions to choose from, a large number of sights to see, places to dine and shop as well with a bunch of excursions to participate in if you ever feel like trying something completely new. To sum up, you are in a high octane city of culture and fun.
Museums and Sightseeing in Ho Chi Minh City
If you are type of traveler that thinks a trip to a city is never complete without visiting museums, you can consider yourself to be lucky in Ho Chi Min City. War Remnants Museum, as its name speaks for itself, presents the most powerful remedies of the war and highly informative if you want to learn more about not only the war but also the regime that was valid back then. Museum of Vietnamese History, on the other hand, is a great way to explore this very unique culture. There are pieces dating back to hundreds of years in the museum. The guided tours are also available. Ho-Chi-Minh Museum is a great way to learn more about Ho Chi Min, the father of Ho Chi Min City.
There are many places that truly deserve a visit in this magnificent city. Reunification Palace is probably the most famous of all these and it is possible to get inside and get a closer look at the building which used to be South Vietnam's presidential palace. Notre Dame Cathedral, Thien Hau Pagoda and Quan Am Pagoda are among the holy sites you can see in Ho Chi Minh City. Emperor Jade (Tortoise) Temple must also be included in your list.
Shopping in Ho Chi Minh City
Ho Chi Minh City is the shopping hub of whole Vietnam, so if you are a shopaholic, there could be no better place for you to be in this country.
In Ho Chi Minh City, the traditional ways of shopping are still popular. These include markets and bazaars. Or you can just come across a street filled with stalls selling various items. Of course there are malls from where you can shop the known brands however you are recommended to stick with the traditional items and way of shopping since it is truly a unique experience.
Some of the most famous markets in Ho Chi Minh City are:
Ben Thanh
Binh Tay
An Dong
Tan Dinh
Saigon Square
Dan Sinh
Feel free to bargain while shopping. Actually it is a part of everyday life and rather recommended.
Dining and Nightlife in Ho Chi Minh City
Some cities in the world offer a vibrant nightlife scene although you can't tell it at first look. Ho Chi Minh City is one of those. Especially in downtown, you can find really nice bars and clubs, or traditional places to enjoy a drink after a stressful day packed with meetings. Remember the name Dong Khoi, which is a nice area to start the night. If you want to keep on and make the night turn into day, then the clubs in District 1 Area are where you should check. If you like Jazz and want to see an unforgettable performance, makes sure to pay a visit to Saxn'art at 28 Le Loi Street.
You can dine in elegant restaurants in Ho Chi Minh City or you can try the Vietnamese street food. These are both delicious and should be tried at least once. In addition, the city is a great place to try other cuisines' dishes too, since there are plenty of restaurants serving world cuisines. You can find a lot of good quality places in downtown.
Excursions in Ho Chi Minh City
There is one thing you have to make sure to experience in Ho Chi Minh City other than the all the major points of interest and museums and everything: An A O Show at Saigon Opera House. It is a show consisting of the mixture of athleticism, dance, traditional music and drama. It is a great way to dwell into the Vietnamese culture and truly a once in a life time experience.
Dam Sen Water Park, Twenty-Three September Park and Saigon Riders are among the famous excursions that are popular among the visitors of Ho Chi Minh City.
Event Tourism in Ho Chi Minh City
Ho Chi Minh City has been under the spotlight of world's event tourism scene for a long time. Every year a large number of national and international congresses, conferences, trade shows and fairs are being held in the city. The unique beauty and charm of the city, when the upscale venues' and hotels' existence is also taken into consideration, it is clear that HCMC is going to rise up in the world's top cities to hold these kind of events.