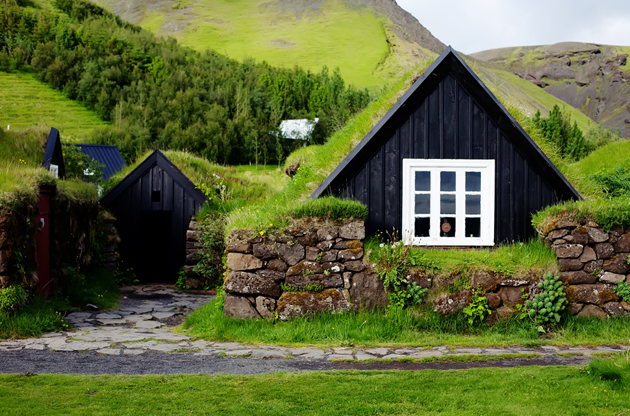 Iceland is a unique country that offers contrasts of nature like active volcanoes and glaciers, waterfalls and hot springs, midnight sun and northern lights, all waiting to be explored. Norsemen inhabited Iceland in the 9th and 10th centuries making it the last European country to be settled by humans.
They were mainly Scandinavians and the present day language and traditions of thew country reflect a strong Scandinavian influence. Today, the population stands at around 320,000 people, with more than half living in and around the capital city of Reykjavik, while the remaining settled along the coast, leaving the inhospitable centre of the country unoccupied.
Iceland is a strikingly attractive place if you like bleak and desolate landscape, and as it is very near the Arctic Circle there is a marked variation in the length of daylight by season. In the summer months, the sun slips very briefly below the horizon and there is never complete darkness, with the midnight sun making a beautiful sight. In the winter months there is often twenty hours of darkness but viewing the northern lights more than make up for the long dark hours.
Summer is certainly the finest time to visit Iceland when temperatures are moderate, however early or late winters with the snow-covered landscape can also be disconcerting in its beauty. But you have to keep in mind that some sights become inaccessible in winter.
Icelanders are full of pride that they still speak the olden language of the Vikings, but they certainly don't live in the past. Their much valued ancient legacy exists in harmony with the most stimulating inventions from the modern world of art and culture. This refreshing mix of indigenous and traditional, yet enlightened and cosmopolitan culture charms everyone visiting Iceland.
Where is Iceland
Iceland is a rugged island country in the northern Atlantic Ocean, between Europe and North America. It is a part of Nordic Europe, though not joined to the mainland.
Getting to Iceland
The international airport in Iceland is the Keflavík Airport and it is served by major airlines from Europe and North America. Keflavík Airport is in southwest Iceland, around 50 km from Reykjavík, the capital city and hub of tourist action.
To reach Reykjavik from the airport you can avail the airport shuttle that connects the airport with hotels in Reykjavik and takes about 45 minutes of travel time
Things to Do in Iceland
Glaciers, waterfalls, volcanoes, gushing rivers, craggy plateaus – all these features make Iceland a hiker's paradise. You can hike through lava rocks, ski in the town of Akureyri or book yourself for heli-skiing, and ski mountaineering at the Troll Peninsula.
With many frozen glaciers, glacier hiking is also a popular sport that you must try with Skaftafell in the southeaster part of the country being the most popular destination for this sport. You can also enjoy a fast paced ride in a raft on rivers like Hvita and companies offering rafting are located in Varmahlid.
Your visit to Iceland will not be complete without viewing the world's largest mammal. Whale watching is offered all year by tourist companies in Reykjavik and at Husavik, during summers.
While in Iceland you must visit the two tier waterfalls on the Hvita at Gullfoss which is a spectacular sight, frozen in winter or in swift flow during summer. The Blue Lagoon must also be a part of your travel plans. Blue Lagoon is the most well-known of Iceland's geothermal spas and you can swim in the warm waters, get some beauty treatment, have a meal and stay at local inns to catch a glimpse of the northern lights.
There are also a number of national parks like Vatnajokull National Park and Pingvellir National Park where apart from the flora and fauna of Iceland, you may even stumble across old Vikings sites.
Shopping in Iceland
Fashion wear and designer labels abound in the shops around Reykjavik leaving visitors spoilt for choice. For souvenirs you can look at wool products, crafts that include musical baskets, jewellery and porcelain statues and indigenous music CDs.
Dining and Nightlife in Iceland
Icelandic cuisine has evolved from cooking mainly lamb and fish dishes, to incorporate fare from other countries. Good restaurants are mostly concentrated in and around the capital city and some typical Icelandic food include harðfiskur (which is made of dried fish pieces), skyr (a dairy product), hangikjöt (which is smoked lamb) and svið (that is singed sheep's head). You can also try whale meat when in Iceland.
Partying and nightlife too is famous in Reykjavik with a number of clubs and bars keeping their doors open late into the night for the party hoppers.
Excursions and Tours in Iceland
You must take an unforgettable whale watching tour that will be one of the highlights of your holiday. You can also take a trip to the Jökulsárlón Glacier Lagoon for boating and to the Falljökull Outlet Glacier to try glacier walking. You can also enjoy exploring caves and snorkelling at Þingvellir National Park or take an ATV tour across Iceland to complete your adventurous vacation.
Travel Tips for Iceland
Almost everybody in this country speaks English so communication is very easy.
Weather in Iceland is unpredictable and adequate warm and waterproof clothing is a must. Inadequate clothing can be potentially life threatening.
You must be extra careful while visiting geothermal areas as ground may give away from under you and you may fall into boiling water and fatally injure yourself.
You can drink from taps in Iceland as the water quality is of high standards.
Tipping is not customary in Iceland.
Visa Procedure for Iceland
If you have free access to Schengen countries, you will not need a visa to enter Iceland. For more information, you can visit the official website of Iceland Ministry of Foreign Affairs.
Events in Iceland
Iceland, probably the world's most exciting nature is also a perfect destination for international events like congresses, conferences, trade shows, fairs, exhibitions and symposiums. World class venues equipped with the latest technologies, luxury hotels with high bed space help Iceland make flawless organizations and draw global attention to the events.