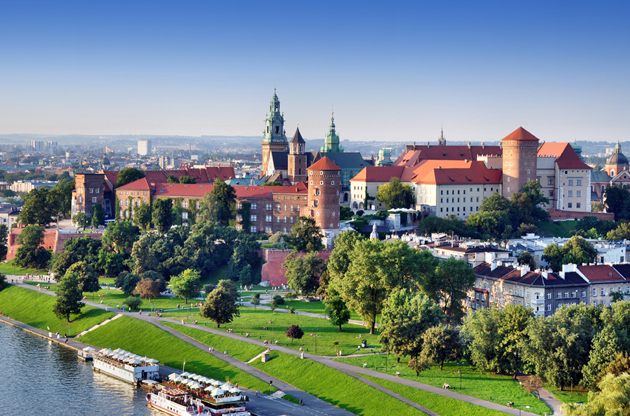 For some reason Poland ranks on the tops in the list of the most underrated countries. Despite the increase of the visitors in the recent years, Poland still doesn't get the recognition it deserves, according to me. If you will be a first time visitor in this beautiful country, you will be amazed by Poland's generosity on everything.
Almost everyone has an image in their mind about Poland, associated with the historical disputes. Since those times are now in the past, Poland is now a country that has been improving rapidly, both socially and economically. When the culture of the land that represents the most exquisite examples of an honorable history is combined with this prosperity, Poland becomes a great destination to spend your holiday.
Poland has got 38.5 million inhabitants in the 7 regions in the country. The largest city and the capital is home to 1.7 million of this population. The other major cities such as Gdansk, Kraków, Lódz and Poznan are also among the most populated cities and popular destinations.
The oceanic climate of the country makes the weather temperate throughout the year. Warm springs, warmer summers and cold, rainy (sometimes stormy due to the cold fronts from Siberia and Scandinavia) winters are typical in Poland.
You will be amazed to witness this much history in Poland, and sometimes you will feel like you are time travelling. It will be a pleasure for you to find out about significant Polish people other than just Frédéric Chopin. Your travel will be accompanied by the rich Polish cuisine which surely will change your list of favorite dishes. To sum up, you will always remember your time in Poland being so glad to have visited this beautiful country.
Where is Poland?
Poland is in Central Europe, neighboring Belarus, Czech Republic, Germany, Lithuania, Slovakia, Ukraine and Kaliningrad Oblast.
Polish Cuisine
Polish cuisine has undergone major changes throughout the time because of the history of the land. However now it can be said that it is one of the countries whose locals are committed to their national foods more than any country else. Imagine, we are talking about a country where big fast food chains have already lost their popularity.
Most of Polish dishes include meat, especially pork, winter vegetables and a lot of eggs. It is not really possible to say all of them are easy to prepare, especially most of them needs some time.
Along with the food, vodka has a big part in the cuisine of Poland. Maybe it is still not as popular as the Russian one but you'll be satisfied with a glass of good quality Polish one.
There are countless dishes to mention here are the most famous top 5 dishes of Polish Cuisine.
Golabki, which is a cabbage roll, is just yummy. My Ukrainian friend, who lived in Poland for 5 years, cooked it for me once and I couldn't get enough of it.
Rosól is the most classic soup of the whole cuisine. It is made out of chicken and usually served with noodles inside.
Polskie nalesniki is the Polish pancakes that can be eaten whether with jam or butter, or with meat and cheese. Both way is going to be your new favorite pancakes.
Bigos is the Polish dish you will know about before arriving to Poland since it is literally the most popular one. It is the Polish type of meat stew.
Sledz w oleju z cebula: If you like herring, then it is time for you try it the Polish way, in sour cream and onions.
Shopping in Poland
Well, good news! You are on your way to one of the most affordable countries in Europe. Especially if you are on your way to Poland from another European country, you'll notice the difference when compared to the other European countries.
Food, drinks, entrance to galleries and museums are also included in the list of cheaper things in Poland.
As underline before, Poland is a country that wants to keep the bounds with traditions. This also affects their style of shopping as well. You may come across shopping malls and big districts dedicated only to shopping, however smaller markets, street fairs and bazaars are also common in smaller towns.
What to buy from Poland? Well the list goes on forever. Starting with Polish chocolate (Wedel, especially) is a good idea. Amber is associated with Poland, so you may consider buying some jewelry. Crystals are also famous along with the embroidered linens. However, what is a must to buy is stylish carved wood pieces from Poland.
Attractions in Poland
The major cities of Poland will welcome you with a bunch of attractions of any type. You might as well spare your day for historical trips or get lost walking in the streets of them to get the unique feeling of each of them. These also has got bunch of restaurants you may try the best dishes from the Polish cuisine.
The countryside of Poland can surely compete with big cities' offerings, on the other way. As the country is actually filled with history, all the corners of Poland has got some secrets to whisper in your ear. The natural beauty of the land, that can be seen the best at the countryside, is unique and strong enough to take your mind and heart all for itself.
Event Tourism in Poland
Not only because of its central location in Europe but also because of the recent improvements in the event industry, Poland is becoming a great country to host international meetings. The large scale congresses, conferences, exhibitions, fairs, tradeshows and symposiums held every year in the country contribute to Poland's fame in the world scene. The capital, Warsaw is the top destination for these international events, however, the other major cities such as Kraków and Lódz also attract a large number of event attendees from different parts of the world.