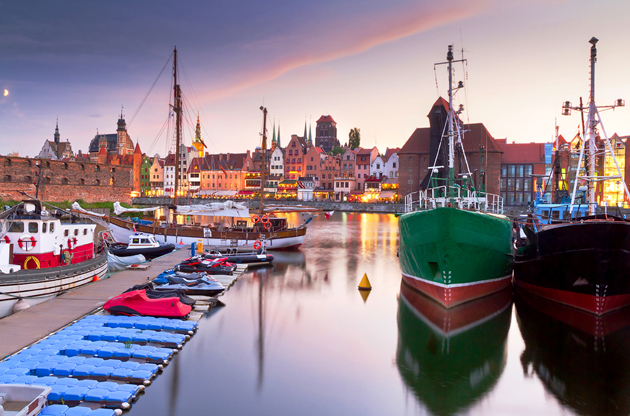 Restoration is most commonly associated with historical landmarks and pieces of art. Rarely whole cities have gone through extensive reconstructions, yet Gdansk was completely rebuilt after the World War II. From being obliterated by years of German and Russian occupancy and bombing, the city has grown to become –along with its neighbours Gdynia and Sopot- the Riviera of Poland.
One of the original towns of the old Hanseatic League, Gdansk was once a wealthy merchant port. After World War II, the city was rebuilt to the old glorious shine, with each stone set back to its original place. Despite its dreadful past, Gdansk grew back into being one of the most important harbours in Poland.
Buildings and monuments standing today are a manifestation of the city's inhabitants' relentless perseverance and a homage to Gransk's past. This appreciation of old and new values is tanglible in the architecture and the warmhearted atmosphere.
The cobbled streets today are full of life; beer gardens, restaurants and cafes with fashionable people. The people of Gdansk are proud of their history and especially of the anti-Communist Solidarity movement born during the Cold War. The young and old alike are well-educated and open to foreigners and willing to showcase prime Polish hospitability.
Gdansk today promises a trip full of interesting things to see and to try out to its visitors. Come and enjoy this beautiful city and its history that resembles a lot to Phoenix!
Where is Gdansk?
Gdansk lies on the nothern border of Poland, on the coast of the Baltic Sea.
How to get to Gdansk?
Gdansk Lech Walesa Airport is located 12 km west of the city center and once you arrive you can hop onboard the 210 bus towards Gdansk, or the Airportbus shuttle service. You can always opt for a taxi ride but be careful – some of the unofficial taxis can be rip-offs. A standard fare should be around 50-70 zl, depending on the time of the day. For a more upscale transfer, hire one of MPA Poland's private transports.
Attractions in Gdansk
Gdanks meets the needs of a traveler by offering a wide range of attractions to choose from.
Sightseeing in Gdansk
Old Town
To appreciate the pre-war architecture best way possible, walk around the old town and drop by the Old Town Hall behind the Great Mill. The site of the Old Town Council, this Renaissance building is beautifully decorated, with exhibitions indoors taking you back to the days of wealth and the fall of the city.
Monument to the Fallen Shipyard Workers
On Solidarity Square stands a monument commemorating workers killed during riots in 1970. It has remained a symbol of the Solidarity movement ever since it was unveiled.
Solidarity Centre Foundation - Roads to Freedom Exhibition
Following the theme of Solidarity, take a peek at the Foundation Centre near the railway station. It is an unmissable journey through the city's 20th century history.
St. Mary's Church
On of the largest red-brick Cathedrals in the World, St. Mary's Church is a beautiful tribute to Gothic architecture. Almost 80 meters high, the building is a sight even from afar.
Shopping in Gdansk
Madison Centre
For international brands, Madison Centre offers four floors filled with modern clothes and items.
Galeria Piekny Swiat and Galeria Sztuki Kaszubskiej
Gdansk has been known as the Amber Capital of the World and it comes as no surprise many of the local galleries are full of handicrafts containing amber stones. Head out to these two popular galleries for not just the stones, but for local art works and clothing.
Dining in Gdansk
Just as the city's inhabitants, their restaurants exhibit the same values of historical appreciation. Traditional Polish dishes can be found everywhere, yet a few places give them a modern twist.
Gdanska
The restaurant is full of history, from the interior to the waiters, all clad in centuries-old grandeur.
Targ Rybny
As a harbour city, you can be assured of fresh seafood, and one of the best places to enjoy it is Targ Rubny.
Pierogarnia U Dzika
Head out to 'the Boar' for the best dumplings in town. Plenty of game dishes, and the whole restaurant is decorated with stuffed animals.
Nightlife in Gdansk
Nightlife in Gdansk starts around 19:00 but doesn't end as long as there are customers. Most bars and nightclubs are open until hotel breakfast, so be prepared for a long night!
Cafe Absinthe
Expect a lot of discussions on art, environment and history in this bohemian getaway. However, as the night progresses the discussions tend to turn to dancing on tables, as everyone in town packs in here.
Brovarnia Gdanska
For a more relaxed nightlife, seek out the Brovaria, hidden in the basement of a hotel. Sample their own beers and delicious food in an 18th century environment.
Sopot
Just twenty minutes by train, Sopot offers more options for a night out. As a Baltic resort, the town is full of little bars and cafes, especially on the Monte Cassino street.
Excursions in Gdansk
You don't have to travel all the way to Sopot's crowded beaches to enjoy some sun. Gdansk has a long stretch of beautiful sandy beaches just a tram-trip away. However, for some resort-style pampering, Sopot and Gdynia offer more options.
The city arranges free walking tours around the city at noon from the St. Mary's Church. To get a peek into local way of life, discovering the hidden treasures of the city, let the guide direct you through all the sights and local restaurants.
Travel Tips for Gdansk
Gdansk is a relatively safe city, as long as you take the normal precautions against pickpockets. Walking outside the city centre, especially to Dolne Miasto and Orunia areas, should be avoided especially in expensive-looking clothes.
Most inhabitants are very friendly towards visitors and will generously show their hospitality to everyone they meet.
Event Tourism in Gdansk
The city of Gdansk has grown with international shipping and tourism industry to become a grand venue for festivals, conferences, congresses, symposiums, fairs, trade shows and exhibitions. Closeness of beach resorts attracts a wealth of culturally inclined business people to visit the town, and the city has world-class philharmonic orchestras, operas, concert halls and art galleries active throughout the year.