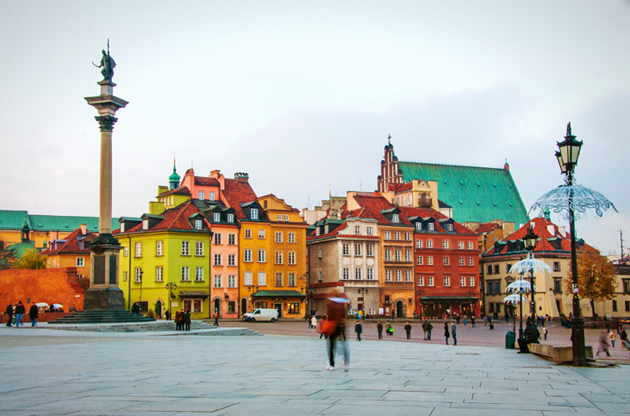 The capital of Poland, Warsaw is one of the picturesque European capitals. Also referred by the Polish name, Warszawa, widely, it is a city in which the dialogue between the past and present is strong. Always considered as one of the most livable cities ever, Warsaw has been attracting a lot of people from Europe to be their new home. It is also a famous choice of education destination, thanks to the universities with qualified academic strength.
Warsaw's population is around 1.7 million. The city is home to this 1.7 million people in 5 official districts, all of which separate from each other with their unique features. When all these characteristic elements come together, Warsaw becomes a puzzle that is a pleasure to solve.
If we are to talk about the soul of the city a bit, then we have to note that the vague sadness that still surrounds it after this much time. The past is past, yes, however, the feeling of it is still there. But that doesn't have anything to do with the kind and helpful nature of the locals. If you come across someone who would like to call an English speaking friend of his just to help you, don't be surprised. (Not many of the locals, taxi drivers, even train station staff speak English.)
Despite the prejudices about Warsaw that it doesn't offer as much as the other European capitals do, and if you feel the same way, then you are more than welcomed to change your mind after your trip. It may be any moment during your time in Warsaw; while you are eating the best examples of Polish cuisine, wandering in the large streets, visiting the places that carries the burden of the past or enjoying the rain that knocks on your window. But I can assure you, it's time will come and Warsaw will always have a place in your heart.
Where is Warsaw?
Warsaw, the capital of Poland is located on Vistula River.
How to get to Warsaw?
Warsaw Frederic Chopin Airport is located 10 km south of the city center. You can choose among the options of transportation to reach the city / airport from the city on its website.
Warsaw Modlin International Airport , which is 40 km from Warsaw central, is the base for budget airways that have flights to/from nearby European countries.
How to get around in Warsaw
Warsaw's local transportation is relied on bus, tram and metro. It is comparatively cheap when compared to other European capitals. In addition, taxi might also be an advantageous option if you are travelling with a group, it is not expensive.
SKM provides routes and schedules of Warsaw metro and ZTM does the same for bus.
Attractions in Warsaw
There are plenty of things to do in Warsaw. You may visit the historical buildings that show the best examples of architecture as an art, or you may spend your time in museums which will enlighten you about especially the Central European culture. In addition, enjoying your dinner in stylish restaurants or dancing till the first lights of the day is another option.
Sightseeing in Warsaw
Most of the places to see in Warsaw are located in the center of the city. You can start with Old Town, where the Syrenka Statue is, and New Town. St. John's Cathedral and Royal Castle, as well with St. Anne's Church might be interesting. Palace of Culture and Science is also popular.
Fryderyk Chopin Museum, Historical Museum of Warsaw and Maria Sklodowska-Curie Museum are among the top three museums in Warsaw.
Shopping in Warsaw
The main shopping area in the city is Marszalkowska Street. You can find a lot of stores along the road, prices ranging from cheap to expensive. Zlote tarasy is one of the biggest malls in Warsaw and you would probably find anything you want there.
However the most unique type of shopping in Warsaw can be made in Bazar na Kole, the famous antique bazaar. When we consider the history of the city, the antique bazaar may also serve as a time travel that you are allowed to collect items.
Dining & Nightlife in Warsaw
Sródmiescie is a nice area to eat if you are not sure what to have as there are a lot of restaurants serving different cuisines. One important note; There are still Milk Bars in Warsaw, hanging there since the communist era. They serve only milk products and they are popular for being extremely affordable.
If you have a special interest in bars and clubs, probably Warsaw is the capital that can make you the happiest in Europe. Bars and clubs don't have a closing hour and the fun goes on till dusk. Most of them neither have a dressing code or entrance fee however if you are on your way to a classy one, check on web.
Event Tourism in Warsaw
As Poland is becoming more and more popular in world's international event scene, the capital Warsaw becomes as the first name to come mind to host these annual or biennial congresses, conferences, symposiums, tradeshows, exhibitions and fairs in the country. The scenic city, with its venues and centers that are well qualified to host these events, satisfy the event attendee with its generous activity and attraction offers, too.