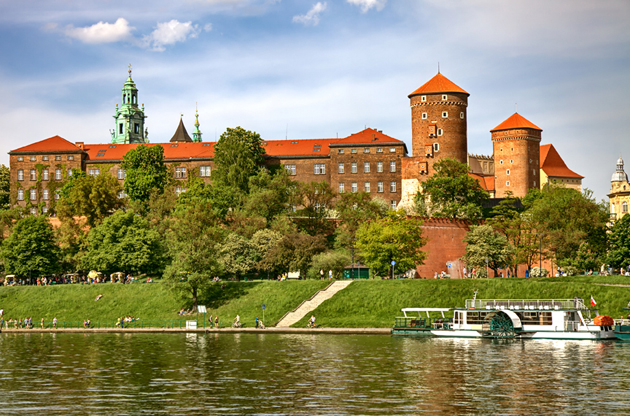 You know there are some cities in the world, despite not being the capital of the country they are in, they attract more people and they are somehow liked more than the capital. We can definitely put Cracow into that group.
Apple of Poland's eye, Cracow is the second largest city in the country and because of many reasons has been a popular destination among the travelers. Yes, there are bunch of museums, attractions, places to see in the city however, other than these, what makes Cracow this special is its soul that embraces anyone.
Home to almost 756.000 people, Cracow, generally known with its original name in Polish, Kraków, is a big city in terms of land size. This is why divisions with directions are helpful for most of the visitors. The weather doesn't surprise you in Cracow, cold winters and warm summers welcome you according to the time you travel.
Cracow is an important university city not only in Poland but also in Europe, too. A lot of exchange students as well with foreign students visit and live there for educational purposes. That's why the look of Cracow is always live and colorful, the popular districts are filled by both travelers and students at the same time.
Cracow has got an attitude that will make you feel you have been living there for a long time. While exploring the city, you will witness the marks of the pain the city had to undergo back in the time. However, at the same time you will realize that it is one of the things that shaped the city's soul. Cracow will take a place in your heart where misery and beauty collides.
Where is Cracow?
Cracow is located on the Vistula River, on the south of Poland.
How to get to Cracow?
John Paul II International Airport Kraków–Balice, generally known as just Kraków Airport, is located 11 km west of Cracow city center. Ways of reaching to the city from the airport is listed on airport's official website .
How to get around in Cracow?
If you are used to walking, I mean a lot of walking, then there is no need for you to consider public transportation in Cracow. Wandering through the city is really enjoyable since all the corners have something to see.
If you would like to use the public transportation, head directly to MPK SA to learn about the routes, fares, schedules and maps.
Driving in the city is not recommended.
Taxi fares are not high in the city, however avoid the rush hours in order not get stuck in the middle of a traffic jam.
Attractions in Cracow
Cracow with its beautiful architecture, important sights to see and attractions it has can compete with most of the European capitals. This is why time managing in your free time is so important in Cracow. You don't want to miss anything, do you?
Museums & Sightseeing in Cracow
Archaeological Museum of Kraków, Galicia Jewish Museum, Museum of Contemporary Art in Kraków and National Museum are only a small part of the museums that should be visited while Krakow.
Old Town is a beautiful place to spend at least some couple of hours. You can find a lot of stylish pubs, cafes and historical monuments such as Sukiennice, Town Hall Tower and Barbakan, to see there. Kazimierz (the old Jewish Quarter) Nowa Huta and Wawel should also be stopped by.
One major place to visit in Cracow is Oscar Schindler's factory. The actual factory that was used as a setting for some parts of the movie, Schindler's List, still accepts visitors.
Shopping in Cracow
This city is one those that you don't have to spend any extra energy to find the right places to shop. Old Town district has got many places to choose from. You can find a lot of different stores selling antiques, books and clothes.
Sukiennice has got a market on its first floor, where Polish people sell handicrafts. In Kazmierz, you will come across a bunch of boutiques and stores around the Royal Way.
Dining & Nightlife in Cracow
Good restaurants and nice pubs, cafes and bars in Cracow are not far away from each other. So you can kill two birds with one stone, if you want to dine exclusively and have a couple of drinks or dance at the same time.
Old Town is said to be having more than 300 bars and clubs on it is own in Cracow. The district also includes some really tasty restaurants. In addition Kazmierz is a good option for both.
You will notice, most of the bars are located underground in the city. Another thing you will notice is the cheapness of the drinks. Don't forget to finish the night by eating the most famous street food in Cracow; zapiekanka.
Excursions in Cracow
There are two popular excursions in Cracow and both of them offer you a different sort of experience.
The first one is visiting Wieliczka Salt Mine. It is one of the world's oldest salt mines and it is still in operations. You can go under 135m deep, walk through the corridors and even find a café to have some rest. Don't forget to buy a pack of salt on the way back!
The second one is a heart breaking trip to Auschwitz Concentration Camp. It is the biggest one built during the war time. It is recommended you join in a guided tour because of the quality and accurateness of the facts and information that is given.
Event Tourism in Cracow
Cracow has been solidifying its place on world's event tourism scene. The city hosts a large number of congresses, conferences, symposiums, exhibitions, fairs and tradeshows every year. These large scale events are being held successfully thanks to the city's well-equipped venues, beautiful hotels and accessibility. In addition, the beauty of the city makes it a perfect event trip for the attendee.