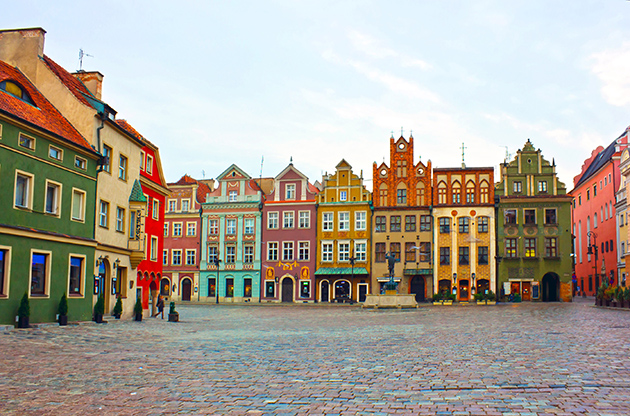 Poznan, for some, the oldest capital in the world, is a city of education and business and continues to fascinate people with its historical attractions and natural beauty.
Dating back to 10th century, Poznan, located in the Wielkopolska area in Poland, preserves its historical face although it was highly devastated during World War II. The first kings of Poland are buried in Poznan's Cathedral and the Renaissance Hall in Town Hall has an impressive beauty.
In Poznan, every corner of the city is worth seeing and makes you forget about yourself. Having probably the most beautiful town square in Europe, Poznan is also the city of myths, history and beauty.
If you are that lucky to be in Poznan in summer, many festivals will welcome you and you'll definitely have a great time in this gorgeous city of Europe.
Where is Poznan?
Poznan is located in Wielkopolska region by Warta River in west central Poland.
Getting to Poznan
If you will travel to Poznan by plane, your only option to land is Lawica Henryk Wieniawski Airport and it is located only 5 km away from the city center. For more information about the transportation options to and from the airport, you can visit the official website of Lawica Henryk Wieniawski Airport.
Things to Do in Poznan
Jordan Bridge
Jordan Bridge connects Srodka and Ostrów Tumski. This red steel span is popular not for itself actually but for the view it offers and for the legend that says that the couple who attach a padlock to the bridge and throw the key into the river stays together forever. So when you are in Poznan, cross over the Jordan Bridge and enjoy the magnificent view of the Cathedral, or if you like, attaching a padlock will not cost you anything.
Raczynki Palace
Although it is located in Rogalin, Raczynki Palace is just located just 30 km away from Poznan. It is considered as one of the most magnificent buildings in Poland. This neo-classical residence of Raczynski family is situated on Warta River and with its breath-taking garden and its most outstanding drawing collection in Poland it offers you an unforgettable experience.
Town Hall
Town Hall with its highly impressive Renaissance Hall and the drawings on its outer walls attracts so many visitors. The most popular attraction of the Town Hall is the clock on the front wall of the building. Every day at noon, a show of mechanical fighting goat starts above the clock and many people gather in the square.
Makiety Dawnego Poznania
Makiety Dawnego Poznania is another popular attraction in Poznan that offers a matchless experience of historic Poznan. It is located near to the city square and displays more than 2300 miniatures and 1200 model trees. This show that takes 30 minutes will make one of the best 30 minutes in your life.
Museum of Musical Instruments
Established in 1945, Museum of Musical Instruments is the 3rd musical instrument museum in the world. As well as the most common and the unfamiliar instruments, you'll find pieces of applied art. For more information about the tickets and the opening hours, you can visit the official website of Museum of Musical Instruments.
Shopping in Poznan
The most popular shopping center in Poznan is Stary Browar Shopping Center. This former brewery now serves as a shopping center and also offers high class restaurants. There are also other options for shopping in the city. Open air markets such as Jezycki Market, Wildecki Market or Wielkopolski market are available if you are interested in buying meat, fresh fruit or vegetables or deli.
Galeria Malta is another shopping center in Poznan that is located on the shores of Lake Malta and has more than 170 establishments. Franowo Shopping Centre is another option for you that consists of a big supermarket, restaurants and department stores.
Dining and Nightlife in Poznan
If you like to spend a one night out in Poznan, the Musical Theatre offer astonishing shows for you. For dining, this fascinating city has many options for you.
Bazanciarnia
Bazanciarnia is a restaurant in Poznan and it is highly for popular for its game menu. If you like to taste the best game in the most popular restaurant in the city, pay a visit to Bazanciarnia.
Wiejskie Jadlo
Offering the atmosphere of a traditional old-polish peasant's house, Wiejskie Jadlo is located at the main square of Poznan.
Pierogarnia Stary Mlyn
If you wish to try Polish food, Pierogarnia Stary Mlyn will be your favorite address in the city thanks to its great atmosphere and delicious menu. You can have more information about it on the official website of Pierogarnia Stary Mlyn.
Excursions and Tours in Poznan
Kornik Castle
Kornik Castle is located just 18 km away from the city center and offers a perfect daytrip. With its fascinating arboretum the Kornik Castle will also ravish you with its wonderful interiors and its Elhamra Palace-like design. The castle is positioned in a pond and the only way to reach it are the bridges.
Puszcza Zielonka Landscape Park
Located to the north-east of Poznan, Puszcza Zielonka Landscape Park is a protected area and 80% of the area is forest. With its five nature reserves and lakes Puszcza Zielonka Landscape Park is a perfect address if you need to take some time off from business.
Events in Poznan
Poznan, being one of the most popular event city in Europe, hosts many international academic or business events each year. Venues like Poznan Congress Center or Poznan International Fair meet the international standards and they are equipped with latest technologies. Apart from these high-capacity convention centers, there are many high class hotels in Poznan that have large-capacity accommodation options and facilities.