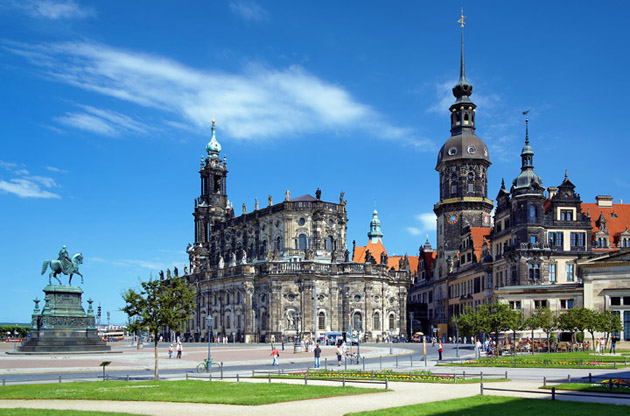 Dresden, one of the most captivating and enchanting Germen cities with a destructive history, has virtually emerged from the ashes. Acclaimed to be the most beautiful city of Germany before it was completely destroyed by aerial bombing in World War II, Dresden is the capital city of German state of Saxony. Before 1945, the city was one of the most important trades, art and cultural center of Germany but it lost the charm when it was turned into a heap of ashes in February 1945.
After that began a long period of reconstruction in order to restore the lost charm of the place, turning it into the mesmerizing city that it is now. Today, Dresden is a perfect combination of past and present. The city is cleanly divided into two different time districts, one with historic buildings, museums, cafes and tour groups filling its streets and the other that lives a precariously modern life of its own. Yet both these sides of the city exist together in perfect harmony today, making for one of the best traveling spots in Germany.
Situated at the bank of Elbe River, Dresden is a naturally green and lush city that is filled with a number of gardens, parks and forests. For people with a vested interest in art, history and culture, the city is a complete treasure cove. Dresden is indeed one of the most beautiful cities in Germany that can be chosen as an ideal tourism destination. Even if you are travelling to Germany for business, you should make some time to visit Dresden as the city is truly a memorable sight to behold.
Where is Dresden?
Dresden is located in the south-eastern part of the Free State of Saxony in eastern Germany, lying midway between Prague and Berlin.
How to get to Dresden?
Dresden can be reached by air or by train as it has a small airport and a central station. The Dresden Airport is located six miles northeast of the city and you can easily get direct flights to it from a lot of places. From the Airport, you can take the direct shuttle service that will lead you to Dresden Hauptbahnhof, one of the two train stations in the city.
Attractions in Dresden
Dresden is a place of many attractions and while you are in the city, it's hard to have a dull moment. Whether you want to dig into the historical background of the city or need some amusement, Dresden will have much to offer in every respect. However, like every other city, Dresden has some must-visit places that you should not miss out on while you are in the city.
Sightseeing & Museums in Dresden
Reconstructed anew after the World War II bombing, Frauenkirche is one of the most famous and beautiful cathedrals you'll find in the city. The architecture of this building is truly a piece of art and the fact that you cannot take photos inside adds to the mystery of this cathedral. The church is reconstructed in part from the stones recovered from its ruins after it was destroyed.
Semper Opera House is another restored building that features an elaborate Renaissance style structure. After the restoration, the opera house is a treat to look at, back to its magnificent glory. The opera house plays a number of classic operas, and ballet and jazz performances that are great attractors on their own. Green Vault is a specialty museum in the city that demands you attention next. The museum has "New" and "Old" parts and the jewels in the old part are quite magnificent.
In 1800's the city witnessed the opening of some of the best numbers of Wagner that are still kept alive by a local opera company. Architecture lovers can take their fill exploring the captivating landscape of the city that was artistically restored. Gemäldegalerie Alte Meister and Grünes Gewölbe museums are filled with cultural mementos that can tell you a lot about the city.
Dining & Nightlife in Dresden
For fine dining, the best restaurants to visit include Schmidt's, Alte Meister, Lila Sosse, Karl May Bar and Villandry. Schmidt's is known for serving the best International Fusion cuisine in the city with a changing menu to bring variety. Alte Meister is not just known for its amazing food but the view and its décor as well, done extremely artistically.
If you are looking for typical German cuisine, Lila Sosse is the place for you. Karl May Bar on the other hand is a place that is well known for serving international cuisine. With a diverse selection of Mediterranean, Asian, International and Central European fusion, Villandry is another perfect place for dining in Dresden.
If you are looking for some nightlife fun, there are a number of different bars in the city that you can visit. Bar Paradox is the best place to go since everything there from foods to music is simply perfect. Kowalsky die Raucherbar, Twist and Irish Fiddler are also some of the most popular bars in the cities that will offer you the best nightlife fun.
Shopping in Dresden
For some shopping fun, the best place to visit is Tradition & Form, where you can find some of the best souvenirs to take home. Combined together with the relaxing and wonderful environment of the place, this will make for a really nice shopping experience.
Molkerei Pfund is a dairy shop that sells some of the most delectable candies, chocolates, jams and cheeses that you can find in the city. There are other items sold as souvenirs as well including bags and soaps that you can pick up. Camondas and Haus des Buches are also two of the best places to go out for shopping expeditions.
Excursions in Dresden
There are many places to see around Dresden if you have free time. Pillnitz Castle, Radebeul, Sächsische Schweiz, Festung Königstein, Meißen and Görlitz are among the top destinations of the travelers and all of the places have something different to fascinate you with. In addition, because of the location of the city, a day trip to Prague, Czech Republic is also a perfect getaway from the city.
Event Tourism in Dresden
Germany is a top country in Europe when it comes to hosting large number of international events every year. Dresden is one of the cities in the country where these congresses, conferences, symposiums, tradeshows and fairs are held. Thanks to the expertise of the organizers, quality of the hotels and accesebility of the venues and convention centers, Dresden keeps being one of the most convenient cities in Germany to be visited by an event attendee.