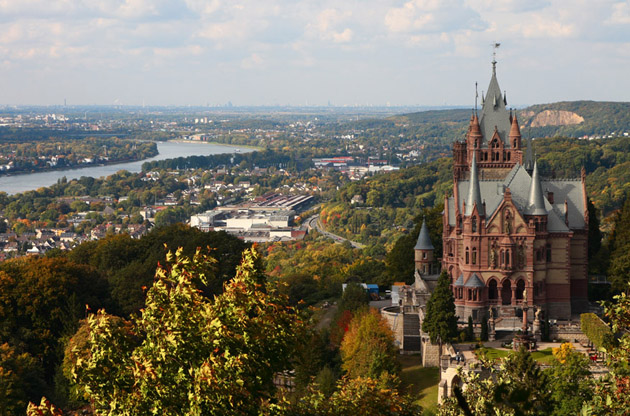 Bonn, Germany is one of those cities that have a large contribution in the historical events, having more than a single historically significant relevance to its name. During the construction of Roman Fort in the city, Bonn played host to an army of Roman soldiers for a significant period of time. In medieval times, the city was popular as the seat of Archbishop of Cologne was transferred here. In 1770, Ludwig van Beethoven was born here, and the city still celebrates its son every year with pomp and festivities.
Today, Bonn is known as the university town of Germany, as it is home to the famous University of Bonn. Keeping up with its political significance in the past, the city is still a center of politics and administrative matters with a number of political institutions still operating from here instead of moving to Berlin. A stroll down the "Path of Democracy", a government district, allows you to explore the political happenings in the city through the display boards that are set around the place. Moreover, the city is also home to the head offices of noticeable businesses.
All across Bonn, and in its surrounding areas, you can find a number of different attractions that make it one of the most visited towns. Travelers from all around the world come to Bonn in thousands of numbers, either for leisure or business trips. Due to its status as the university town, you can expect to find a large number of students here, most of them coming from foreign countries to study here. Rich culture, diversity and beauty, everything can be found in the city.
Where is Bonn?
Located in southwest Germany, Bonn is considered to be a part of lowland Cologne and is located 20km south from Cologne along the river Rhine.
How to get to Bonn?
The most convenient way to get into Bonn is through air travel. The closest airport to the city is Cologne-Bonn airport, which is a very small and extremely low-cost travel solution to the city.
From the airport, both trains and shuttles are available that can take you to the city center directly. Taxis are also available for Bonn right outside the airport. Bonn Hauptbahnhof is the central station of the city, and you can take a train to reach the city through this station.
Attractions in Bonn
For those who have an interest in culture and history, Bonn can be an ideal place to visit. The city has a variety of attractions to offer for all those who visit the city.
Sightseeing & Museums in Bonn
If you are looking to get a fill of the history of this city, the first place to visit is the German National Museum of Contemporary History. Beethoven House is another place you can visit to get a glimpse of the lifestyle of one of the most celebrated music figures in history. Cathedral de Bonn and Basilica of St Martin are two of the best historical sites to visit in the city, both being remarkable landmarks and architectural masterpieces.
If you need to relax and take a break close to nature, the Freizeitpark Rheinaue is the place for you to visit. This park is one of the best places to visit in Bonn that offers an amazing view and a very peaceful environment. Another park to visit in the city is Wildpark Venusberg that is both a park and the city zoo. If you enjoy opera, Werkstatt Opernhaus is the best entertainment stop for you. The opera house presents different performances so you can check if there is something interesting for you or not before visiting.
Shopping in Bonn
If you travel falls within the months of winter, Bonn Christmas Market is your one-stop shop for everything you might need, including souvenirs. This is a flea market where everything is available at highly affordable prices. Marktplatz and Godesberg are two main shopping districts in the city, you can find all types of stores and small boutiques there. If what you are looking for is a huge shopping mall, then keep the name Kaisarpassage in your mind.
Dining & Nightlife in Bonn
For dining, one of the best places to visit in Bonn is Halbedels. The reservation dinner restaurant serves tailored tasting menu that offers different items depending on the local seasonal produces. Another ideal place to visit when you are looking for a scrumptious meal is Strandhaus, also featuring a constantly changing menu. Yu Sushi Club and Brasserie Next Level are some other best restaurants to visit while you are in the city. Offering a variety of international cuisines, both these restaurants are a favorite among travelers.
If you are looking for some hip and happening night spots to hang out in Bonn, there are a number of different clubs and bars that you can visit. Zone is the most popular bar among tourists in Bonn, a place you can visit even at three in the morning. If you are looking for Thursday Nights Specials, Sessions is the bar for you to visit. Another wonderful bar that provides ample entertainment is the Der Goldene Engel. To enjoy the nightlife of the city to the fullest, a trip to any of these bars would do the trick.
Excursions in Bonn
Bonn's location in Germany turns the city into a perfect place for daytrips outside of the city. If you think you have spent enough time in Bonn, then you can consider catching a train or driving to Cologne or Bruhl. If you are a red wine enthusiast, then Ahr Valley is a must for you as there is a Red Wine Hiking Trail. Königswinter is another destination that is popular among the travelers. There are many small shops, nice restaurants and a picturesque view from the top of the Drachenfels Mountain.
Event Tourism in Bonn
Bonn is one of the cities that host the most number of large scale international events every year in Germany. The city becomes one of the favorite destinations of the many people who visit Bonn to join congresses, conferences, symposiums, seminars, fairs and tradeshows. In addition, the accebility of the venues and convention centers that are equipped with the latest technology and the quality of the hotels, turn Bonn into a hub for these kind of events.