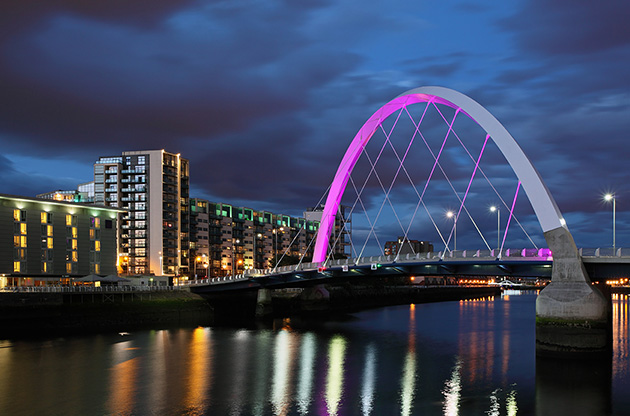 Glasgow is the largest city in Scotland and a city rich in culture, diversity and spectacular architecture. Whether travelling to Glasgow for business or pleasure, you can get lost in the hustle and bustle of this university city.
This is a city that is centrally located and that offers easy access to all of Scotland. It has a busy business district, a vibrant nightlife and a wide variety of restaurants to get your taste buds tingling with excitement.
Glasgow is a very popular tourist destination and once you arrive you will understand why. With its very popular theatre district and bustling financial district, the streets come alive as the sun rises and they stay busy long after the sun has set.
This is a city that is proud of its cultural heritage, the architectural delight of every building will leave you amazed and the diverse art scene guarantees to get everyone excited.
Once you arrive in this busy Scottish city it's easy to get swept up in the excitement of the area. The people are friendly, the cuisine is outstanding and the shopping is a dream for anyone looking for some much deserved retail therapy.
Glasgow has no shortage of quality hotels, guesthouses and bed and breakfasts in and around the city to meet your accommodation requirements and once you arrive, the extensive public transport system will take you wherever you want to go in the city with ease.
If you're after a true Scottish experience, then Glasgow is definitely the place to visit.
Where is Glasgow?
Glasgow is located in the western central area of Scotland on the River Clyde. Only an hour from Edinburgh and Perth and two hours from Aberdeen, Glasgow is a central location for both business and leisure travelers.
Getting to Glasgow
Arriving in Glasgow couldn't get any easier. Glasgow Airport welcomes hundreds of flights from around the world and is a large and convenient airport on the outskirts of the city center.
On arrival you have a number of transport options to get to your hotel. Taxis are parked outside of the each terminal and are an affordable way to get to the city center. The taxis use a metered system, so you can see what you have to pay with ease.
There are a number of car hire companies based at the airport if you prefer to be independent while in the city.
Things to Do in Glasgow
The Bothwell Castle
The Bothwell Castle is a must see destination in Glasgow. This thirteenth century stone castle is one of the top tourist sites in the area. The castle gazes over the River Clyde offering some of the most panoramic views. While mostly in ruins, you can still view the great hall, chapel and prison tower.
National Piping Center
Another of the major sights in the city, the National Piping Center is a museum that is dedicated to the pipes which are the famous musical instruments in Scotland. You can see the oldest bagpipe in the world, learn about these interesting musical instruments and enjoy the sweet sounds of their music.
Kelvingrove Art Gallery and Museum
The building alone boasts spectacular architecture and once inside you'll find a space that is home to over twenty two galleries and eight thousands interesting objects.
Shopping in Glasgow
Glasgow is filled with boutique shops, extravagant shopping centers and quaint markets selling a range of fantastic items. The Glasgow's Style Mile is a successful shopping area with over two hundred stores from flagship shops to designer boutique stores. Late night shopping is every Monday to Wednesday and again on Friday, ensuring you get all your shopping done with ease.
The Buchanan Galleries is one of the newest shopping centers in the city, close to the M8 motorway. There are eighty shops to choose from selling everything from gifts to clothing.
Dining and Nightlife in Glasgow
Glasgow has no shortage of spectacular restaurants offering a wide variety of the British cuisine. One of the top choices for both locals and visitors to the city center is Brian Maule at Chardon d'Or. This restaurant serves modern cuisine in a Georgian Townhouse in the heart of the city.
Being a student area, there are hundreds of places to go for a night on the town. You can have a chance to have a good time in Bar Kandi, a stylish bar with an elegant feel to the Garage Night Club which spans over four floors with five music areas and seven busy bars.
Excursions and Tours in Glasgow
If you are in Glasgow, there are many great one day tours and excursions to take advantage of, enabling you to explore all that Scotland has to offer.
One of the more popular one day tours is the coach trip to Loch Lomond, Stirling Castle and The Trossachs. Visit Loch Lomond National Park, soak up the spectacular views as you make your way through the rolling countryside and stop at Stirling Castle.
Events in Glasgow
Being a university city, Glasgow is always ready for academic events in any time of the year. Many reputable global events take place in Glasgow in the light of its academic atmosphere and the world class facilities make the city an ideal destination for international gatherings. Congresses, conferences, tradeshows, symposiums, fairs and exhibition that take place in Glasgow creates a worldwide stir and draw attention to the city.