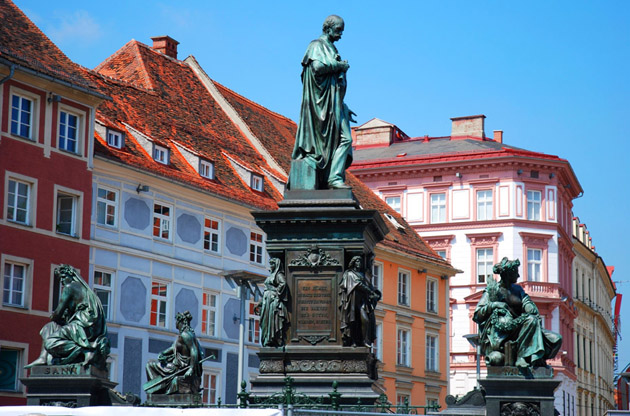 Graz is the second largest Austrian city and also a UNESCO World Heritage Site. This magnificent city is home to six universities and is surrounded by rolling hills and an abundance of natural beauty.
For some reason Graz isn't very popular with tourists, yet it has so much to offer from palaces to museums. This is a city which is rich in history and culture and has some of the most impressive medieval architecture.
The contemporary art scene is very big in Graz and it's a main venue for art exhibitions and events, which are held throughout the year.
What makes Graz so special is that it hasn't modernized as much as many of the other Austrian cities and while it remains pretty much the same as it did all those years ago, it does have its highlights including some of the most spectacular restaurants and sights.
The most amazing of the sights include the volcanic mountains and then there are the caves, which are in the heart of the city. The city is hugged by spectacular landscapes and enables visitors to really get a feel for Austrian life and culture.
It is a university city, students make up a large portion of the small population that live in the city, which means there is a decent nightlife, shopping experiences and more to be had when you visit Graz.
To sum up, although you'll feel you are about to take a trip to a city that doesn't offer much to its visitors, you'll be surprised when you arrive in Graz. This beautiful city is assertive enough to push your best European cities list.
Where is Graz?
Graz is located on the banks of the River Mur, just south east of the famous Alps. In fact you can see the snowcapped Alps from the city center during the winter months.
How to get to Graz?
Graz Airport, also known as Flughafen Graz-Thalerhof, is located 9.3 km from the city center.
Once you arrive at Graz Airport, you'll find a number of transportation options available to get you to the city center and to your hotel.
The public bus is probably the most popular and most affordable option. The bus stops at four stops within the city including the central station, Hotel Wetzer, the central bus station and Graz Griesplatz. The bus is at regular times throughout the day.
There are also regular trains that run between the airport and city center and there are always plenty of taxis waiting outside the airport to take you to your hotel door.
Attractions in Graz
Sightseeing & Museums in Graz
Within the city limits you'll notice the weaving stairs that take you all the way up the side of a hill. Making your way up the stairs can be tedious, but once you arrive at the top you will not be disappointed. The stairs lead to the Schlossberg Castle and Clock Tower. From the top of the hill you get some of the most spectacular views of the city.
Landeszeurghaus, or the Armory Museum, is an absolute must to see when in the city center. This museum is one of the largest armory museums in the world and has over five thousand soldiers and 30,000 objects on display, spanning over a number of galleries.
Contemporary Art Museum is another place you really should take the time to visit while in Graz. Graz is has a big contemporary art scene and this museum gives you a chance to see this for yourself. There are no permanent exhibitions at the museum, they hold temporary exhibitions throughout the year. These are constantly changing, so it's a good idea to use a guided tour to take you through the museum and explain the different pieces to you.
Shopping in Graz
For a city that is often overlooked by tourists, Graz has a good number of great shopping opportunities from shopping centers to quaint boutique stores. City Park is one of the top choices which has over one hundred shops spanning over 40,000 square meters. You can buy anything from fashion to technology at this popular center.
Another top shopping destination is the Kastner and Ohler Center, this can be found in the heart of Graz and is a fashion mall. Set over six floors, it has shops selling clothing for men, women and children.
Shopping Nord is a quaint shopping center in northern Graz where you can explore fifty different shops selling a host of items.
Dining & Nightlife in Graz
When visiting such an interesting city such as Graz in Austria, it's a great idea to try some of the traditional cuisine. There are no shortage of great restaurants throughout the city area, but Landhauskeller is a top choice. This restaurant offers traditional Austrian delights, all locally sourced. They have an extensive wine list to complement your meal.
There are a number of ways to spend your evenings in the city. Miles Jazz Bar is a very popular choice and is a delight for whiskey lovers with over twenty five whiskies available.
Another top choice is Café Bar Orange, which welcomes international DJ's on a regular basis, if you're looking for party atmosphere.
Excursions in Graz
Using Graz as your base in Austria, you can spend a day and explore many areas of this magnificent country. During the winter months a day trip to the Alps for an afternoon of snowboarding or you can take a day trip to the Styrian Hills. This area is brimming with quaint towns, an abundance of historical castles and beautiful orchids. Only an hour away this makes a fun and enjoyable day excursion.
The Mur River Valley is a must to explore where iron mining is part of daily life or head to Southern Styria to the wine estates, there are many coach trips that can take you for a half or full day wine tasting experience.
Event Tourism in Graz
In the recent years, Graz has been gaining even more attention from the large scale event organizers. The increase in the number of the international congresses, conferences, symposiums, trade shows and fairs in the city is obvious and Graz owes this increase to the high tech equipped venues and the large bedspace provided by the good quality hotels.