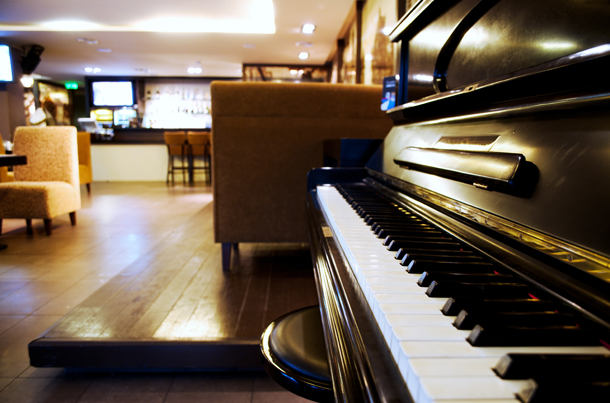 Okay, this question may seem a bit irrelevant. Or, it may be difficult for you to answer this question. However, this question is understandable when you think of Vienna because most of the Viennese people will probably answer this question with a loud "BOTH!" as they are two of the things that are indispensable in their life.
Fortunately, Viennese people have the opportunity to enjoy both of them at the same time. Music is more joyful accompanied by a Viennese café and a large slice of apple strudel. Or, they both taste better when classical music notes are flowing into your ear. What I'm talking about is Vienna's concert cafes.
In these cafes, that can be found anywhere in the city, you can dine and sip your wine, or drink your Viennese coffee accompanied by a delicious dessert while live classical music delights your ear. For the ones who are planning to go Vienna, I tried to make a list of the best concert cafes in Vienna although it was too difficult to decide which one to pick. And the people who aren't thinking of going there yet, I guarantee that it is worth to go to Vienna just for a cup of coffee that will be drunk in this enchanting atmosphere.
1.
Café Schwarzenberg

Since 1861, Café Schwarzenberg has been pleasing its visitors with the good tastes and the unforgettable ambiance. Delicious pastries, a really wide range of teas and traditional coffee types will make you happier together with the great music. Note that the live music is only from Thursday to Sundays.
2. Café Landtmann
Considered as the most elegant and one of the most legendary cafés in Vienna, Café Landtmann, has been operating since 1873. What makes here so legendary is probably its being the favorite place of Max Reinhardt, Burt Lancaster, Sigmund Freud, Peter Altenberg, Paul Mc Cartney and many more.
3. Schmid Hansl
Schmid Hansl is the place where you will get enough of the music. Any kind of music from blues to folk or from classical to national songs will delight you there.
4. Café-Restaurant Weimar
Weimar boast being the only remaining traditional Viennese coffeehouse in its vicinity. As well as the best tastes of Viennese cuisine, best operate performances are awaiting.
5. Café Cobenzl
Cobenzl has a distinctive view from the hill in the Vienna Woods. In fact, this magnificent view is enough to visit this café, however it offers much more than that. Built in 50s and 60s style, in this picturesque café you can play chess, listen to classical music, read or dine in a very cozy atmosphere.
6. Café Braunerhof
Positioned in the center of Old City, Café Bräunerhof is known as the favorite place of the famous writer Thomas Bernhard. If you want to visit there for pleasing your ears, you need to wait for the Saturdays because it is the only live music day.
7. Café Hofburg
In Café Hofburg, the music is only on Sundays and its good location near the Sisi Museum, Spanish Riding School and Imperial Apartments makes this place more than a concert café, an oasis let's say.
8. Café Sperl
Having a worldwide reputation, Café Sperl was used as a setting for the movies Before Sunrise, A Dangerous Method and a concert DVD of the Vienna Philharmonic Orchestra. The interior design will also attract you with its crystal chandeliers, parquet floors, and marble tables.
9. Café Pruckel
Three times a week, you can find live piano music in the evenings in this beautifully designed café. The vintage interior, memorable tastes (especially cheese cakes are highly popular in Café Pruckel) and the cozy atmosphere of this more than 100 year-old-café will immediately take you in and won't let you go that easily.