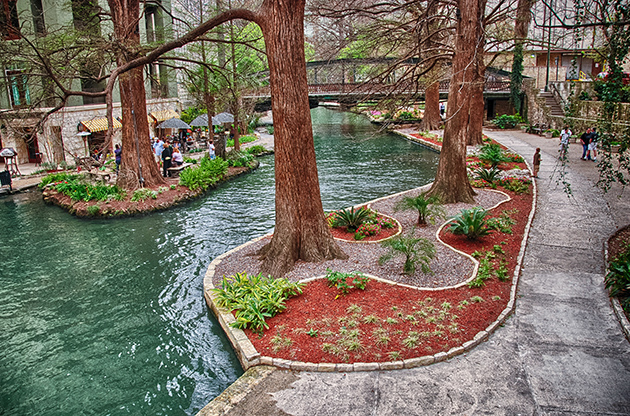 No matter for what purpose you are on your way to San Antonio, Texas, you are going enjoy your trip if you are one of those who like exploring cities with a unique aura. This city has been composed of different layers of history and culture, and successfully modified its one of a kind sophisticated roots to the touch of modern era.
San Antonio is one of the largest cities in United States of America. With 1.3 million people in the center and 2.4 million in total, the city is considered to be one of the most improved cities within the country limits and is visited by almost 28 million people annually.
Despite the overly improved look of the city, San Antonio is pretty assertive in reflecting the city's Mexican & Spanish heritage. This is one another reason why you'll be introduced to not only a pure American way of living and culture, but also to a one relatively old and unique. The city is a mixture of the cultures and this adds to the spice of the city that creates its charm.
San Antonio is a high-octane city for arts and usually considered as the cultural hub of the state of Texas. In addition, the compact composition of the city makes it easy to access any part of the city easily. The multi ethnic structure of the city stands as a thing that fascinates the visitors and the warm bloodedness of the locals of San Antonio definitely doubles the pleasure of discovering such a vibrant city.
Get ready to be fascinated by this American city that is quite distinguished. There is a lot to discover and see in San Antonio, all of which will definitely be remembered long after you get back home and will make you look for a way to come back again.
Where is San Antonio?
San Antonio is in the state of Texas, which is located on the south central part of the country. San Antonio's location in Texas can roughly be described as couth central, again.
How to get to San Antonio?
San Antonio International Airport is located 13 km north from the downtown San Antonio. The airport hosts both national and international flights. If you are going to arrive in San Antonio by plane, you have a couple of options to choose from to get to San Antonio city center. Metropolitan Transit buses- Line 5 leaves every half an hour from the Terminal B and take you straight to the city center. The journey is about 35 minutes. You can also go for the Go Shuttles that leave in front of the airport. If you are traveling with a companion, then you can hire a cab because it'll be cheaper. A cab drive from the San Antonio International Airport to the city center usually costs around 20-23 U.S dollars. If you need any further information, you can check the airport's website.
How to get around in San Antonio?
San Antonio is rather a compact city; the attractions and facilities that you may be in need of are all located close to each other. In addition to this, the city has got one of the most efficient local public transportation systems in United States of America. VIA Metropolitan Transit's website give detailed information not only on the schedules and fairs, but also provides a route planner so you can plan your journey easily.
Attractions in San Antonio
San Antonio has something for everyone. If you are a history lover, you'll enjoy the historical sights of the city and museums. For contemporary enthusiast, there are many galleries and places to check out. It is also possible to enjoy a diverse cuisine in San Antonio in many stylish, local restaurants. Don't forget to dwell the nightlife in the city as well. For the ones who want to try something new and exciting, San Antonio also offers a large selection of excursions to choose from.
Sightseeing and Museums in San Antonio
The most important sights to see in San Antonio are the ones, which established the connection between the past and present. Visiting these places is both an informative and exciting experience.
The ground considered being the place for Texas Liberty, The Alamo may as well be your starting point. Casa Navarro State Historical Park, King William Historic Area and Aztec on the River are the main sources of interest in San Antonio, these should be included in your list.
If you are into museums and want to check out a couple of them before finishing the sightseeing, Institute of Texan Cultures, Museo Alameda, San Antonio Museum of Art and Instituto de México are waiting to be discovered in San Antonio with their rich content.
Shopping in San Antonio
San Antonio offers both modern and traditional shopping opportunities for its visitors. You can check the malls, not only in downtown but also the ones located just a bit outskirts of the city, as well with the local markets. La Villita is located in the heart of the city and there are a large number of stores to check out there. Alamo Quarry Market, Market Square and Rivercenter Mall are among the shopping areas that are famous not only among the visitors but also among the San Antonio locals.
If you want to check out the American way of shopping and see the biggest department stores such as Macy's, then you can head to The Shops at La Cantera, which is located on the northern part of the city, right next to the world wide famous theme park, Six Flags Texas.
Dining & Nightlife in San Antonio
Being in San Antonio also means you are in the heaven of Tex-Mex (fusion of American and Mexican cuisines). So it really doesn't matter if you are after the best Mexican food ever or want to stick with the classic American, you'll get what you want.
The downtown San Antonio, meanly the Alama districts has got a large number of cafes and restaurants that serve not only Tex-Mex but also other cuisines from all over the world. It is not common for these places to be rather inviting as common as in Europe, so deciding the cuisine you'll have and making a small search about the popular restaurants may be a good idea.
Some of them however are definitely worth a try. Tourists visit Bella ... On the River, specialized in Mediterranean food a lot. Boiler House Texas Grill & Wine Garden, as it speaks for itself, is one of the top-notch places if you want to taste something smoky. For burgers and the crispiest nachos in town, the place you must check out is Chris Madrid's.
Excursions in San Antonio
San Antonio offers a bunch of interesting tours and excursions to its visitors. Alamo Helicopter Tours is for example, common among the visitors since it gives an opportunity to have a look at this historical part of the city with a bird's view. If you have an extra day and don't want to check your smart phone to read about the things you pass by in the streets of San Antonio, San Antonio Walks is a great option. These professionally guided tours are extensively informative and offer a true exploration feeling to the participants.
Event Tourism in San Antonio
With the construction of venues that are equipped with the high tech gears to meet the needs of important events, San Antonio has gained worldwide interest from the event organizers. Every year the city hosts a large number of congresses, conferences, symposiums, fairs and trade shows and receive thousands of international attendees. With the help of the exquisite accommodation options and the unique charm of the city, San Antonio's name will be mentioned even more when it comes to world's event tourism scene in the future.