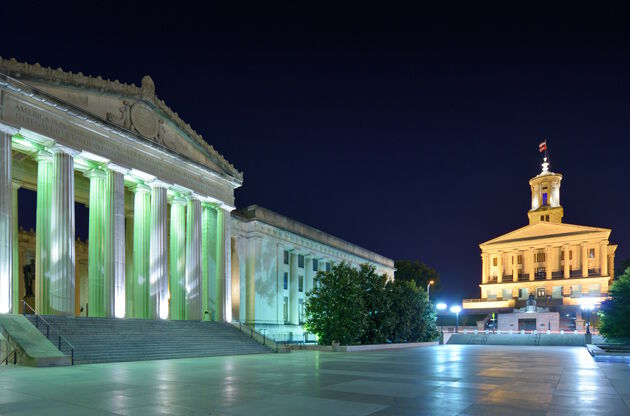 Nashville, popularly known as "Music City" is the capital of the American state of Tennessee. However, in spite of its image as a hub for country music, the city has been working on changing its image and has slowly emerged as a center for commerce and culture. Companies like Dell and Nissan have moved their operations to the city because of this new transformation. This goes to show just how serious the city is about doing business.
Having known as the music city for a long time now, Nashville still remains so to a major part of the population and will probably remain so forever. The number of businesses in Nashville is almost equal to the number of record companies and this shows the fierce competition between something which has already been there for ages and something which has been slowly taking over. However, having said that, Nashville has a lot to offer to both musicians and commercially inclined people.
Each neighborhood of the city is different from the other. There is the "Berry Hill" neighborhood, which houses equal number of music companies and businesses along with bakeries. There is the "Downtown", which offers great food and entertainment. Then there is the world famous "Opryland", which also offers a great selection of dining and shopping to all visitors. Other popular neighborhoods include
Green Hills - the hub of shopping,
Elliston Place - most popular for the vibrant nightclubs
South of Broadway or Sobro - houses convention centers and bars.
All in all, it can be easily said that music is not the only thing Nashville has got to offer anymore.
Where is Nashville?
Nashville is located right in the center of the "Nashville Basin", which is surrounded by Cumberland Plateau to the east and by the Cumberland Highlands to the west.
How to get to Nashville?
Nashville has six airports and the Nashville international airport is the most important of them all. It is located at a distance of 5 miles from the Downtown region. The easiest way to get to the city center from the airport is to take an Elm Hill/Route 18 Airport bus, which is available on all days of the week, from 7 am to 10 pm.
Attractions in Nashville
AT& T Building
This is the place for people who love doing business and are all about money, finance and making profits. The AT&T building has been an important landmark of the city for a while now and was built way back in the year 1994. It is tallest building in the state of Tennessee and is visible from far and wide if the hills don't block your way. The architecture of the building has earned it the name of "The Batman Building".
Ryman Auditorium
Known as the "church of music", this auditorium has played host to great artists like Tony Bennett and Jon Bon Jovi. As a visitor, you can record your own song and take a tour of the backstage!
Grand Ole Opry
It would be a grave sin to visit Nashville and not get tickets to the Grand Ole Opry. It is the oldest radio program in the USA and is broadcast every Friday and Saturday nights. If you visit Nashville during the months of March to December, you can go for Grand Old Opry on Tuesday nights as well.
Yazoo Brewery
This is the local brewery of Nashville, offering beer which is made and bottled in the Downtown region. The brewery offers tours only on Saturdays at every hour starting from 2:30 pm till 5:30 pm. You get to see how beer is made and you also get to drink a few samples and a Yazoo pint.
Other popular attractions of Nashville include:
Country Music Hall of Fame and Museum (Live performances and exhibits)
Fort Negley (Historical fort built in the civil era)
The Parthenon (Monument dedicated to Centennial exposition of Tennessee)
Nashville Golf( Seven golf courses which remain open from 7 am on weekends and from 8 am on weekdays)
Shopping in Nashville
Nashville promises a unique shopping experience to any visitor with its cowboy themed stores to innumerable music outlets. There are a few distinct shopping pockets in the city. While shopping, a visit to the Downtown area is a must for any music fan; stores and museums in the area range from the Johnny Cash Museum to the Barbershop Harmony Society.
The South of Broadway (SoBro to the locals) and 8th Avenue is not only popular with music lovers but also with musicians for their collections of music accessories and instruments. For those looking for a southern American look can visit East Nashville, Marathon Village or Germantown which have many apparel stores. The Gulch neighborhood and Hillsboro Village are popular places to shop for jewelry and home décor.
Dining and Nightlife in Nashville
The 'Music City' tag has often overshadowed the excellent culinary offerings in Nashville. It is one of best places to try barbeque food in the US according to US News. Places like Rotier's, Jack's Barbeque, Rosepepper Grille and Cantina, Capitol Grille and F. Scott's are some of the most recommended places in the food map of Nashville.
Excursions and Tours in Nashville
Fall Creek Falls – Sprawled over 26000 acres on the Cumberland Plateau, it is the largest and most-visited park in the state of Tennessee. It also has the scenic 256-ft high Fall Creek Falls. The park area consists of an inn, cabins and over 200 campsites.
Natchez Trez Parkway – The parkway is home to the Old Natchez Trace, a historic 400-mile path that was used by Native Americans and European explorers. Part of the US National Park Service, the parkway has many scenic points for nature lovers.
Event Tourism in Nashville
Nashville has been getting better and better in terms of all the major branches of tourism and event tourism can also be included in these. Ever year, the city is visited by a large number of international visitors who make it to Nashville to attend a conference, congress, symposium, fair, exhibition or trade show. Not only the number of good quality hotels but also the increasing availability of high tech equipped venues have a part in this popularity.