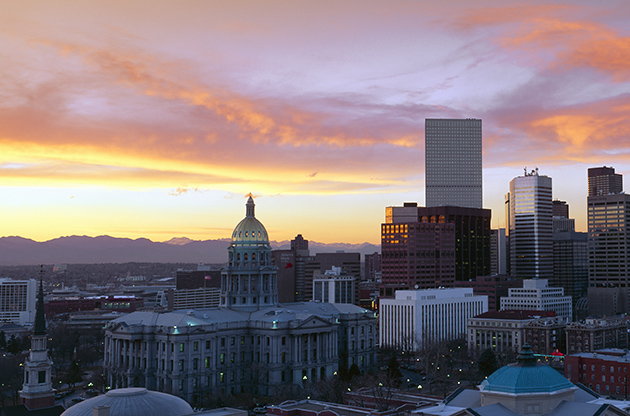 Denver, the capital and the largest city of Colorado, is also known as the Mile-High City because it is one mile above the sea level. Founded in 1858, the city was named after James W. Denver who was a soldier, politician, lawyer and the governor of Kansas State.
The city is in rich of national parks and offers a peaceful and tranquil atmosphere to its visitors. Denver is not like those cities in the US which are too big, crowded and tiring. Instead, people in Denver live a calm and comfortable life.
People eat well, do sports regularly and enjoy being in nature. People generally live in the houses or lofts which are high-ceilinged, have red bricks and narrow windows. These buildings add much up to the antique and modern style of the city.
Being a university town, Denver mostly houses the students and have a considerably young population. You can see them cycling round the city, sitting at the cafes, doing sports or discovering the nature.
Where is Denver?
Denver is located on the foothills of Rocky Mountains, in the center of the Front Range Urban Corridor and on the junction point of South Platte and Cherry Creek rivers.
Getting to Denver
If you are coming to Denver by plane, the only airport in the city is Denver International Airport. By total area, it is the largest airport in the United States. For more information about the transportation options to and from the airport, you can visit the official website of Denver International Airport.
Things to Do in Denver
Sightseeing in Denver
16th Street Mall
One of the popular streets in the city is 16th Street Mall. Along the street there are more than 300 stores and more than 50 restaurant. 16th Street Mall is closed to traffic and only Street Mall Shuttle provides free service along the street.
Confluence Park
If you feel tired of wandering around the city and shopping, Confluence Park is can be the place where you can walk by the river and get some fresh air. What's more, rafting on the river is another opportunity for you if it's the season.
Museums in Denver
Money Museum
Money Museum is the most interesting museums in Denver. It is located in Central Bank Denver branch. Before going in, you must go through a strict security check point. If you don't have your passport you can never go in. The museum is small but offers you interesting facts about money, short videos and the opportunity to create your own currency with your own photo.
Denver Art Museum
Denver Art Museum is popular for its collection of American Indian art. There are over 68000 pieces of art from all over the world. if you want to visit this one of the largest museum between Chicago and West Coast, you can have a look at the official website of Denver Art Museum.
Shopping in Denver
Cherry Creek
Having more than 320 stores, restaurants, galleries and more, Cherry Creek is Denver's premier shopping district. At the luxury Cherry Creek Shopping Center you will have the opportunity to shop from many international brands and others that are only exclusive to the area.
Broadway Shopping District
If you are not into upscale shopping and searching for hobby stores, vintage products or outdoor equipment, Broadway Shopping District will offer you more than you need.
Larimer Square
Known as Denver's most chic fashion district, Larimer Square is a perfect hub clothing, jewelry, accessories or designers' collections.
Dining and Nightlife in Denver
Dining in Denver will be a delicious experience because in many restaurants in the city, locally grown and freshest ingredients are used.
Rioja
If your favorite is Mediterranean Cuisine, Rioja will offer you a menu that is beyond your expectations. Homemade pastas are Rioja's specials. You can find Rioja easily in Larimer Street.
Table 6
Located in Corona Street, Table 6 is a perfect spot for intimate dinners. Carrie Shores, the chef, offers a rich menu including tater tots with chorizo and picked peppers and duck confit with cherry sage vin.
For a colorful nightlife and to choose from many reputable restaurants, bars and cafes in the city, you can head to Cherry Creek North that houses more than 40 restaurants and bars.
Excursions and Tours in Denver
Great Sand Dunes
Located in San Luis Valley in Colorado, Great Sand Dunes is 4 hours drive away from Denver. Though it is a bit far from Denver, paying a visit to Great Sand Dunes will make a perfect getaway and those broad sands dunes will leave you in awe. If you find some extra time, never skip the chance to see this stunning place that is the highest sand dunes in North America (236 meters).
Boulder
Boulder is located 40 km away from Denver city center and it is worth a visit with its natural beauties, vibrant city center.
Event Tourism in Denver
Being the economical center of its state and a university town, Denver has developed rapidly as a host city for international academic or business events. Having a high accommodation capacity at its high class hotels and boasting its remarkable event venues, many big-scale international events are held in Denver each year.