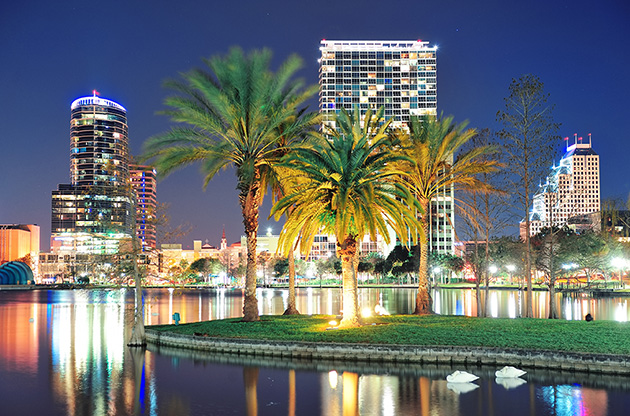 When people hear the words Orlando, Florida the first image that comes to mind is of course Disney World Theme Park. But Orlando is so much more than Disney World, though the park does a wonderful job of attracting visitors to the city. However, Orlando is a bustling metropolitan city in its own right, right in the heart of the Sunshine State.
This city attracts over 50 million visitors a year. Many are there to see the giant mouse of course but Orlando is also a city that draws many to conferences from all over the world. These visitors are there to experience a city that has more to offer than simply Disneymania, though a visit to the Magic Kingdom is a special experience for everyone, not just for children.
When first time visitors disembark from their flights, the first thing they notice is the abundant sunshine and palm trees that dot the landscape. The verdant green of the trees, the golden light glinting off everything and the perfect weather make this a beautiful city indeed. You catch frequent whiffs of oranges and grapefruit in the air, as these crops grow abundantly in the rural areas around the city, and it seems as if this fresh aroma sets the stage for a visit that is as sweet as the juice squeezed from those fruits.
Where is Orlando?
Orlando is located in almost the exact geographic center of the state of Florida. It is the largest city in Central Florida and attracts more visitors than any other city in the state every year.
Getting to Orlando
Most visitors to Orlando will arrive via Orlando International Airport. Once on the ground, transportation to your hotel can be found through rental cars, taxis, buses or private car services.
Attractions in Orlando
Discovery Cove
It is a magical Florida adventure. Swim with dolphins, snorkel to see tropical fish or feed the wild birds at the aviary. Then relax the rest of the day away floating around the lazy river.
Battleground Orlando
This indoor outdoor laser tag arena offers six different battlefields where you will do your best to dominate all on the field of play. A great time will be had for all, and this is a fun team building exercise as well.
Splittsville Luxury Lanes and Dinner Lounge
It is the penultimate bowling experience for some rainy day indoor fun. Bowl a few games of ten pin and then take in dinner in the luxurious lounge.
Museums and Sightseeing in Orlando
With rooms to dig for dinosaurs and an area that takes you on a tour through the human body, there is something fascinating to discover around every corner of this four story museum.
The Orlando Science Center
With rooms to dig for dinosaurs and an area that takes you on a tour through the human body, there is something fascinating to discover around every corner of this four story museum.
Ripley's Believe It or Not Museum
This museum is filled with the curiosities that Robert Ripley, explorer, adventurer and cartoonist, has compiled over a lifetime of discovering the world and its strangest inhabitants. A visit to this museum is a day that will not soon be forgotten.
Orange County Regional History Center
This three story building houses over 12,000 years of Florida history. Knowledgeable guides will show you around, or take your time and browse the ample exhibits at your leisure.
Outdoor Activities in Orlando
A favorite of most visitors is Gatorland. This fun and interactive outdoor attraction features swampland that houses over 3,000 alligators and almost 100 crocodiles, plus exhibits of native Floridian birds and snakes. For the fainter of heart a day at Lake Lizzie Nature Refuge is a beautiful place to hike and revel in the abundant flora and fauna native to central Florida.
Theater and Music in Orlando
La Nouba – Cirque du Soleil is a must see circus performance featuring some of the most talented performers in the world. Their routines, set to music, will leave you breathless in awe and wonder as you marvel at their amazing feats.
For hearty belly laughs you must see Mama's Comedy Show. This set of adult oriented skits and improvisational comedy will have you gasping for breath due to laughter. And for a taste of the refined, the Orlando Shakespeare Theater is a troupe of talented actors who perform the works of William Shakespeare on stage every night. Plays rotate so call ahead to see what the performance of the week will be.
Shopping in Orlando
Orlando Premium Outlets on International Drive is an upscale shopping experience. This outdoor mall offers shoppers an opportunity to shop at many designer and brand name shops and boutiques at discounted prices.
The Florida Mall considered as "the best mall in America". This mall sees almost 2 million visitors per year and it houses a hotel, conference center and a wide variety of shops, boutiques, specialty stores and department stores. The M&M's Store will bring out the kid in you as well.
Dining and Nightlife in Orlando
Victoria & Albert's
For a fine dining experience you will remember for a lifetime, it does not get any better than Victoria & Albert's. This five star restaurant is a classic in Orlando and the place to go for the best gourmet food in the city. Be prepared to wear a tie, guys. It isn't optional to go without!
Fogo de Chao
If you are looking for something beyond the usual fare, Fogo de Chao is a taste of South America right in the heart of Orlando. This Brazilian restaurant serves spicy, exotic cuisine in a restaurant that is filled with atmosphere and ambiance that sizzles with Latin flavor.
Moonfish
For the best seafood, steak and sushi in Central Florida, Moonfish is the place to be. This restaurant is consistently listed in local food guides as the best sushi in the city. With a laid back atmosphere and a varied menu, there is something for everyone at Moonfish.
When it comes to nightlife, Howl at the Moon Piano Bar is not your ordinary one piano fare. This amazing club has four dueling pianos and requires audience participation during certain song and dance numbers.
For something different, Player 1 Video Game Bar offers drinks, bar food and video games from all eras of the history of gaming. Compete against friends and have a great night on the town at Player 1. If dancing the night away is more your style, Latin Quarter is the hottest dance club in Orlando.
Excursions and Tours in Orlando
Kennedy Space Center Tour
Kennedy Space Center is just a short jaunt from Orlando and this tour takes you behind the scenes at the site of NASA's historic launches to the Moon and beyond. This special tour gives you access to all areas of the center and affords you the opportunity to have lunch with a real astronaut.
Florida Everglades Airboat Tour
This exciting tour takes you through the alligator filled Everglades National Swamp on a speedy airboat. Hang on to your hat and get ready to experience the wild nature of the Florida swampland up close and personal. Enjoy lunch and an alligator encounter on this tour as well!