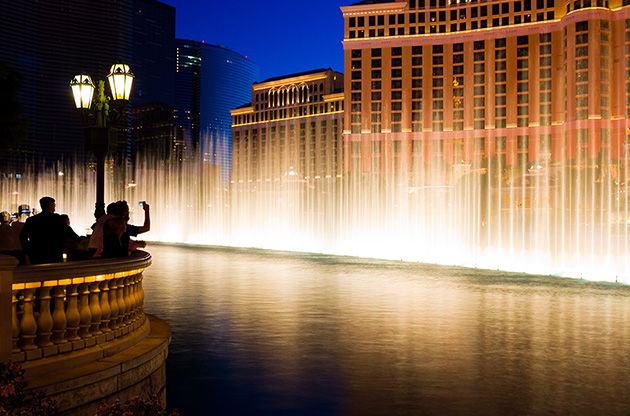 You probably heard a lot about Las Vegas. A lot of stories were told, you have watched numerous movies about this entertainment capital of the world. You may even have a dreamy image of the city in your mind. However, there is one thing you need to know now; all the things you heard about Las Vegas is not even close to the actual shine and charm of this city!
Las Vegas, or the 'Sin City' according to a vast majority, is the heart of the Nevada State in the United States of America and it is one of the most visited city in the whole world. Almost 40.000.000 each year come and get their share out of this entertainment paradise.
Las Vegas is a remarkable city not only because the fame it has regarding the casinos, the shiny night life and entertainment that has no boundaries. Vegas is a city built on a desert, literally! That's why it is almost always scorching hot. But one must admit; this is one of the points that makes Las Vegas what it is. The climate of the city goes well with the passion it makes you feel while you are spinning the jackpot!
Of course, the city has got some major reasons to be this popular but these are not the only ones. The one of a kind natural beauty Grand Canyon, limitless options on dining, sights to see and shopping areas that will make you have to buy an extra suitcase, define Las Vegas' fame too. You know how the cliché goes; 'what happens in Vegas, stays in Vegas.'
Where is Las Vegas?
Las Vegas is the county seat of Clark County, in Nevada, United States of America. It is located on the Mojave Desert, on the Southern Nevada.
How to get to Las Vegas?
There are two major airports in Vegas. One of them McCarran International Airport that is on 8km south of the city center. The other one is Henderson Airport and it is on 11 km south from the business district of Las Vegas.
Both McCarran Airport and Henderson Airport offer the passengers many options of transportation to the central Las Vegas as well as car rental services.
How to get around in Las Vegas?
Monorail is the main way of local transportation in Las Vegas as it runs along the Vegas Strip. Buses operated by The Regional Transportation Commission of Southern Nevada is also an option if your trip is based on the Strip and the downtown. There are two buses named Deuce and the SDX that covers the Las Vegas Boulevard. Taxi is also a popular option as it is easy to find and relatively cheaper.
Attractions in Las Vegas
This sort of a title is a bit odd for Las Vegas as the city itself is a big attraction. Still, here are some suggestions that may be useful during your trip.
Sightseeing in Las Vegas
Visitors usually gets surprised when they find about the places to see other than the casinos and night clubs in Las Vegas. But that would be really unfortunate to leave the city without seeing aquarium at the Mirage, Botanical Gardens at the Bellagio and the Flamingo Garden. If you want to see an interesting museum, than directly head to The Neon Museum.
Shopping in Las Vegas
There are two things to keep in mind before starting your shopping trip in Las Vegas. First, there is unfortunately no tax refund service for travelers in Las Vegas. Second, stay away from the hotel shops as much as possible.
Now you are good to go.
You already knew about the Las Vegas Strip before you come, right? That's a place to have a look at the fancy windows. Fashion Show Mall and Town Square are the major shopping places in Las Vegas. Many of the casinos also have got shopping areas. Some of these are Forum Shops, Grand Canal Shoppes, and Miracle Mile Shops at Planet Hollywood. Las Vegas Premium Outlets are also in demand throughout the year.
Dining & Nightlife in Las Vegas
In Vegas it is impossible not to find what you want to eat. Buffets are really famous and affordable when the service is considered. On the Strip, numerous restaurants are located. It is easy to find good quality places to eat in the downtown as well.
No matter what I tell about Las Vegas' nightlife, it will probably lack something. It is all up to you to go and find your new favorite dancing club in the city. All the casinos have a night club, and there are many more in the center. Most of the clubs are open until 4:00 AM.
Excursions in Las Vegas
If you have a full day to spend and if you want to give a break to the Black Jack, don't miss the chance to go the Grand Canyon. It is in the Arizona state and it takes a 3.5 hour drive from Las Vegas. A true, unique beauty, the Grand Canyon is considered to be one of the 7 Natural Wonders of the World.
Gambling in Las Vegas
We all know you will gamble. At least you will try. Don't be scared, as long as you know your budget limits, it never turns out to be anything but fun. The legal age limit is 21 to enter the casinos. If your luck decides to write a history for you and you win it big, probably a 30% will go to tax. It is always possible to take it back with a 1042-S form you will get from the casino, though.
Event Tourism in Las Vegas
One of the world's most visited destinations for all sorts of purposes, Las Vegas welcomes millions of event attendees every year to participate in international congresses, fairs, exhibitions, conferences, symposiums and tradeshows. The city is now also becoming a hub for all sorts of international meetings while keeping its promise to guarantee the ultimate fun. It is not surprising that this sort of a city as Vegas is a top choice when it comes to conventions as well. In 2012, Las Vegas was the home for 26.215 conventions. There were 4,944,014 attendees visiting those conventions while both making the city a remarkable destination for business and enjoying the treasures Vegas offers at the same time.