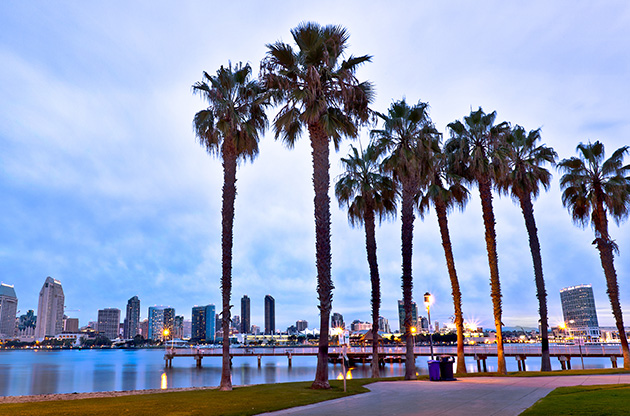 San Diego is a dream destination for many. With perfect weather, sandy beaches and relaxed, friendly locals this beautiful West Coast crown jewel is a perfect place to get away from it all. From the tide pools in La Jolla to the old world ambiance of Old Town San Diego to the pandas at the San Diego Zoo, this stunning city on the Pacific Ocean is one vista of natural beauty after the other.
The sights, sounds and smells of San Diego are unlike any other place in the world. With its proximity to Mexico, the cuisine of the Mexican people is found on every street in San Diego and the provocative aromas of tortillas, tamales and beans waft through the streets.
Walking through Old Town one can hear the sounds of the street vendors selling their wares, the screeches and caws as the "parrot man" approaches to ask if you want your picture taken with one of his colorful exotic birds, and Joselo, a street musician who plays the music of the Incan people on his pan flute.
San Diego is a feast for the senses. The warm sunlight and relaxed beach community atmosphere makes this a delightful destination for visitors of all ages.
Where is San Diego
San Diego is located in Southern California and is situated along the Pacific Ocean to the west and the Mexican border to the south.
Getting to San Diego
When traveling to San Diego you will fly to San Diego International Airport. This busy airport is located 3 miles north of the downtown area and offers domestic flights plus international flights to Canada, Mexico, Japan and the UK. There are a wide variety of shuttles, taxis, private car companies and busses to take one to their hotel upon arrival.
Things to Do in San Diego
The San Diego Zoo
The San Diego Zoo is probably the best known zoo in the world. Known for their amazingly realistic animal habitats and their pandas, the zoo employs the best in the zoo business at caring for their precious collection of animals from all over the world.
Birch Aquarium at Scripps
This beautiful aquarium sits on a bluff which overlooks the Pacific Ocean. It features over 60 displays of fish and other sea creatures from bodies of water all over the planet. An interactive museum, hands on exploration is encouraged!
Old Town San Diego
Nestled in the heart of the city, Old Town San Diego takes you back to the time when this vibrant city was merely a Spanish mission and western outpost. The white stucco buildings with their Spanish motifs feature a mission, a general store and many museums, shops and cafes. It is easy to while away an entire afternoon and evening and never venture outside the gated borders of Old Town.
Shopping in San Diego
Shopping in San Diego is an eclectic blend of old and new, elegant and quirky, refined and kitschy cool. These shopping districts combine all of these elements in a vibe that is laid back yet sophisticated and decidedly West Coast.
Little Italy
Fir Street Shops in Little Italy is a great way to start your shopping day in San Diego. This block of around forty boutiques offers local artisans wares and beautiful handmade jewelry, toiletry accessories and fashions. Architectural Salvage is a store full of home décor and accessories to help beautify your surroundings. And every week Little Italy hosts the Farmer's Market, selling the best of local produce, meats, cheeses and handcrafted items.
Gaslamp Garage
Located in the wildly popular Gaslamp District, the Gaslamp Garage has everything under the sun – and then some! Fashions for men, women and kids, plus beachwear, sunglasses, sandals, sunscreen, beach towels and blankets – basically, everything you could possibly need for a day of fun in the sun!
Seaport Village
Located on Harbor Drive, Seaport Village is a large, open air pedestrian mall with over fifty shops. There is a lagoon, a carousel and a marina with gorgeous sailboats and yachts to admire. The shops include clothing stores, home décor shops and designer boutiques. Seaport Village truly has something for every shopper.
Dining and Nightlife in San Diego
With San Diego being so close to Mexico it stands to reason that south of the border cuisine will reign supreme. However, San Diego has a surprisingly diverse epicurean scene, with many different kinds of restaurants to suit every diner.
Café Coyote
Café Coyote in Old Town is the penultimate Mexican dining experience. With their handmade corn tortillas, the best tamales this side of the border and over 100 varieties of margaritas – plus a strolling mariachi band – this cozy eatery is the place to go for a great time with friends.
Sushi Ota
This low-key and unassuming restaurant is owned and operated by sushi master Ota-san. For a quiet dinner for two and some of the best sushi in California, you can't go wrong with Sushi Ota.
George's at the Cove
With such close proximity to the Pacific Ocean, seafood restaurants are everywhere in San Diego. But when the locals want the best in fresh caught seafood, George's at the Cove is the place to be. Everything is cooked and serve the day it is caught and Chef Trey Foshee has developed an amazing menu featuring the day's catch – seven days a week.
Nightlife in San Diego can best be summed up in three words: The Gaslamp District. This neighborhood in downtown San Diego is the place to go for a fun night out on the town. Packed full of bars, nightclubs and comedy clubs, simply walking down the sidewalk will provide you with dozens of options for a great time with friends.
Tours and Excursions
Old Town Trolley Tours
San Diego Old Town Trolley Tours are the best way to see this beautiful city. The tour begins in Old Town and takes you all over the city, showing you over 100 points of interest, stopping at 11 locations so you can explore more. The knowledgeable guides are fluent in the history of this charming city and are eager to share their knowledge with you.
San Diego SEAL Tours
San Diego SEAL Tours are unlike any other tour in the city. The touring vessel is both a land vehicle and a boat known as a Hydra-Terra amphibious vehicle. Tour the streets of San Diego and then head into the water of Big Bay for a waterside tour.
San Diego is a wonderful place to visit. The beautiful weather that exists 365 days a year makes this a year round destination. Once you have visited this exciting city and explored its historic streets and over seventy miles of sandy beaches, you may decide to "forget" to go home!
Events in San Diego
Being one of the most charming destinations in United States, San Diego is an ideal host city form international events to attract the delegates. Thanks to its beautiful nature and favorable climate, San Diego satisfy the participants to the most. In addition, the world class venues that are fully equipped with the latest technologies help to create a perfect setting for reputable global events like congresses, conferences, fairs, tradeshows, exhibitions and symposiums.