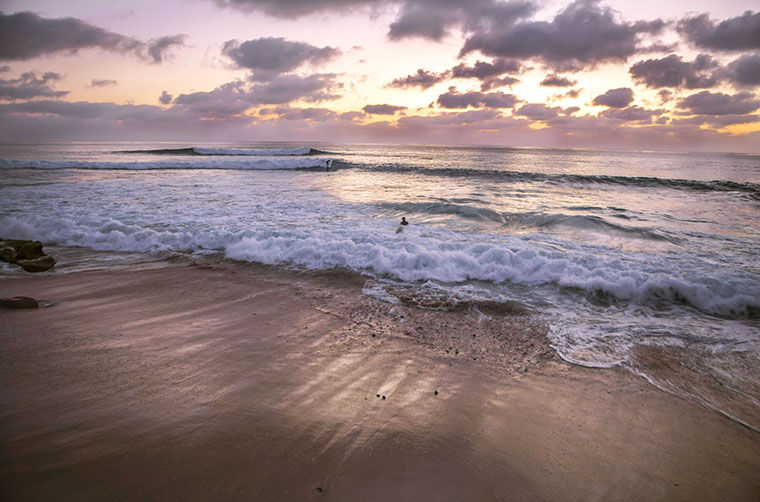 Give a try to surfing and enjoy the beaches
You are going to make the most out of the sandy beaches and the warm rays of sun while you are in San Diego, it is for sure. How about giving surfing a try when you are literally in the Mecca of surfing? It is not only going to be new experience for you but it will also open a new perspective for you to understand how daily life goes in the magical San Diego.
If you don't have enough time for surfing, or don't want to deal with it in your limited time, then indulge yourself with the beautiful blue tones of the ocean and enjoy a day on the beach. Imperial Beach, Coronado, Pacific Beach and La Jolla are among the popular beaches where you can truly forget the daily hassle of life and relax.
Watch the Whales!
Well, actually you can get the chance to see the California Gray Whales migrating only if you are visiting San Diego in February. This is the time when they pass through Cabrillo National Monument which is the perfect place to observe them. In addition, there are several private tours that offers special trips on boats for this once in a life time experience.
Scuba Dive!
It is not a coincidence that all must dos in San Diego has got something to do with the ocean, is it? If you are not into surfing or not visiting San Diego during February and therefore miss the chance to watch the Californian Whales migrating, then give a try to scuba diving. There are many places in San Diego where you can try it however the most recommended one is of course La Jolla because of the rich marine life of the cove. There are many places along the coast that you can apply. They will not only give you instructions and the necessary equipment, but also will accompany you during your diving. This can be a unique experience for you.
Watch a game at Petco Park
San Diego is a great destination to experience something truly American: watching a baseball game in a unique atmosphere.
Petco Park opened in 2004 as a replacement of Jack Murphy/Qualcomm Stadium which used to be the base for San Diego Padres, the national baseball team of San Diego. The stadium offers an exciting atmosphere to watch a game because you are going to be accompanied by almost 42.500 other people. Of course it must be the season for the baseball so you can participate in this unique experience.
Still, if you would like to see what it is like to be in a giant baseball stadium, you can join a guided tour in Petco Park. These tours enable the visitors to get a better insight about baseball as a sport and its importance for the American society as well with San Diego Padres. More detailed information can be found on Petco Park's official website.
Main Image Credit: cobalt