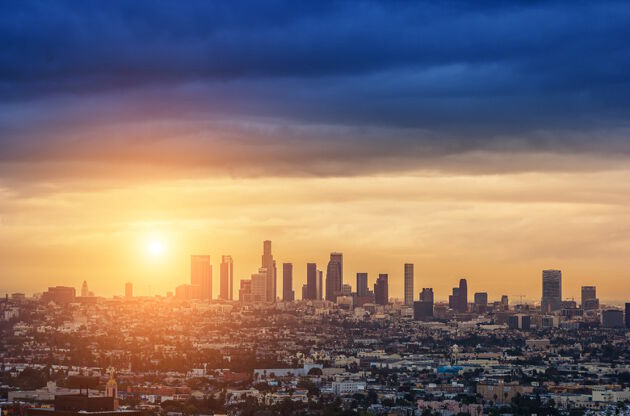 Full of glitz and glamour, a cornucopia of pleasure, a fantasy land where dreams are made and dreamers flock to – welcome to the City of Angels or Los Angeles in USA. It is a city where the sun is always shining and surfers collect at the beach to find the perfect waves, Los Angeles is also a city that attracts dreamers by loads, each one hoping to reach for the stars of their dreams. It is a crowded and a vibrant city, and a city of magic, Hollywood and Rodeo Drive.
But scratch the surface and beyond all the ostentatious display of wealth is also a city that is ethnically diverse and has a rich history. You will see people queuing up for the perfect chilli dog at Pink's and be hustled by wannabe script writers when you visit Hollywood and yet amidst all this is a charming city that offers you a wide variety to choose from when you visit.
You can choose to spend a day visiting the canyons or the beaches or the hip urban locales, be transported to fantasy in Hollywood and watch the setting sun from Getty Centre before having a relaxing cocktail at a lounge bar under the stars.
Every day in Los Angeles is an adventure and it is for you to choose how to spend your time when visiting–whether it being pampered in a famous hotel in Beverly Hills and indulging in shopping or hitting the frenetic pace of the city by surfing at Malibu Beach, visiting the many markets of the city, eating at the Mexican hotspots and dancing the night away.
Where is Los Angeles?
The sunny city of Los Angeles is located in California and is visually beautiful with forests, verdant valleys, gleaming beaches, mountains and deserts.
Getting to and around Los Angeles
Los Angeles is a vast urban conglomerate and is served by no less than five main commercial airports and over a dozen private airports. You can make the Los Angeles International Airport your port of entry into Los Angeles but be warned that despite its huge size, this airport is touted as one of the worst in USA. You can avail of public transport connection from the airport via the shuttle to the Metro or tot eh Union Station for a train ride to your destination.
Taxis from the airport - depending on the traffic rush - take half an hour or longer to reach the downtown area.
An alternative idea would be to use the other airports as your port of entry depending on the location of your stay, for example, the Orange County area is served by both the Santa Ana and the Long Beach airport while the Burbank Airport is in San Fernando Valley.
For travel within Los Angeles, which is vastly spread out, you could opt to drive or choose the public transportation system, but be warned that Los Angeles is notorious for long traffic jams that can clog the highway for miles.
The Union Station is the main railway station and is worth a visit to admire its architecture. There is also a Metro Subway Station here.
It is worth remembering that the public transport system in Los Angeles is not integrated and a separate ticket is needed for each change and for each line. It's recommended to buy a pass that allows for transfer between lines without buying tickets every time.
Due to its sheers size, the best way to see the sights of Los Angeles–and there are many such sights– is to hire a vehicle and drive, but it can be challenging because of the infamous traffic jams of Los Angeles.
What to See in Los Angeles
When in Los Angeles, you cannot miss Hollywood, the Universal City and the Venice Beach. To look at the famous couture shops in Rodeo drive is an experience in itself, as is a visit to the Disney and Warner Bros. Studios, and of course, you cannot miss walking the Walk of Fame, matching your footsteps with the Hollywood legends. And if history drives you then a visit to the Olevera Street is a must to admire the old historic building and feast on the Mexican food.
Los Angeles is not only about movies, but is also culturally rich with a plethora of museums and art galleries. The famous Getty Museum with its extensive art collection is certainly worth a visit as is the Museum of Contemporary Art.
Shopping in Los Angeles
Shoppers' Paradise, Los Angeles as a wide range of shops from the upmarket haute couture to the flea markets. There are a number of Malls like the Hollywood and Highland Malls to indulge in shopping and there is the Farmer's Market as another alternative. If you are in Downtown area and looking for Flowers, Toys or Jewellery, you will be spoilt for choice as there are entire districts dedicated to selling such products.
Dining and Nightlife in Los Angeles
The ethnic diversity of Los Angeles is reflected in its food and you can indulge in anything from traditional American Dinner at Mel's Drive In to the inexpensive but immensely popular Taco trucks, to fine dining at any of the popular restaurants at the Sunset Strip.
Another popular eating that you must experience is the gourmet food truck that serve everything from gourmet hamburgers to Vietnamese, Korean and Filipino food. For fine dining options, there are numerous bars like the Mormont, the Roof Top Bar and other such bars at the Sunset Strip that will make your evenings very enjoyable.
Tours and Excursions in Los Angeles
There are many tours and excursion in Los Angeles because of its spread. These tours can be as varied as a shopping tour that lasts about five hours and takes you to three main shopping districts of Los Angeles, or you could indulge in an historical tour that will take you back in time when Los Angeles was taking its present shape. And then, of course, there are famous Hollywood tours that will take you past places made famous by celebrities and will also help you in celeb spotting including their mansions.
Travel Tips for Los Angeles
It is advisable to visit Los Angeles in the winters when the smog problem is not so acute. It worsens during summers when it is hot and muggy and uncomfortable to travel around.
Air pollution in Los Angeles can also become an issue if there is a wildfire in the nearby mountains during the summer months.
Events in Los Angeles
Though known primarily for the movie business, Los Angeles also boasts of cutting edge technology that leads the world in aerospace, energy and scientific development, a thriving finance sector, and an important media centre. While movies are no longer made in Hollywood, yet millions of tourists still throng to this city to see the six big motion picture studios and gasp at the wonder of it all.
As well as being so popular in various sectors, Los Angeles is also a matchless city for business and academic events. Every year, hundreds of global events like conferences, congresses, symposiums, fairs and exhibitions are held there and draws international attention.