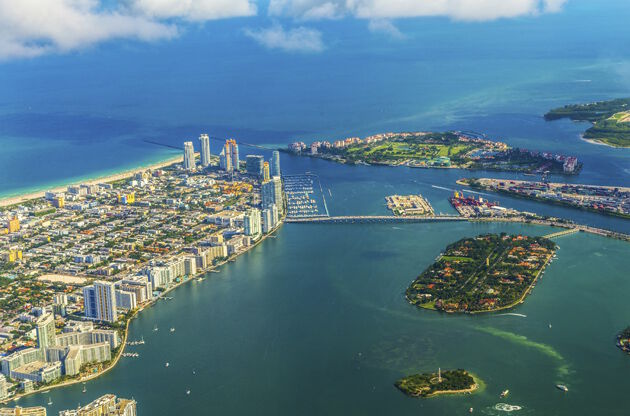 As one of the most culturally diverse locations in the United States, Miami Beach offers its visitors many different touring and eating options. Considered to be a small island located not too far from Miami, Florida, the beach was first cleared from its overgrown mangroves toward the end of the 1800's.
In fact, one of the common misconceptions among visitors is that Miami Beach is actually part of Miami. This simply is not true as the beach technically has its own individual municipality. Because of its enormous length, the beach itself is divided into three separate districts; South Beach, Mid Beach and North Beach.
When it comes to Miami Beach, it's important to know that this location is one of the most popular resort destinations in the entire country. Known for its diverse culture, Miami Beach is also one of the trendiest U.S. locations in terms of nightlife and arts. With a very large Latin and Spanish population, there are many great places that provide truly ethnic food.
In addition to the great cuisine that Miami Beach has to offer, there is also a variety of different fun activities to enjoy. Whether you want to tour the Miami-Dade County Fair and Exposition, take an art deco walking tour or enjoy a Miami boat rental and yacht charter, there is always something to do in Miami Beach.
Getting around Miami Beach
Because of the extended beach area, one of the most popular ways to get around Miami Beach is by walking. This method of transportation is actually ideal for anyone who doesn't plan on traveling a long distance. By walking to your specific destination, you will have a much better opportunity of observing the surrounding people, environment, shops and beach activity.
For anyone who needs to travel a relatively far distance within the beach area, a good form of transportation is the public bus. If you are taking a bus, the most common routes are 120, 115/117 and 150. Below are the general areas that each route covers:
120 - Beginning in downtown Miami and heading toward the MacArthur Bridge, route 120 will eventually end in North Miami Beach.
115/117 - One of the most traveled bus routes, 115/117 goes in a continual circle around the center of the island.
150 - Route 150 will bring you from the airport directly to South Miami Beach.
Things to Do in Miami Beach
If you are on a business or academic trip to Miami Beach, you definitely want to experience the Miami-Dade County Fair and Exposition. Rated as one of the biggest fairs in the country, there are close to 700,000 people visit the fair every single year. Usually held from the middle of March until early April, the fair is an 18 day event that showcases more than 100 different rides, close to 170 unique foods, 50 games, gift and souvenir shops and the World Agriculture competition.
Another can't miss activity for all Miami Beach visitors is an art deco walking tour. This adventure is truly special for anyone that has a genuine interest in learning the history behind the local building architecture, cultural contributions, famous pioneers, criminals and heroes.
Or, if you're in the mood for a different kind of outdoor expedition, an eco-adventure tour is always a great option. By participating in this exploration, you will be able to explore some of the best nature locations that Miami Beach has to offer. Some of the different activities include clear water snorkeling, kayaking, biking along the Key Biscayne and canoeing around the mangrove creeks.
Dining and Nightlife in Miami Beach
Because of the diverse surrounding community, Miami Beach has many different unique eating options. Ranging from extremely high priced restaurants and cafes to lower priced options, there are endless amounts of different cuisines and food possibilities. Whether you want to enjoy some ethnic Japanese food at the Iron Sushi or authentic Mexican cuisine at the Lime located at 1439 Alton Road, your dining choices are virtually limitless when visiting Miami Beach.
For a simpler, quick American food options, Cheeseburger Baby has the best burgers on the entire beach. Perfectly seasoned with buns that are grilled to perfection, you have not experienced a real cheeseburger unless you have visited the world famous Cheeseburger Baby. Or, if you're searching for a great place to have brunch, the Front Porch Café will offer you some of the best breakfast and lunch food that you've ever had. In fact, the Front Porch Café is so busy on the weekends that it's virtually impossible to even find a table.
Shopping in Miami Beach
Of course, the best place in Miami Beach to shop is South Beach. With many different name brand stores, South Beach is one of the most popular shopping destinations in the country. Whether you want to stop by Giorgio Armani, Gucci, Dolce and Gabbana, Luis Vuitton, Ralph Lauren, Chanel, Prada, J.W. Cooper, Vera or Roberto Cavalli, this shopping destination has something to offer all types of visitors.
Events in Miami Beach
Because of its extreme attractiveness, Miami Beach is one of the most popular business trip destinations in America. With a wide range of different options, there are many business events that throughout Miami Beach. Every year, numerous of international academic and business events are held in Miami Beach and thousands of people come to the city for these events.