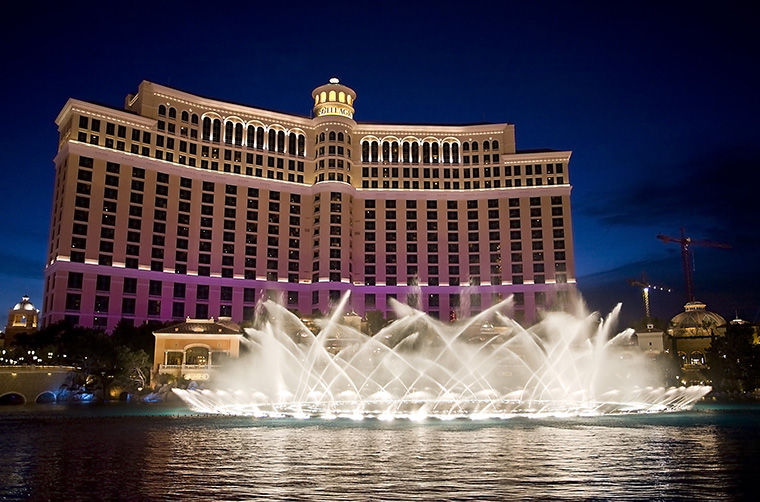 Bellagio Fountains
You are going to realize the number of luxurious hotels and resorts once you step in this world wide famous city, Las Vegas. Bellagio is one of them and it is actually counted among the most spectacular ones in the city. Don't feel sorry if you cannot stay there though, you can always enjoy what this beautiful resort has got to offer.
Visiting a fountain that is located in front of a luxurious resort may sound cheese at first, however we can assure you that it will not be a disappointment. The fountain that shoots water up to 140 meters in the air. In addition, the water dances perfectly to the tunes of Gene Kelly or Frank Sinatra. When this out of a fairy tale scene comes together with perfect music, you cannot help feeling you are in a faraway land located on a faraway planet. In addition, this is one of the most popular attractions in Las Vegas that you can enjoy without having to pay.
If you make your mind to visit Bellagio Fountains, the show begins on every half an hour between 3:00-8:00 P.M and every fifteen minutes till midnight.
Red Rock Canyon National Conservation Area
When in Las Vegas, you have to make sure you take a break from gambling in your free time and spare some time to visit one of the world's most famous rock formation conservation area, namely the Red Rock. It is located 24km out of Las Vegas and easily accessible from Las Vegas city center. The area is visited more than a million people annually.
If you are into biking or hiking, Red Rock is going to offer you an incredible experience on both. However, if you want to keep it calmer, you can also join the jeep rides. The rides includes stops in some certain points and you can off the jeep and enjoy the view. A rental car is also a good idea to visit the place. The fauna and flora of the area is unique and offers the visitors a once in a life time experience.
The official website of Red Rock Canyon National Conservation Area gives detailed information about the special events held there as well with needed visitor's information. One quick tip: that'd be really good if you bring your own water when visiting since it can only be found at the entrance.
One of these museums
If you think the things the Sin City offers are limited to casinos and pool parties, you are wrong. There are bunch of museums that are visited by thousands of people every year in Las Vegas. If you have some free time and want to enjoy one of them, we have got three suggestions for you.
The first one is the famous Neon Museum of Las Vegas. The museum is the home to a large number of vintage neon signs that were once hanging around the city. They are arranged artfully in an open area and offers a unique and 100% American experience. The museum can only be explored with guided tours only. The official website of the Neon Museum provides all the details and opening hours if you want to visit the place.
The Mob Museum may also be an interesting choice if you want to visit a museum when in Las Vegas. This museum is a full packed information center, including interactive parts to make sure the visitors make the most out of their time when learning a lot about this particular crime. The history of mob as well with its place in Las Vegas history is told in an unconventional way. The museum offers a unique experience. The website of the Mob Museum is filled with every sort of information you may want to know before visiting.
Las Vegas Natural History Museum is also among the museums to see in when in Las Vegas. The visitors see exhibits that are featured in National Geographic. It is one informative experience if you are into getting to know more about the local nature of the area as well with certain eras, than you should definitely include this museum in your to visit list. You can have a look at the official website of the Las Vegas Natural History Museum to get more detailed information.
Main Image Credit: mtbjohn