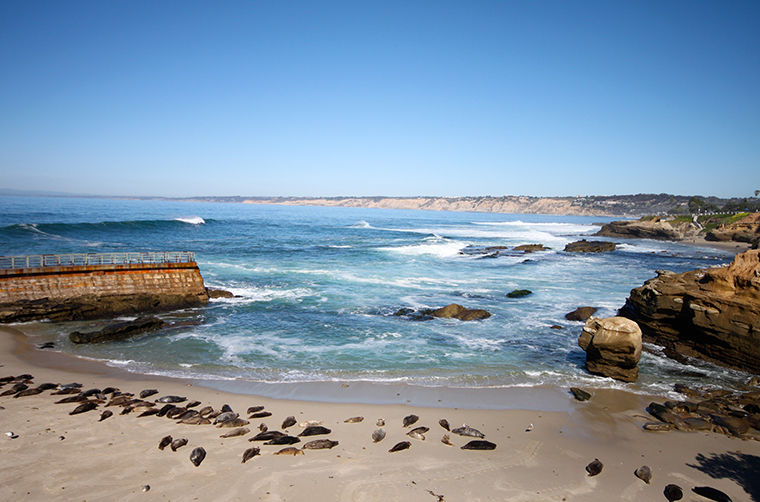 La Jolla Cove
Going to San Diego and not visiting La Jolla Cove would be a regret that will stay in your heart forever. So, make sure you have some time to make it there. The beaches in San Diego are great, however La Jolla Cove is a bit more different than the usual beaches of the city since it is also the home to a large variety of sea creatures. It is protected because it is an important part of the marine reserve and this is also the reason why it is preferred mostly by the scuba divers.
La Jolla Cove is famous for its swells and these make it a bit hard to swim for the ones who don't have improved swimming skills; therefore you have to make sure you'll be fine. Keep in mind the effect of the open ocean is almost always visible. No swimming materials such as the inflatables are permitted in La Jolla Cove.
You can also get an opportunity to see seals on the beach since they have got a special part in La Jolla Cove. The visitors usually refer this part of their trip as a once in a lifetime experience. Seals are not the only ones you can get the chance to have closer look; it is also common to see a large selection of shore birds.
Old Town San Diego
This is where all it began. When the seeds of San Diego were first planted, it was also the beginning of California as a settlement. Therefore, a visit to the Old Town, or the Historical Center as it is called by the locals is not only exciting but also informative.
The Old Town has undergone the major shift between the years 1821 and 1872. It used be mostly settled by the Mexicans (this is another reason for the dense Mexican influence in the area even today) then but turned into be an American settlement instead. The five original buildings, you are going to see there are remaining like the marks of the time. One of the most popular stops in Old Town is the Alvarado House that is still there from 1824.
Old Town San Diego has got so much to offer. You can do most of your souvenir shopping from the unique stores there. In addition, there are plenty of places to grab lunch or enjoy an afternoon drink. In addition, it is the hub for events that take place throughout the year. In addition, you don't have to wander and try to get information at the same time from your booklet or smart phone. There are guided tours you can join to make the most out of your time in Old Town.
Balboa Park
Balboa Park can easily be referred as the heart of San Diego. There are a lot of attractions to choose from, a lot activities to take part in and museums to see in the park. Or you can just grab your cup of coffee and enjoy the different shades of green that surrounds the park and just relax.
Balboa Park can be considered as place "all in one." If what you want to do is join some artsy things to do, there are exhibitions you can join. There are theatres where you can watch a movie, cafes to grab a bite or botanical gardens to admire the beauty of thousands of different plants. It is just everything together, all in one place.
In addition, the location of the park is also makes it easy to reach San Diego Zoo (which is considered to be one of the best zoos in the world) and Little Italy, one of the most visited neighborhoods in San Diego.
Main Image Credit: roozbeh11