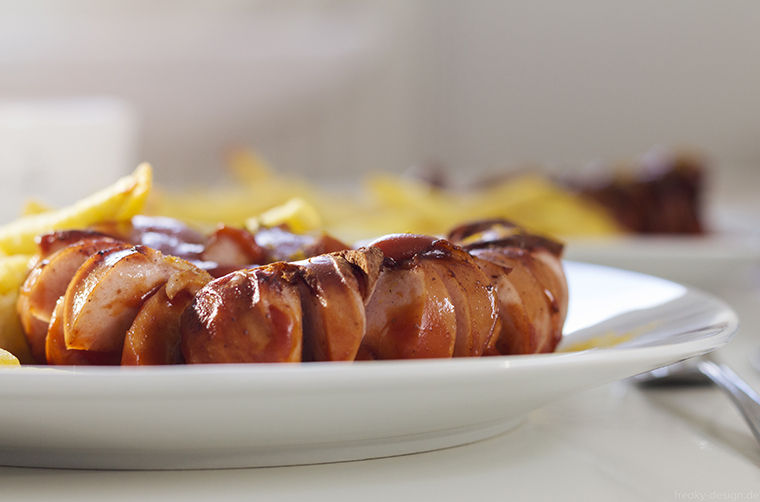 Currywurst
Ask yourself the question, "how delicious a sausage can get?" and look for the answer in Berlin. Currywurst, usually accompanied by "pommes", the fried potatoes in English, is the iconic food of Berlin and no matter what your standards of a decent food are, you are going to fall in love with it.
Of course, it is not a proper "meal". Rather, it can be considered as a snack. It is steamed and then fried pork sausage, served with ketchup and curry on top, sided by French fries.
Although it can be considered as a snack, it doesn't mean you should try it in the first place that comes on your way. Curry 36 is the most famous place that serves this mouthwatering bite and it is that famous for a reason because they serve the ultimate best in the city.
Rather than the visitors, the Currywurst is praised by the locals. It is so deeply embraced that there is even a special museum for Currywurst in Berlin. It is located near Checkpoint Charlie and Berlin Mitte. If you are curious and want to know more of the history about this tasty phenomenal, you can be one of the people that visit the 350.000 people every year.
Berliner
Berliner is going to change what you know of doughnuts. This North German pastry has been a part of the German cuisine for so long that it has actually shaped the German understanding of pastry.
The first recognizable difference of Berliner from a regular doughnut is that there is no hole in the middle of the pastry and it is usually filled with jam inside and fancied up with powdered sugar. It is also possible to find the ones made with chocolate, mocha, champagne or custard.
You are going to realize the pastry may be called by different names in different parts of the country. For example, it is called kreppel in Frankfurt, Berliner in West Germany and pfannkuchen in Berlin. However, despite the name changes, the amazing taste stays the same no matter which part of Germany you eat it.
You are going to come across Berliner in a lot of different places however, small, family run bakeries serve the fresher and more delicious ones when compared to the chain coffee stores.
Kebap
Assuming that you already know the large number of Turkish people living in Germany, especially in Berlin, kebab's being in the list of must eats in Berlin wouldn't come as a surprise to you.
Even if you are familiar with kebab and have tried before in Turkey, that'd be good if you don't expect the exact same thing from the one you'll try in Berlin. It is still delicious and good but in a different way.
One of the cult places in Berlin to try some is Mustafa's Gemüse Kebab, which can roughly be translated as the Mustafa's Veggie Kebab. The place is crowded no matter what time you visit there. In addition, just like the Currywurst, Kebab is not a main course, it is rather a street food or a snack but definitely a must try one.
Main Image Credit: freaky_designz