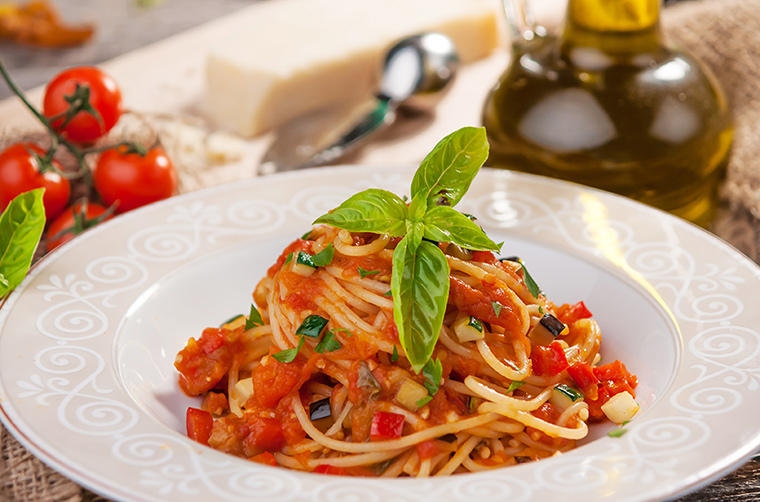 Pasta and Pizza
Okay, you will probably have the best pasta and pizza in Rome (and you will probably have excessive amount of them) and you will ask yourself, "What have I been eating in my entire life as pasta and pizza?" However, you may be confused because of the abundancy of these places and when Rome's being a perfect tourist spot is also taken into consideration, you may want to make a little research on where to eat these two.
If you are not after a fancy restaurant to have pasta, then the must visit place to have the freshest of pasta in Rome is Pastificio, which is located very close to the Spanish Steps. The place serves only during lunch time, and there are only two kinds of them however there is no way for you to find a fresher one in Rome. While you eating, you can see the people making pasta in the back of the store which turns the place even more authentic. The pasta they serve is limited and you'll see people queueing up. It opens in 1:00 P.M so make sure to be there before, at least around 12:40 P.M.
It must be admitted that even the pizza you'll have in a very touristic spot will just be fine in Rome. However, the pizzerias in Trastevere make the pizzas beyond imagination. Especially, Ivo a Trastevere, one of the most famous pizzerias not only in district but also in Rome, definitely is worth a try.
Tiramisu
The worldwide famous dessert gets no better than it is in its birthplace. Tiramisu in Rome is probably one of the tastiest bites you can ever have in Rome and you must try it when you have the chance, even if you are not a huge fan of it.
The trattorias in Rome usually include tiramisu in their daily menus. However, there is one place in Rome that has been acclaimed as serving the freshest and the most delicious one within the city boundaries: Pompi.
Pompi is located very close to the Spanish Steps, actually is located on the street right in front of it. You are going to notice the crowd in the front. You can sit and enjoy this heavenly bite or you can purchase the grab and go ones that are sold in paper boxes. People who taste it in their first days in Rome usually come back and buy another one before they go.
Coffee
We can thank someone else for the existence of coffee but we have to thank the Italians for the one of a kind roast and the serving forms. In other words, you are in the best place to praise the macchiato, lattes, cappuccinos and more. Don't waste your chance and let the caffeine run through your veins in the most delicious way possible.
Coffee, as you may imagine, is actually a part of everyday life, not quite a ritual in Rome. You are going to notice the coffee bars offers large stands to order to coffee, drink it and leave the place. Some of them of course have tables if you want to relax a bit and enjoy your coffee while sitting, however that'll cost you a couple of extra euros.
In anyways, coffee is always the answer to refresh yourself and appreciate one of the greatest sips you can ever take in Rome. You'll see a lot of places that can be considered as coffee shops, they are almost everywhere. However some of the most famous ones are noted to be:
Antigua Tazza D'Oro Coffee House
Ciampini
Domiziano
Caffé Greco