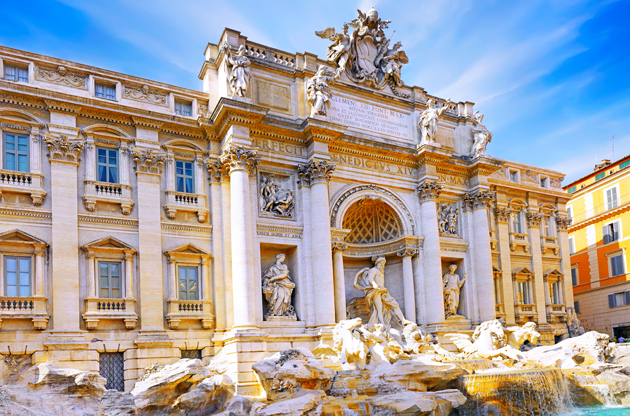 Can you smell coffee, ice cream and basil when you inhale in the streets? Is there a huge crowd looking around in admiration? Do you feel that someone from history just can come up through any historical ruin? Then you can be sure you are in Citta di Dio (the city of God) also known as Rome.
How About Time Travelling in Rome?
If you believe that time travelling has not been invented yet, you are wrong. Any vehicle that will take you to Rome is your time machine. Walking around Colosseum or Vatican City is enough to make you feel so. All you need is a little imagination.
After you time travel, a city map will be enough for you to walk in history. Turn your back to St Peter's Basilica and walk towards the river to see the awesome castle, bridges and picturesque street. However, any corner of this divine city can be regarded as a historical ruin.
Life Makes More Sense in Rome
Rome is a city of love with its romantic texture, city of alive history with its magnetic historical atmosphere and city of joy with its admirable lifestyle. After your first visit to Rome, you will quickly realize that you were not living the life in full.
Rome for Everyone
If you are an art-lover, undoubtedly you are in the Renaissance heaven, if you are a history lover, you are now breathing in history. And if you are a gourmet, you may not have time for other tourist attractions for you will be busy tasting the heavenly dishes from Italian cuisine.
Stylish Rome
Do not get surprised when you see the world famous elegant and stylish people are in the traffic jam with their cute Vespas and Mini Coopers. The weather is usually favorable for a ride and people enjoy this chance. It is likely that you see more tourists then the residents of Rome and it is not hard to distinguish them thanks to their fashionable style.
Where is Rome
The capital city of Italy, Rome is located on the western part of Italy between Florence and Napoli.
Getting to Rome
There are two international airports that you can choose to arrive in Rome.
The first option that you can take is Fiumincino Airport. It is the largest airport in Italy and it is located 35 km southwest of the city center. For detailed information about the transfer options from airport to the city center, you can click directly the airport's official website here.
Ciampino Airport is located 19 km away from the Rome's city center. If you will arrive in Rome via this airport, you can have detailed information about the transfer options on the official site of the airport here.
Things to Do in Rome
For Rome, telling about all the attractions is impossible since they are countless. We may offer you a few examples but you had better to write down the list to experience Rome to the full.
Ostia Antica
Villa Borghese
Piazza Navona
Pantheon
St. Peter's Basilica
Trevi Fountain
Spanish Steps
Sightseeing
Palatine Hill
Palatine Hill is the most central of the seven hills of Rome. Being the richest area in terms of the historical ruins, Palatine Hill is located a bit above from Roman Forum.
Colosseum
The symbol of Rome, Colosseum is the largest amphitheater in the world and a masterpiece that can reflect the gorgeousness of Roman architecture
Roman Forum
Having served Romans as a center for centuries, Roman Forum is one of the most popular tourist attraction in the city. Many basilicas and temples can also be seen in this area.
Museums
Vatican Museums
Undoubtedly the most important museum in Rome is Vatican Museums. You will have the chance to see from ancient Egypt pieces to Raffaello's pictures and Roman sculptures. The famous Sistine Chapel is also located in this area.
Capitoline Museum
Capitoline Museum consists two palaces which are the Palazzo dei Conservatori and Palazzo Nuovo. In this palaces you can get inspired by the frescos covering the halls, Greek and Roman sculptures and many more.
Excursions and Tours
Orvieto
Situated on a volcanic tuff, Orvieto is nearly 100 km away from Rome. This nice village with flowers in the windows, picturesque streets and with the smell of pizza and olive oil will mesmerize you as well as the Orvieto Cathedral taking you back to Middle Ages. Do not forget to taste famous white wine of this region.
Nightlife and Dining in Rome
At nights, Rome seems even more beautiful with the amazing illumination so push your luck to see attractions once more at night. Nightlife in Rome starts very late since Italians dine very late. Testaccio and Campo di Fiori are the most popular places that you choose for having a great night out. In addition, watching an opera in opera houses or in churches is one of the most popular activities in Rome.
Dining can be considered as the best activity in Rome since it will be a feast thanks to the richness of Italian cuisine. Get ready for perfect Toscana wines or special sauces that can turn into every single dish to a dinner party.
La Pergola
La Pergola is not only famous for its ambiance but also for its rich Mediterranean menu. Having over 53000 bottles of wine, La Pergola is the best restaurant in Rome and one of the bests in Italy.
Antico Arco
Taste from Roman cuisine in a sophisticated atmosphere in Antica Arco. Best wines and signature foods will turn your dinner into a feast.
Shopping in Rome
Street Markets
Street markets are popular options for shopping in Rome. You can find antique pieces like records, books or clothing of 1940s or 1950s. The most popular ones are:
Campo De Fiori
Porta Portese
Mercato di Via Sannio
Mercantino dei Partigiani
Shopping Streets
Rome is famous for its luxury fashion brands. Seeing that you are in the heart of fashion, be sure to visit the streets below where the most popular brand's stores are located.
Via Condotti
Via Borgognona
Via Frattina
Via Cola di Rienzo
*Bear in mind that in Italia, shopping from street vendors is forbidden and the penalty is 1000€.
Events in Rome
The city of history, Rome serves the world as a favorable host city for international events like conferences, congresses, fairs, exhibitions and symposiums.
With over 120 congressional places with 7000 seats, more than 600 hotels and castles, and an exhibition space that is up to 10000 sq m, Rome is a matchless city for even large scale events.