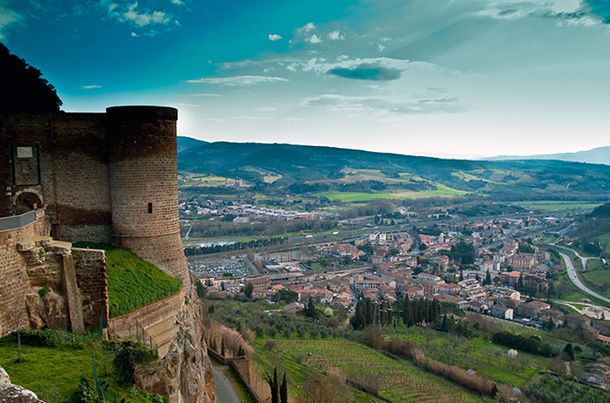 Living abroad may not be the easiest thing to do. Even if your apartment, your job, your social life is okay, the constant feeling of longing your family and friends lingers in your mind and heart for a long time. Let's say, all the time.
However, I must admit, I was lucky. My mom is really into travelling and she suggested me meeting in a European city when we are both available meanwhile I was living in Sweden. That was quite a good one as you may imagine; killing two birds with a stone by both seeing your mom and travelling to somewhere you have never seen before.
We made our first trip to Vienna, Austria together. I must say, she made such a great research before the trip that we hanged around just like locals did. I still remember the taste of the Schnitzel we had at the local restaurant in which there was no tourist, except the two of us.
So when she called me to suggest a trip to Rome in last November, I even didn't think twice. I dealt with Rome's being associated with being an amazing destination for the couples with just a deep sigh. Plus, I knew no boyfriend in the world could be as prepared as my mom to explore this fascinating city.
We had one week in Rome, the first 3 days we visited the museums and the major sightseeing areas. As I was thinking of going to Florence by train on the fourth day, my mom had already had a better idea for a side trip from Rome: Orvieto.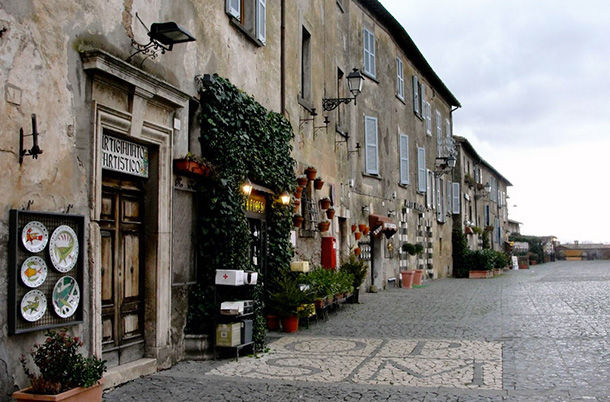 Image Credit: umbrialovers - Flickr
Orvieto is a city that is situated on a volcanic tuff. It takes only one and a half hour to reach there by train from Rome and the experience awaits you there is quite unusual because of its geographical structure. If the weather is clear, the astonishing scenery will provide you with one of the most beautiful one ever. If it is foggy, which usually is, the feeling of walking on the clouds will take your trip to another level.
Once you get off the train in Orvieto Central Station, you may ask yourself, is this the Orvieto the girl at Eventegg was talking about. But, hey, wait a second. Head to the exit and look for the signs that will lead you to the funicular which will start one of your most breathtaking explorations by taking you up to this nature's heaven.
I recommend you to take the bus for the short road to the city center as the way is a bit steep. Once you finish the bus ride that takes almost 5-6 minutes, you'll see the gigantic magnolia tree that is hundreds of years old and you will not help admiring it, no matter which season you visit the city.
Your excursion will probably start with a visit to Orvieto Cathedral, the design of which reflects the time it was built. Don't forget to visit the chapel inside, especially to find about the 'miracle' happened in Orvieto. (Sorry, no spoilers!)
You'll notice right away that the little town has got some of the best stores in the country that sells handmade wooden crafts. All of these sell a large variety of items (the kitchen utensils are really good) and the prices don't change from store to store.
I'd like to recommend a very special store in Orvieto for those who are interested in leather goods. Federico Badia's store is located on Via Garibaldi 27, and he is one talented, detail oriented young man who changes leather into any wearable thing you want, in the most fashionable way possible. Plus, he accepts custom orders and ship your product to you when it is ready.
You have plenty of choices if you want to have the lunch or dinner in Orvieto. If you get hungry suddenly and want to wait a couple of hours for a regular meal, I recommend you the bakery Galleria del Pane. Just go in and buy whatever you like; the taste will be outstanding.
Orvieto is filled up with osterias and trattorias which are a types of Italian restaurants. Check the menu that is written outside of each one and make your decision according to what you want to have. Don't forget, Orvieto is famous for its regional white wine.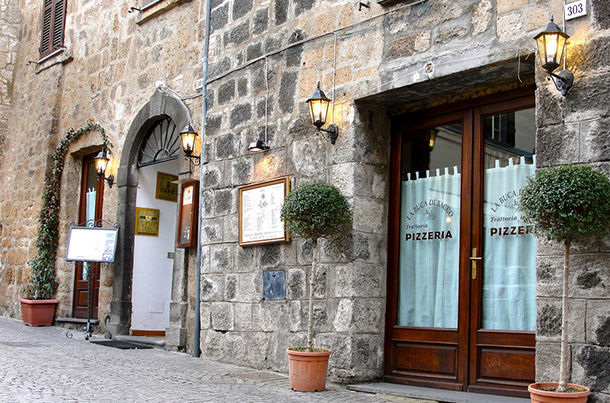 Image Credit: umbrialovers - Flickr
The town can be explored on foot easily, especially if you consider the number of narrow viccolos, renting a car wouldn't make much sense. In addition, the houses that reflect the Italian way of living in the best way ever shouldn't be missed out. You'll really like the locals of Orvieto because they are so warmblooded that they can give you a huge smile when they are hanging wet clothes to dry on their balcony.
I am really glad I didn't choose Florence over Orvieto, not because I think Orvieto is worth seeing more or something but it is a great destination if you have only 1 or 2 days more to spend. Plus, the feeling of getting closer to the heart of a culture, a way of living made me really glad and I still remember the magnificent scenery and the happiness mixed with a bit of astonishment Orvieto gave me.
Let this amazing town get the place among your best travel memories.
Main Image Credit: mararie - Flickr