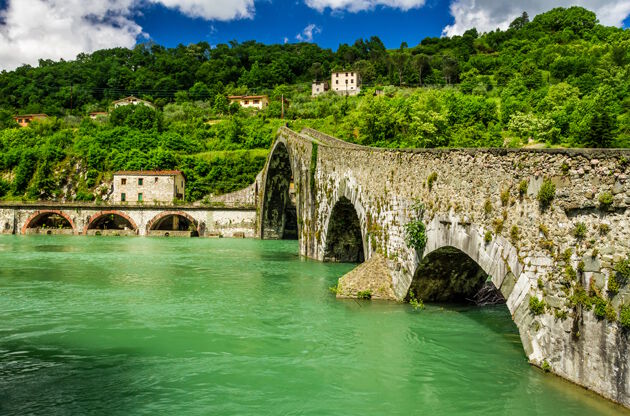 For people travelling to Italy, there is no shortage of destinations that offer incredible galleries, museums, restaurants, and scenery. One city that often gets overlooked is Lucca. But set within the beautiful region of Tuscany, Lucca is a city that should be placed firmly at the top of any Italy travel itinerary. With a population of only around 90,000 people, Lucca is not a manic city that will leave you feeling exhausted after your trip, but a relaxed place that offers a slow place of life.
For history lovers, Lucca has no shortage of charm. This city dates right back to medieval times and the ancient city walls can still be seen today. The whole city offers ample space for strolling around and simply taking in the beautiful views of a historic Italian place. Another popular way to see Lucca is by bicycle, and you can see locals and tourists alike pedalling their way through the winding roads every day.
Of course, like virtually any Italian destination, Lucca is a very popular destination for foodies. All of the Italian staples as well as local Tuscan specialties can be found here. Between the incredible history of the city, the quaint streets, the relaxed atmosphere, and the delicious food – Lucca needs to be promoted to one of the must visit cities in Italy and even in Europe.
Where is Lucca?
Lucca is set within the region of Tuscany in Italy. The city can be found in the north of the country, close to the cities of Pisa and Florence.
Getting to Lucca
The closest airport to Luca is Pisa's International Airport which accommodates both international and domestic arrivals. By train, you can reach Lucca in only twenty minutes from this airport.
Lucca's railways station is situated just outside of the centre of the city. The station forms part of the Viareggio-Florence railway, and travellers who are coming from other places in Europe might find they have better luck reaching Pisa's central station and then transferring to Lucca.
If you would like to drive into Lucca, you should be aware that parking within the city walls is generally reserved for Lucca residents.
Things to Do in Lucca
With such a rich history, Lucca has no shortage of historical sights and attractions that will be of interest to history buffs as well as visitors who simply wish to learn more about this beautiful part of the world. The most famous attraction within the city is the ancient city wall itself (known in Italian as "Le mura di Lucca"). The city wall dates right back to the year 200, and now serves as a public walkway from which visitors can view Lucca.
For the very best view of the city, however, there is only one place to visit, and that is Guinigi Tower. Certainly not an attraction for those who suffer from vertigo, the tower is 125 feet high and a climb to the top allows a complete panorama of Lucca.
For those visitors to Lucca who are seeking a little bit of culture, there are multiple theatres within the city that offer all kinds of performances, but musical shows of Puccini's work are the most popular because the composer was born in the city. Be sure to check out the schedule at Teatro del Giglio to experience an authentic Puccini performance for yourself.
Shopping in Lucca
If you are a fan of retail therapy, Lucca will not disappoint you. The city's streets are lined with the most beautiful independent shops where you can buy gifts for friends at home as well as special local items for yourself.
La Sorelle is situated on the main plaza of Lucca but it is not a tourist trap at all. This charming family managed shop sells hand selected tableware and homeware so that your house can look like a rustic Tuscan home when you return from your trip. And if you would like to purchase some of that trademark Italian style, be sure to head to Vittorio Melecchi, which sells the very best in understated, classic Italian fashion for both men and women.
Dining and Nightlife in Lucca
Italy is, of course, a gastronomic paradise. And in Lucca, it is all too easy to spend all of your free time hopping from café to café, bar to bar, and restaurant to restaurant, while treating yourself to the most delicious local food and drinks. If you wish to dine somewhere extra special, you should look no further than the much celebrated L'Imbuto restaurant, which puts a fresh and innovative spin on Italian food. The food here is imaginative and fun, and you shouldn't leave before trying their signature beetroot and chocolate mousse.
For a dining experience that is a little lower key but still has buckets of Italian charm try La Tana dell'Orco, a small restaurant that serves up simple and filling Italian home cooking – think big portions of pasta, crispy pizzas, and delicious chowders. After dinner, you will no doubt want to try some of the best local wines. At WineBar Di Vanae, you can choose from a wide selection of local Tuscan wines that are priced very competitively.
Excursions and Tours in Lucca
While you are in Lucca, why not hop on a bicycle and get around the city just like the locals? There are many tour operators in the area that offer group bicycle tours so that you can learn about the city while speeding along on two wheels and feeling the breeze on your face. If you are a foodie, it is also well worth investigating culinary tours in Lucca. One of the most popular is Sapori e Saperi, a tour that takes you behind the scenes of the Tuscan food culture, to local wineries, cheese makers, and olive gardens.
Event Tourism in Lucca
As well as being a great travel destination for couples, families, and solo travellers, Lucca also has a great deal of appeal for business travellers. Trade shows for pharmaceuticals, yachting, paper, and the mechanical industries have long been fixtures on the business calendar of this beautiful Tuscan city. Also numerous international business and academic events like conferences, congresses, fairs, exhibitions and symposiums are held in Lucca during the year and draw global attention.