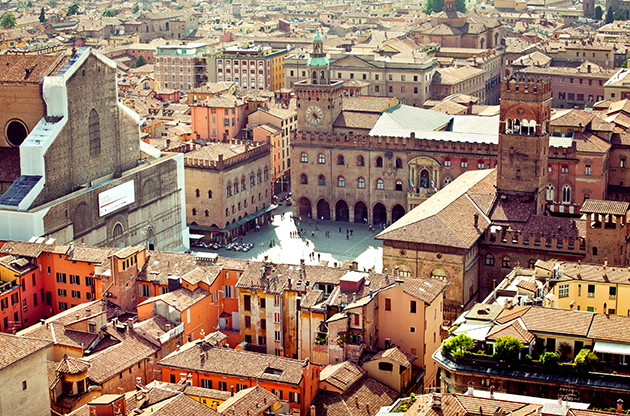 Have you ever been to a city that is full of history, art and irresistible tastes but lacking a huge tourist crowd? If your answer is "no", Bologna can be the first because it is one of these rare cities in the world. When you visit this Red City of Italy, you will have the chance to experience the real Bolognese atmosphere without any intruders.
A typical university city Bologna, is home to many international university students and Europe's oldest university. So it's a vibrant city and you can always find a social event to attend or an open place to have your drink even in the late night. You can smell the coffee and enjoy the picturesque narrow streets of Bologna while you are on your way under the porticos to taste the world-famous Spaghetti Bolognese.
If you like tracing, discover the secrets of Bologna, look from the window in Via Piella to see the Piccola Venezia (little Venice) or hear even the whispers of your friend under the arches in Piazza Maggiore from a distant corner.
Bologna will offer you a little bit of everything of Italian cities without a disturbing tourist crowd. If you are excited enough to see this impressive city, read on to learn more about the attractions of Bologna.
Where is Bologna?
Bologna is located in the northern part of Italy in Emilia-Romagna region.
How to Get to Bologna?
Bologna Guglielmo Marconi Airport is the only airport in the city and it is located just 6 km away from the city center. For detailed information about the transportation options to and from the airport, you can visit the official website of Bologna Guglielmo Marconi Airport.
Things to Do in Bologna
Museums in Bologna
Ducati Museum
Ducati Museum is one of the most popular museums in Bologna that is dedicated to Ducati motorcycles. No matter you are into motorbikes or not, Ducati museum will offer you a great experience. In the museum you will find the whole collection of Ducati motorbikes as well as the chance to visit the factory.
Museum of Modern Art of Bologna (MAMbo)
Museum of Modern Art of Bologna, also known as MAMbo is a highly impressive modern art museum that you can many great pieces in the name of good Italian modern art. It is located in Via Don Giovanni Minzoni, the historic center of the city.
Sightseeing in Bologna
Towers of the Asinelli and Garisenda
Also known as the Due Torri (two towers), Towers of the Asinelli and Garisenda are the symbol of Bologna. They are built in 12th century and these two towers are the most prominent ones among the other towers that still exist. One of these towers are taller, which is called Asinelli and the other one is Garisenda that is much shorter and it is leaning.
Piazza Maggiore
Piazza Maggiore is considered as the center of Bologna and the most popular landmarks of the city, Fountain of Neptune, Palazzo dei Banchi, Basilica of San Petronio, Palazzo del Podestà, Palazzo dei Banchi, Palazzo dei Notai and Palazzo d'Accursio are all located there. You can also enjoy the open air cinema in the square, if you are there in the season.
Basilica di Santo Stefano
Located in the square with the same name, Basilica di Santo Stefano is one of the most popular basilicas in Bologna. Also known as Seven Churches and Bologna's Holy Jerusalem, Basilica di Santo Stefano is definitely worth a visit.
Basilica di San Domenico
Being the primary church in Bologna, Basilica di San Domenico is the place where you can see Michelangelo's early works. It is situated in Piazza San Domenico and the founder of the Order of Preachers, San Domenico is buried in this basilica.
University of Bologna
Europe's oldest university, University of Bologna is one of the most primary landmarks that make this city so special. Founded in 1088, University of Bologna has 23 schools and more than 80000 students. Among the alumni, there are many notable people like Pope Alexander VI and from Petrarch to Dante Alighieri the lectureres were also highly prominent figures.
Shopping in Bologna
If you are looking around to buy something in Bologna, the primary things that should come to your mind are local food like pasta and cheese. However, if Italian fashion also appeals to you, you can go fort he trendy outlet stores of Armani, Versace or Gucci.
For shopping apparels, you can head to Galleria Cavour that is located near Via Farini. It houses many high-end fashion stores and more. If you are looking for a street to look around not a shopping mall, then your place is Via San Felice. From there you can buy art products, handicrafts, design shoes or clothing.
Dining and Nightlife in Bologna
Being a university city adds much up to Bologna's nightlife. The city never sleeps at nights and there are many countless options to have a great night out. Jazz clubs, Irish pubs or excellent restaurants are there to make your day. However, if you are there in summer months, it's highly possible that you feel yourself alone with the other tourists because students leave the city and local people may not prefer to go out much in this season.
Best Restaurants in Bologna
I Portici Restaurant
If you are in search for an upscale dining in the city, then I Portici Restaurant will definitely satisfy you. Located in Via Indipendenza, I Portici Restaurant offers a creative cuisine as well as an impressive atmosphere.
All'Osteria Bottega
All'Osteria Bottega is another marvelous restaurant that you should pay a visit to. It is located in Via Santa Caterina and offers its visitors a delicious menu that is meticulously prepared with always fresh and top-quality ingredients.
Caminetto d'Oro
Interested in irresistible Bolognese cuisine? Then Caminetto d'Oro will be one your favorite restaurants in Bologna. This place is already a haunt among the artists and notable people thanks to its special Bolognese bread, breathtaking food that is made of only local ingredients and of course the local wine.
Nightlife in Bologna
Teatro Comunale
If you wish to have a night that is full of classical music and opera, Teatro Comunale will offer you more than you ask. The place is open from September to June and during the season many remarkable ballet performances, dance shows, classical music concerts and cinema screenings take place. To book your tickets or have more detailed information about the programme, you can visit the official website of Teatro Comunale.
Cantina Bentivoglio
To have an unforgettable night in Bologna, you can give a chance to Cantina Bentivoglio. In this place, you can dine, sip your wine and enjoy the delightful live jazz music. If you are in Bologna in the summer months, you can even enjoy this great music outside of the place. Cantina Bentivoglio is awaiting in Via Mascarella.
Excursions and Tours in Bologna
Riccione
From Bologna to Riccione it only takes 1,5 hours of drive and you can have the chance to visit one of the best known seaside resorts in Northern Italy together with Rimini. Riccione is more than a seaside resort and also have impressive archaeological findings from 2nd century BC.
Modena
Modena is an ancient town located in the Emilia-Romagna region. It is only 50 km away from Bologna and houses the factories of famous Italian cars such as Maserati, Ferrari, Lamborghini and Pagani. You can also visit the University of Modena, one of the oldest universities in the world. UNESCO World Heritage Sites the Cathedral of Modena, the Torre della Ghirlandina and Piazza Grande are the other attraction points in the city that you will definitely admire.
Ferrara
Ferrara is another town located in the Emilia-Romagna region and it is popular among Bologna visitors with its historical palaces from 14th and 15th centuries. Ferrara is located approximately 50 km away from Bologna.
Events in Bologna
Known as a university city and housing the oldest university in Europe, Bologna is an attractive event venue especially for the academic events. Many international delegates come to Bologna every year to attend the remarkable conferences, congresses or symposiums that are held under the highly cultural, historic and academic atmosphere in the city.