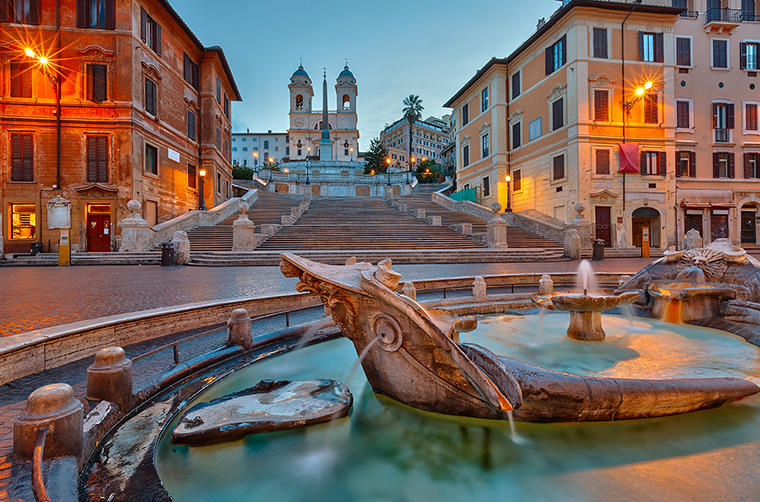 People-watch on the Spanish Steps
This is one of the must live experience in Rome. Not only because you will be climbing a 137 step historical set of steps to see one of the most picturesque views you can imagine, but also because it is just a great place to inhale the unique atmosphere of Rome.
The Spanish Steps were built in 1723–1725 with the aim of combining Trinità dei Monti and Bourbon Spanish Embassy. The architects of this one of the most iconic things in Rome are Francesco de Sanctis and Alessandro Specchi.
The Spanish Steps are located in Piazza di Spagna, one of the most famous avenues in Rome. The place is filled with the boutiques of luxury brands and some of the most well-known cafes and patisseries in Rome. It is actually more than relaxing to sit on the steps and people watch while enjoying a cup of coffee, or maybe a glass of wine, who knows.
Have a day trip to Orvieto
Orvieto used to be a hidden gem in Italy however with that natural beauty and the scenic look it has, it would be wrong to say it is "hidden." Now. It is situated on a volcanic tuff and definitely offers a fairy tale like trip for the ones who want to discover the real daily life of Italians.
Orvieto is highly accessible from Rome. There are a number of trains leaving from Roma Termin for Orvieto during the day and the journey takes around 2 hours. Once you arrive in Orvieto central station, you have to take the funicular that'll take you to the mesmerizing town center.
Orvieto has got a bunch of those typically Italian narrow streets and restaurants that serve daily menus consisting of some of the most delicious Italian dishes. You don't need a car to explore the town; just make sure you are visiting on a warm day without rain and you'll be just fine on foot.
Orvieto Cathedral is the icon of the town and you are going to encounter a lot of shops that sell handmade crafts made of olive tree wood. It is a great way to escape the hustle and bustle of the Rome center and enjoy a day while having a great opportunity to experience the warm and outstanding Italian way of living.
Appreciate Art in Galleria Borghese
There are some museums acclaimed worldwide and definitely included in art lovers' bucket list and you are so close to one of them in Rome; Galleria Borghese.
Galleria Borghese is home to an excessive number of paintings and sculptures as well as antiques. The gardens of the museum can also be considered as another piece of art because of their exquisite beauty and there are people who visit the place for the sake of the gardens, too.
The antiques displayed in Galleria Borghese date back to 1st–3rd centuries AD. The sculptures you are going to see there are actually carved out for the places they fill in the gallery today.
The gallery accepts 360 people at most every two hours, therefore if you are willing to visit, booking your ticket online may be a good idea.