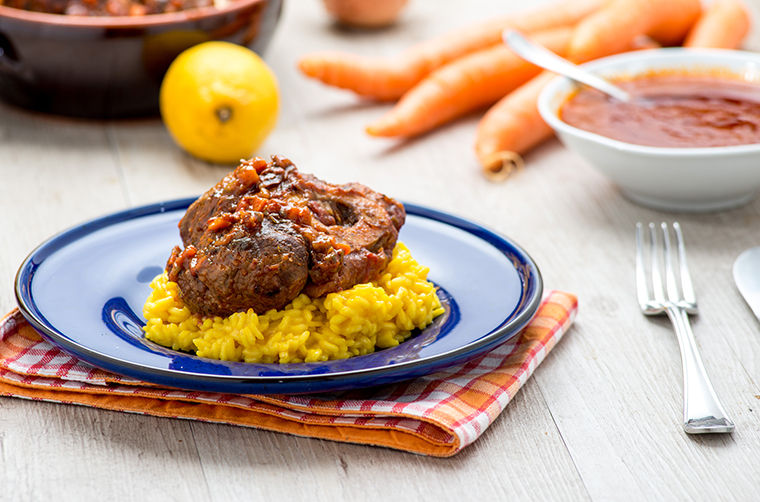 Risotto alla Milanese
The influence of the Italian cuisine on the world's eating habits cannot be underestimated, it is for sure. Think about the last week's dinners; was there any without at least pasta or pizza? Or has it been over a month since you had your last café latte? Well, when you are in Milan, you are going to have the chance to taste all these mouthwatering dishes try in their birth places; cooked perfectly with the right ingredients used in right amounts.
The first dish you have to try in Milan is Risotto alla Milanese. As the name of it speaks for itself, it is the Milanese version of the famous risotto. What differs the Milanese one from the rest is not only its yellow color which it takes from the saffron; beef, bone marrow, lard and cheese come together and form the exquisite taste and move Risotto alla Milanese on the tops of the list of not only Italy's but also world's one of the most delicious dishes.
You are going to come across a lot of places in Milan serving Risotto alla Milanese. If you are after the best, however, you can check these recommended places:
Osteria Dè Binari - Via Tortona, 1-3
Ristorante Al Cantinone - Via Agnello, 19
Ratanà - Via Gaetano de Castillia, 28
Cotoletta alla Milanese
Also widely referred as "Costoletta" since its name is that in Italian, Cotoletta alla Milanese is another thing that must be included in your Must Eat in Milan list.
Although people think of something similar to the Wiener Schnitzel when they hear about Cotoletta, there is a difference between these two dishes. In Cotoletta, the rib remains attached to the meat before and after the cooking.
There are different versions of Cotoletta, such as the lately introduced Cotoletta a orecchio di elefante. This is a thinner but a bigger piece of meat fried and prepared pretty much the same way with the Milanese one.
These places listed below are noted to be serving some of the best Cotoletta alla Milanese in Milan:
Trattoria la Pesa - Via Giovanni Fantoni 26
Osteria alla Grande- Via delle Forze Armate 405
Trattoria Arlati - Via Alberto Nota 47
Panettone
You are going to come across the most traditional Italian desserts in Milan. And most of them will be just great. If you have having a tiramisu in Milan for example, there are really good places that serve a mouthwatering experience disguised as a slice of tiramisu. Or is that is the Italian ice cream you are after, again you'll have a large number of choices to taste a very tasteful one.
Panettone, on the other hand, is a typical Milanese cake and is eaten during the time between Christmas and February. So this one goes for the ones who are going to visit Milan during that time.
Pasticceria Marchesi that is located on Via Santa Maria alla Porta, 11a is known to be baking the most delicious one in the whole city.